Here are some of the strangest posts you'll find inside The Meadows Share group
It's more than just spider plants
With over 12,000 members, the Facebook group 'The Meadows Share' is a social media dumping ground for Edinburgh's unwanted items – all of which generous residents are willing to give away for free. While it's predominantly used as the social media equivalent of fly-tipping, the group does occasionally present opportunities which are too good to be missed, especially for cash-strapped students.
From out-of-date snacks to free flights, being in the group is a bit like panning for gold – for the most part it's pretty boring and you have to sift through a lot of dirt, but given time you can find some real treasures.
In light of this tenuous analogy we trawled through twelve months worth of Meadows Share posts to find the highlights. This will prove that if you keep an eye out, you'll be able to snag a bargain. Just try and keep away from the battle raging in the comments section.
Here's what we found:
Enough free alcohol to fuel a night out
Free alcohol is a common find on The Meadows Share, but you have to be quick as it gets snapped up in the blink of an eye.
Flights to attractive European city break destinations
You could literally get a FREE holiday if you're lucky.
A TV to watch Love Island on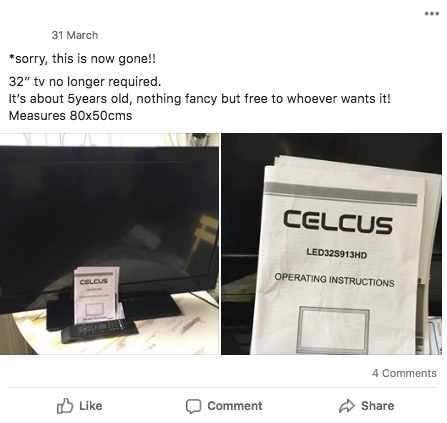 Look, it's Love Island season. You need a proper TV to achieve the optimum viewing experience.
Look, it's Love Island season. You need snacks in the house every night, without fail.
A lighter
Wouldn't you just buy one if you needed one? The transaction of the donor giving you the lighter would be so unbearably awkward, you'd probably much rather just pick one up on the way to pick up the free lighter.
Paraphernalia for next year's EUSSC ski trip
Anyone who bites in the comment section on a post like this is likely to get a good grilling.
Homemade wall art
Not a bad way to get a name out there for yourself, to be fair.
An ACTUAL Car
Granted, the above list (minus the car) resembles possibly the most underwhelming charity raffle you've ever been to, but bear in mind it is all 100 per cent free. Still not convinced? Maybe I can convince you with the sheer entertainment value of the group.
Hopefully by now you've been convinced that 'The Meadows Share' is more than just an opportunity to get rid of unwanted clutter. It's an opportunity to keep up with the local gossip and get your hands on some seriously odd items.
Whether you need or want them is irrelevant – it's FREE.  So in a month's time when you're sat sipping on that neat FREE vodka, snacking on some FREE out of date crisps, watching Love Island on your FREE TV with your new phallic life drawing hanging overhead you'll have 'The Meadows Share' to thank.