'Outrageous' Paddy's Day loo queues at The Three Sisters inspire Edi student to start a campaign for more female toilets
When you gotta go… #loos4ladies
It is safe to say that St Patrick's Day is one of Edinburgh's booziest celebrations of the year, which sees the majority of the city's students and locals flocking to the Three Sisters pub in the heart of Cowgate.
A day in which it is acceptable to start pres at 7:30am, hit the pub at 8:30am (for a complimentary fry-up – genius), to then get your first Guinness served at 9am, and then continue to drink for the rest of the day and night may sound hilarious – and trust me, it is – until you, as a woman, find yourself queuing for one and a half hours to get into the ladies' loos.
All kinds of torture when you have been drinking since before sunrise.
It is true that students can be viewed as animalistic at times, and stories of them having to urinate into their drinking cups may make us sound barbaric, however, when physically unable to wait for over an hour in a queue for the toilets, the only option many girls were faced with was either wetting themselves (one big no), leaving to find somewhere else and queuing to get back in, or conspicuously peeing into a cup.
First-year Geography student, Eve said: "The queue was almost an hour long, so you had to try and anticipate when you were going to need the bathroom and go beforehand. If you went purely when you needed to, you would face the very likely situation of wetting yourself due to the huge queues."
Elle, who studies International Business, said: "People warned you to get to The Three Sisters early on Saturday to avoid queuing to get in, but no one warned you that those queues would be the same for something as basic and essential as using the loo."
According to fourth-year, Yas: "I've never seen queues that long for a loo before, it was genuinely unpleasant. Girls were using the urinals, guys were pissing into bins and there just way too many for the number of loos they had. The whole event was overcrowded."
Appalled by the queues, one University fresher decided to take action later that evening and set up an online campaign calling for more loos for ladies – which can be found here. We spoke to her to find out more about her ideas and thoughts:
What inspired you to start this national campaign?
"In terms of what inspired me, I had just had enough of waiting in ridiculously long queues clenching my bladder, whilst boys simply stride in and out in a matter of minutes. Girls just take longer! This should be accounted for and reflected in the number of female toilets available.
"If a girl is on a her period, the time she takes in a toilet will be much longer, another thing that needs to be considered and isn't. #Loos4Ladies"
How much of your day was spent queuing for the ladies' loos?
"Probably about an hour and a half."
What is the main result you want to see come out of the campaign?
"Essentially two female cubicles for every male facility, although I'm doubtful that's possible."
Do you think people will take it seriously enough?
"Absolutely not."
Jokes aside, this is clearly an important matter that needs to be addressed if events like St Patrick's day are going to be enjoyed to the extent that they should be.
Obviously an event like this with such a high number of attendees is always going to have its difficulties and takes a lot of time and effort to plan, and shout out to The Three Sisters for taking one for the team and organising such a great day enjoyed by so many of the city's students and locals. However, when it comes down to people not being able to use the toilet, the organisers do need to be called into question.
Queues for the loos are inevitable at this kind of event – we do not expect to receive our very own personal toilet for the day – however, when a person finds themselves in the position in which their recurring nightmare of wetting themselves in public materialises into an actual, real-life possibility, the event organisers simply must come under fire.
A call for all public venues to change the layout of their loos to increase the number of female toilets would be ideal, however, it's not realistic. Instead, when it comes to planning events like this, organisers should perhaps look to converting one of the men's loos into a female one for the day, for the day, or allowing females to use cubicles in the men's if they are vacant.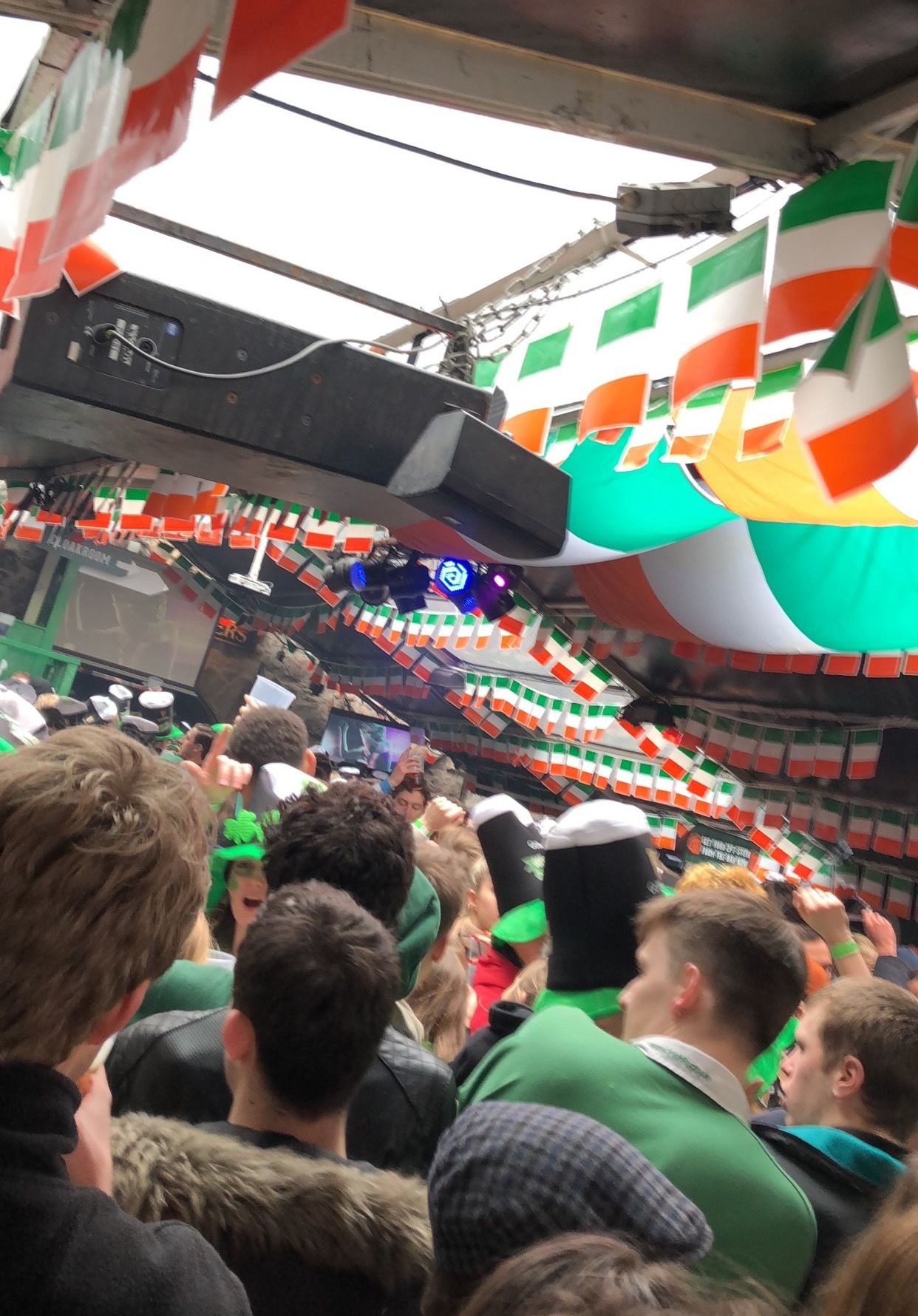 The Tab spoke to a representative of The Three Sisters, who said: "We have the legal requirements for the number of toilets for our venue, otherwise we couldn't operate. But what we actually had done for this week was hire in 12 porta loos that were put in our back courtyard area that we cleared out.
"What we also did was have extra signage up to direct people to where the toilets were, because it can get congested and busy. The problem was this year that all the signage was ripped down really quickly. The way we are going to look at it for next year is the signage for toilets shouldn't be the same as the decorations.
"For next year the signage shouldn't be in theme, and should be more exposed, bolted, and not part of the decorations or something that can be removed because it's obviously pretty crucial. Improving our signage, making it a lot more St Patrick's Day-proof.
"St Patrick's Day, from an operational point of view, is our favourite time our our year, and we are confident we've got the best St Patrick's Day in the UK, probably. But it's not down to the decorations, it's due to the crowd that come in and the atmosphere as soon as you open until close is just amazing."
Perhaps it is the legal regulations regarding the number of toilets to be made a requirement at this type of event that should be called to question, and not the organisers after all. A situation in which people are made to queue for over an hour to exercise a basic human right may be 'legal', but that doesn't mean it's right.
St Patrick's Day at the Three Sisters may have been the key inspiration behind the campaign, but situations like this – in which women are made to queue for hours whilst the men pop in and out – arise in all similar events and public venues.
Pissin' yaself certainly isn't the luck of the Irish, and is a situation that no one should ever have to face.