A roundup of the BIGGEST things that happened in Edi in 2017
A lot can happen in a year
It's been a long year. 2017 started with freshers still five months away from their A Levels and Advanced Highers, no immediate prospect of a General Election and Love Island just being a crap reality show that you'd never watched before. A lot can change in a year,  so here's a roundup of the biggest things that happened in Edi in 2017:
We got an Echo Falls, Gin and a VK Society
We're not doing a great job of dispelling the opinion that all students do is drink are we? Three separate groups of groundbreaking students set up the Echo Falls, Gin and VK Appreciation Societies giving us an excuse to get drinking. As if we needed one anyway.
Prow online pre-sale tickets were introduced
The greatest gift that EUSA has ever given us. 200 people each week can now avoid the infamously long Big Cheese queues and just stroll in at midnight. A game changer that makes your Prow nights even better.
It was announced that Silk is to close down…but not for a while
In January, the Tab revealed that Silk will shut its doors for good, but not until November 2019 so you've still got plenty of time left. Silk's closure will be part of a massive redevelopment on King's Stables Road just off Grassmarket that will result in new student accommodation being built.
Riot police turned up to Juju Club's opening at Opal
An eventful way to start a club night. The riot police were called in to deal with the boisterous crowd and money was stolen from the event's organisers.
Edinburgh sex parties became a problem
Andy Wightman, a local MSP, brought up the issue of 'very audible' sex parties in the Old Town part of Edinburgh claiming that some residents had been forced to move out. You randy fucks.
There was a huge Scotland Against Trump march
Thousands of people took to the streets days after newly elected US President Donald Trump announced plans for a 90 day travel ban for people from Iran, Iraq, Somalia, Libya, Sudan, Syria and Yemen into the USA. The march started with a string of stirring speeches, including one from Edi student and Islamic Society committee member Assad Khan.
The library opened for 24 hours, sort of
To much excitement, the library finally announced that it'll be keeping its doors open for 24 hours a day. Only the ground and first floors are kept open 24/7 however, and the change meant that everyone's favourite nuclear bunker, the Hugh Rob, is no longer open every second of the day. Sad times.
Unsurprisingly, Grant was voted the worst estate agent by miles
In other news, the sky is blue. Grant Property topped the Tab's poll for the worst estate agent in Edinburgh with a whopping 30 per cent of the votes.
Clique was filmed and aired
The much anticipated BBC drama that focused on students from a uni in Edinburgh was shot and aired this year. Anyone who hoped that it would accurately portray life as a student in Scotland was left disappointed as the show was considerably darker than expected.
Patrick Kilduff became EUSA Pres
In an election race that included a candidate who promised to sell New College to fund free VKs for all, Patrick Kildfuff emerged victorious. The third year won twice as many votes as any of the others up for election.
Landlords offered students free rent for sex because the world is an awful place
As if we needed more proof that there are terrible people in the world in 2017. Landlords in Edinburgh and Glasgow have been targeting vulnerable students by offering 'sex for rent.' One advert in central Edinburgh offered a flat "free of charge to a female in exchange for services." Eurgh.
Another Edi student made it to Made in Chelsea
Following in the illustrious footsteps of Louise Thompson, Econ student Ella Wills made her first appearances on Made in Chelsea.
Chris Evans rocked up to Opal
Taking a break from filming the latest Avengers film, Chris Evans surprised the crowd at Opal by treating himself to a night out there. The new Avengers film was being shot around Edinburgh the Royal Mile and Waverley Station.
The uni finally decided to take action against library desk hoggers
Desk hoggers finally got their comeuppence, well sort of. People who leave their desks for a significant period of time now are a given a passive aggressive reminder in the form of a laminated note reminding them of their crime. Whether or not this actually has an effect remains to be seen, but it's good to see that the library has finally taken some action.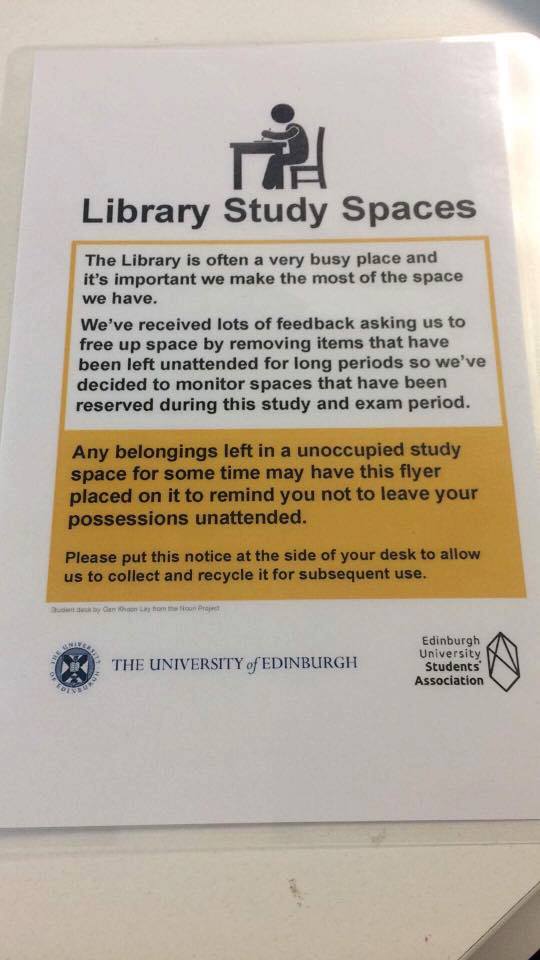 Exam fuck ups obviously occurred
Surprise surprise. First year Geographers and Linguistic second years both had exams riddled with errors leading to invigilators repeatedly interrupting their exams to clarify what the papers were supposed to say. Later in the year, a third year business exam was interrupted after the examiner's phone went off. Typical.
Barack Obama came to visit
Barack Obama visited Edinburgh to speak at an event for philanthropy and business leaders near Lothian Road. Unfortunately he didn't drop in and say hi at the Uni like another North American leader did…
Jodie Whittaker filmed a BBC TV drama in George Square
Months before she was announced as the thirteen Doctor, Jodie Whittaker was in Edinburgh filming the BBC TV drama Trust Me alongside Inbetweeners star Blake Harrison.
McEwan Hall and Bristo Square reopened
In September, there were third years who had never walked through Bristo Square. Luckily for them though, as soon as they got back to Edinburgh they were able to see the skaters take back their territory and know that they will definitely graduate from the beautiful McEwan Hall and not somewhere shit like Appleton Tower.
Justin Trudeau got given an honorary degree
Maybe the biggest thing to happen in Edi this year happened in the middle of the summer. The Tab revealed that Justin Trudeau was to receive an honorary degree during the graduation ceremony for students from the School of Social and Political Science. Justin definitely lived up to the hype, giving an inspiring talk to the graduates where he unveiled his Scottish accent and even spoke in French for about a minute. We were weak at the knees.
The central library nearly closed for 24 hours during exams and everyone lost their shit
The library staff sent Edi students into panic mode when they announced that they would be closing the library and Hugh Robson building for 24 hours in the middle of the December exam diet due to problems with heating in the Central area. In the end there was nothing to worry about as it the library ended up being open as usual.
The Australian and New Zealand rugby union teams came to Edinburgh and used our uni gym
Players from the Australian and New Zealand rugby players were spotted in and around the Pleasance gym in the run up to their team's respective games against Scotland. There was an added twist to the Australian visit, as their players were asked not to use the Peffermill pitches they were training on in order to preserve the pitch for the next Edinburgh Uni match. 
The Princes Street McDonald's stopped being open 24/7 and now we literally can only get food from Scotmid after a night out
A fucking disaster. In November, the Princes Street McDonald's began to close at 2am in a move that due to licensing changes introduced by the council and changed the night out routines of most Edinburgh students.
Our new uni principal has a really shady history
Not that many people will probably care, but the incoming principal of Edinburgh Uni has a rather controversial past. In his last job as Vice-Chancellor of the University of Hong Kong he compared a student protest to the Hillsborough disaster, sided with the Chinese state against students and he threatened to take action against whistle-blowing staff and students.
Someone did a shit on the Why Not dancefloor
A room in Why Not had to be evacuated after one of its clubgoers literally shat on the dancefloor. Grim.
The Times had to apologise to Esme Allman for incorrectly claiming that she made a complaint to the uni about Robbie Travers 'mocking ISIS'
Edinburgh third year Esme Allman was the subject of an enormous amount of media attention earlier this year after The Times wrote an article in which they incorrectly claimed that she had complained to the uni about fellow Edi student Robbie Travers 'mocking ISIS.' After the original article gained traction, a string of news outlets such as The Guardian, Buzzfeed and The New Statesman leaped to her defence. Eventually, The Times issued Allman an overdue apology.
We found out that J. R. R. Tolkein wrote the sweetest letter to Edinburgh Uni weeks before he died
A touching moment for Edi Lord of the Rings fans. An archivist at the Centre for Research Collections at Edinburgh Uni stumbled across a letter from J. R. R. Tolkien to the university written just five weeks before he died. The letter is beautiful, both in terms of its handwriting and its content – he even said that coming to Edinburgh made him feel 'like a Hobbit would'.
Tatler wrote a tragic guide to Edinburgh Uni
Not that this came as a huge surprise, but Tatler's guide to Edinburgh Uni was particularly tragic. They said that the best way to get in is to 'be English', and basically made up with no evidence a list of the best and worst subjects to study at Edinburgh. Worst of all, though, is when it tells its readers to AVOID Buckfast, calling it 'totally horrible'. That's a line crossed, go home.