Edinburgh FINALLY takes some action against library desk hoggers
The new system isn't exactly perfect though
After years of students clamouring for action to be taken against serial library desk hoggers, the university have finally taken action.
People who leave their desks for a period of time will be given a flyer reminding them not to reserve seats due to the huge demand for them during the exam season.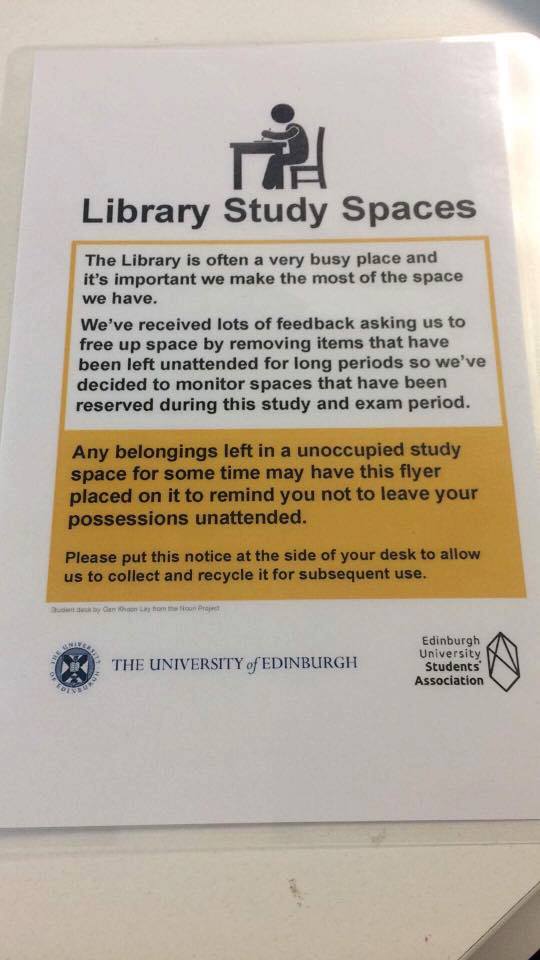 Whilst the flyer's introduction is undoubtedly welcome, the library monitors still don't have the power to actually remove people's belongings away from their seats. Although, seeing a flyer on a desk might give people the license to remove the reserver's possessions.
The biggest issue with the system though is that the flyers are being dished out inconsistently. Some people are still reserving their seats for well over an hour without receiving them whilst others are being given them after just five minutes. Third year student Rebekah told the Tab: "I literally went five minutes to go get books, I didn't even bother to put my computer on lock and when I got back they'd left one of those notes on the desk."
It's unclear whether the flyers will actually make a difference in the long run, but students will probably appreciate the effort being put in to try to sort out the problem.