Drugs, death and David Hume: A review of the first episode of Clique
Okay, DHT was nowhere to be seen but there was plenty of drugs and death
The idea of a TV programme about a Scottish uni, 'not in Edinburgh', but with everything shot in Edinburgh, was enough to get everyone excited this week.
The rest of the UK and people at other unis would finally get a taste of life up north and experience what it's really like: belting out 'Angels' at the Big Cheese, stocking up on wraps from Nile Valley, greeting the Mormons in the Meadows, maybe drinking too much at Varsity. I was apprehensive but ridiculously excited to watch something that sounded pretty similar to Edi life on BBC iPlayer.
But, none of the above featured at all. To say 'Clique', BBC3's new Skins-esque six part series, was bizarre would be an understatement. Although the show apparently isn't set at Edinburgh Uni (instead a 'Scottish Uni'), it was filmed here and so I couldn't help but look for similarities, though I found that it didn't always represent the Edinburgh uni that I know and love.
Let's start from the top.
We first meet the two main characters, Holly and Georgia, dancing around in bin bags and singing into hairbrushes (does anyone still do that?). They're presumably at some themed party at the Holyrood halls but way too much effort had definitely been put into the outfits. There are also some guys dressed like Chippendales who over eagerly bounce in and carry Georgia away to play drinking games- why didn't more guys dress like that at the party's I went to?
However, the bin bags and chippendales were soon discarded as some third year Georgia had slept with in freshers week – and who'd never texted back – was doing a gig at the most amazing venue. I can't say playing at Hectors House would be my number one choice but at this point I was more excited at the fact that oh my god they were at Cab Vol.
This is where we first meet the Clique as Holly awkwardly stares at them for what seems like a good seven minutes. It was pretty idealistic, the girls who were part of it looked like models, definitely a good six years older than everyone else and were sipping from champagne glasses with perfect red lipstick and designer dresses. They would have looked more at home in Harvey Nics than raving away at Hectors.
The clique was bizarre and definitely not something I've ever experienced at uni. A private club with a personal Uber driver and glossy black business cards – this was a little more exclusive than Diagnostics. Obviously, they next end up at a massive pool party in a house that looked like it was worth millions. Definitely New Town.
Everyone was in their late twenties, they were all beautiful and one guy's a bit mean. It's definitely a contrast to the usual Newington pre's where you down as much echo falls as possible before stumbling down to Hive. Holly came up too fast while exploring the house, and interrupts some sketchy happenings.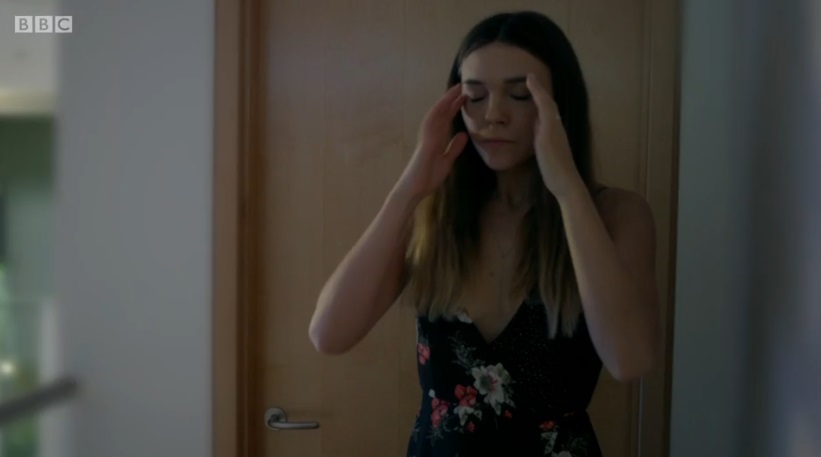 One thing that threw me was just how Scottish everyone sounded, with classic central belt accents. This is definitely not the Edi I know. Everyone here is from London or somewhere else that's not Scotland, with actual Scottish accents few and far between – especially in an economics lecture.
Everything was very surreal and started to get creepy towards the end. I won't spoil it for all of you uncultured lot that aren't wasting their precious time at uni watching crappy BBC 3 shows but it was pretty dark. If I experienced what Holly (heroine) had in her first week then I can safely say I would be filling in my UCAS to go to UHI (that's the furthest north university in Scotland).
I spent the whole time eyeing up the backdrops. They were outside the Meadows Sainsbury's, driving down Princes street, meeting at the underpass by Potterrow and walking home over North Bridge. In a way it sort of felt like a bit of an invasion into the Edi bubble.
I can't say I loved 'Clique". The producers tried to claim that it was not based in Edinburgh but rather a 'classic unnamed Scottish university'. That's ridiculous, I can recognise the sheer beauty of Appleton Tower from a mile away. Yet if that is what a 'classic Scottish university' experience is like then I think the competition for applicants to uni here is going to be zero next year. Cheers BBC Three.
There was so much potential, so many possibilities to make something worthwhile and realistic of university experience but it definitely wasn't very characteristic of Edinburgh, even though it's not supposed to be, right?