God and Drag Queens: Jesus Christ Superstar review
Who knew the Bible could be so much fun?
As the theatre scene in Durham continues to evolve, Castle Theatre Company has opened its doors to Musical theatre.
Though an odd choice for their premier musical, 'Jesus Christ Superstar' is the work of composer Andrew Lloyd Webber and lyricist Tim Rice. Though a highly popular show, there has never been a more flawed representation of the life of Jesus (both musically and narratively).
Despite the questionable score, (Webber thinks all sopranos must break glass), Directors Jenny Baker and Daniella Frankel have created a bright and Intense production which really does meet the high standard musical theatre in Durham.
With an incredibly strong chorus body, the atmosphere is elevated and fabulously energetic from the offset, character and choreography being confidently delivered. Grace Buskell and Dorottya Farkas deliver excellently expressive choreography, often a much needed distraction to uncomfortable scoring.
The technical prowess of male soloist voices is well represented, particularly in the performances of Ben Cartwright (Pilate) and Thomas Bracewell (Judas). Richie Johnsen (Jesus) delivers a truthful and charismatic performance in the lead role, tackling the most difficult vocal performance with control, and a notable passion in 'Gethsemane'. Naomi Cook's Mary Magdalene is acted beautifully, her vulnerability is spot on, however a little extra projection and diction would not go amiss.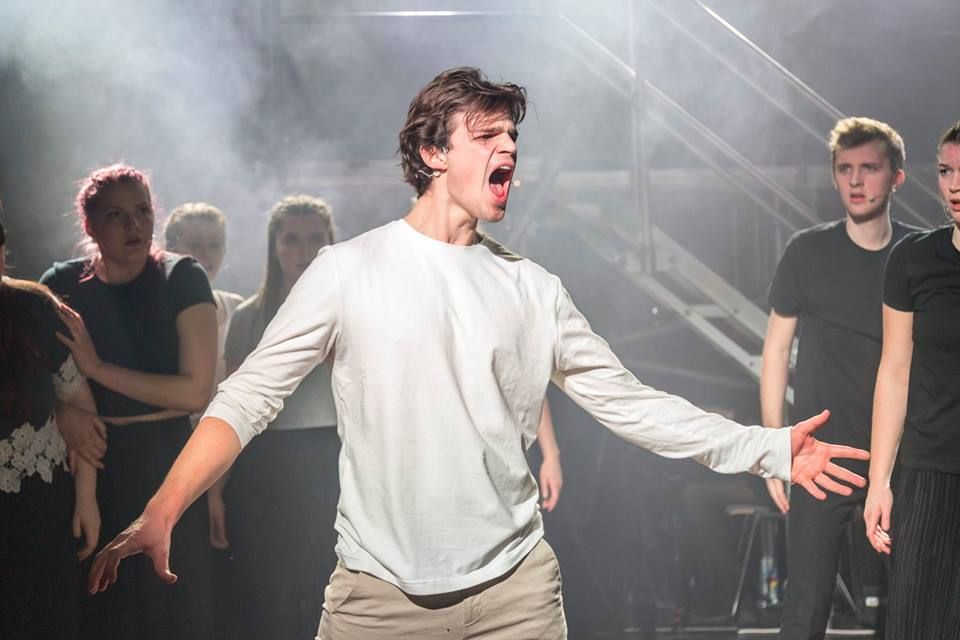 However, the most notable performance of the evening was Jacob Freda's 'King Herod'. His comical timing seamless, his drag makeup flawless, and his backing dancers in full swing, Freda dresses the messiah in sequins then hurls a baguette at his head. I've never enjoyed Matthew 2:1 so much in my life.
With guitar riffs this complicated: outstanding musicians are vital. James Orr and David Bullock deliver entirely, while the brass and drums complete the heavy rock style orchestrations.
Sporting very basic black and white costuming, the minimalist style suits the bare staging well: the cast acting as a palette for lighting designer Freddy Sherwood to colour the stage with an amazingly sharp lighting display. 'The Crucifiction' showcases intelligent staging in place of an actual cross, once again showcasing the simple yet highly effective staging.
Overall, I will never understand why Andrew Lloyd Webber is acclaimed for his eccentric writing, yet that being said, CTC has achieved the impossible, as even I thoroughly enjoyed this performance. Simply put: you must see this show, and any other musicals CTC produce in the future.
Jesus Christ Superstar will be performed 8pm on Friday, Saturday at 3pm and at 8pm at the Mark Hillary Arts Centre.
Buy tickets here