Which delicious item of Christmas food is your Durham College?
Let's be frank here: it's about time we reveal which seasonal food favourite your college is.
Castle – Turkey
Let's be real, the turkey is the main event at Christmas. Although dry and not particularly tasty, turkey is the big ole dish in the middle of the table.
Hatfield – Brussels Sprouts
No one even pretends to like Brussels sprouts – even at Christmas. They're also remarkably squishy.
Hild Bede – Cranberry Sauce
Cranberry sauce is often forgotten at Christmas, because it isn't that important. Poor, neglected Hild Bede.
Collingwood – Stuffing
No Christmas dinner is complete without stuffing. A mixture of protein and veg, this is the perfect meal for the sporty students of Collingwood.
Van Mildert – Gravy
Van Mildert are the proud owners of the Swamp/Lake, and they look forward to summer days spent sitting around it. Everyone looks forward to gravy at Christmas, and the meal wouldn't be the same without being swamped in gravy.
Grey – Bread Sauce
Bread sauce has an unappetising greyish colour.
John's – Mulled Wine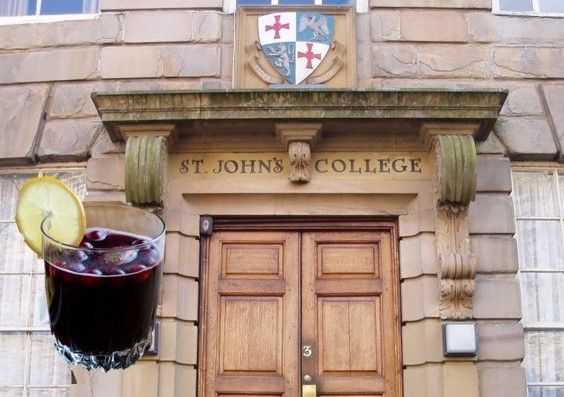 The religious John's students spice up their lives with a cheeky bit of flavoursome mulled wine at Christmas time. It all gets a bit much.
Mary's – Mince Pie
A Christmas classic. Everyone loves a good mince pie, just the same as everyone likes the nice people at Mary's. Aww.
Cuth's – Canapés
All good bar crawls begin in Cuth's Bailey bar, no one knows why, but that's just the way it is. Similarly, all good Christmas meals start with some nibbles, maybe a bit of smoked salmon on toast if you're lucky. Just an all-round great thing tbh.
Aidan's – Chocolate Coins
I mean they just aren't as nice as a bar of chocolate are they? We can't all be the Turkey, but at least you tried. And something about Aidan's makes us think … what are they hiding inside?
Trevs – Christmas Pudding
This sticky dish may look ideal for a food fight, but everyone likes it better when it's lit. Appearances can be deceiving, too: it's actually quite sweet.
St. Chad's – Pigs in Blankets
Arguably the best part of Christmas, sausages wrapped in bacon are a heart attack waiting to happen, but boy are they delicious. Chad's college has a very nice college bar, smooth talking students and a central location. What's not to like?
Josephine Butler – Gingerbread
Although it's a lot of effort to make, it's worth it when you get there. Once you get there, you've got first class access to your own loo – so it's worth it.
Ustinov – Brandy Butter
Only the grandparents like the brandy butter at Christmas.
Stephenson and John Snow – Christmas Crackers
Everyone knows that disappointing feeling when you pull your Christmas cracker to find a bad joke, a shitty hat and a tiny pack of cards which are all stuck together.
For the people at the Stockton colleges this disappointment is very familiar. Thinking you're going to study in the beautiful city of Durham only to be a 30 minute bus ride away is very disappointing. It's worth it for the few who are pleasantly surprised, though.