Hatfield finalist is releasing her third single
According to NARC it's "arguably her best yet"
Rebekah Fitch's new single 'Afraid of the Light' will be released on the 11th of November, following the success of her two previous singles Stroke of Genius and Here We Go.
Afraid of the Light has already been critically appraised, NARC describing it as "arguably her best yet" and Gigging NI saying Rebekah is "definitely one to watch over the next year." We had a chat with the third year Hatfielder to find out more about her career, studies, and aims for the future.
What inspired 'Afraid of the Light'?

Lyrically it's the song that I'm most proud of, because it's very coherent and there's quite a big idea behind it. It's an encouragement to people to ask the big questions and not be afraid of the answers they might find. I also came across the theme in literature, like in The Streetcar Named Desire and Macbeth, where the comfort element of being in the dark as opposed to having the light shone on your flaws is present.
It took a while to write because there are so many different layers to it, but I am pretty pleased with it. With most of my songs I don't like writing about something cliché or superficial, one of the main aims in my songwriting is to get people to think.
How do you balance building up a career and studying at the same time?
I've always liked to be busy. Its nice to always have something that I can be working on. I did Northern Lights and Kinky Swingers last year, and tried to keep up hockey, but it was quite intense.
This year I took a step back from everything to really focus on my career. I don't want to graduate and need to start from scratch, I want this to feel like a viable career choice. I've had to free my time to do PR and I write and record music as much as I can.
How did you start up?
When I was less then 10 I was really into the X-Factor and shows like that, but now I like to be in creative control of what I sound like and what my image is and have control of the messages that I sing about as well. So I get a lot of people saying that I should do the X- Factor, but it's completely against what I'm actually trying to do. I have been writing songs and recording for a while, but it's a slow process.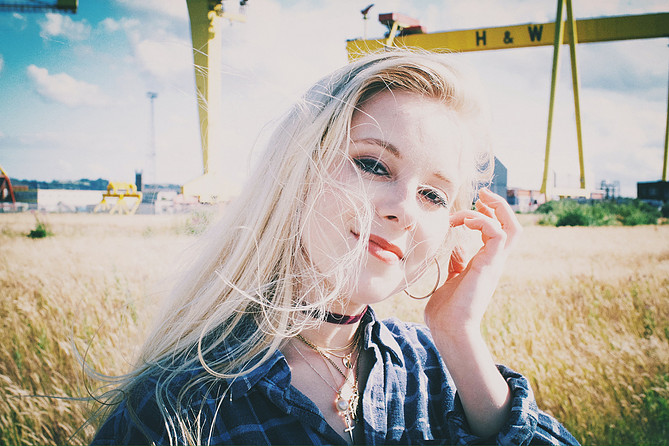 What do you wish to achieve after university?
Whenever people ask me about my goal I'm never really sure what to say, I haven't got one thing that I'm aiming for, because theres so much room for dissatisfaction. I think my goal within music is to take it as far as I can, if I'm able to keep it up as a career that's self sustaining because I can live of what I love to do.
In terms of playing on Glastonbury pyramid stage, or like BBC Live Lounge, that's stuff that I'd love to do and will try to do, but the goal is really just to be able to make a career out of my music.
In terms of your degree, what do you plan to use that for?
It's weird because whenever I tell people that I study music, they're like "oh that makes sense" but there is no overlap between what I do and what I study. I'm trying to make it as relevant as I can and improve my production skills and creativity and experimentation.
At the moment I have to listen to a lot of electronic music, and I'm using them as influences for electronic composition, I like experimenting with things. The stuff I've done so far has been very normal and very safe, but because I'm having to listen to stuff that isn't as mainstream I'm broadening my mind.
To celebrate the launch of the single and music video, Rebekah will be headlining an event held by Thorn on the 8th of November in Empty Shop HQ.
Keep up with Rebekah on her website or on facebook.