A lock-in in the library: 24 hours in the Billy B
It's cheaper than living in
The beloved Billy B is now a glorious fully 24 hours, seven days a week service. 
We felt like we should celebrate, and what could celebrate this glorious achievement of the pursuit of academic brilliance, and summative deadlines than to spend a full day in the library. You know, for science. Here is the definitive hour by hour breakdown.
Hour 1

First things first, we need to secure a base for the next 24 hours. We've found a spot with a view of the Cathedral, undoubtedly prime real estate. This will be our home until the Durham sun sets, when we'll find a more homely abode.
Hour 2
Being surrounded by keen library-goers we thought we should probably do some actual work, which lasted all of 35 minutes. We're now in reception avoiding the angry stares of the second years we were distracting.
Hour 3
We're hungry already. We're off for a trip to the café to stock up on snacks (not to be eaten on library premises, of course, we're not animals).
Hour 4

Okay, back to work now.
Hour 5

We're still hungry, so it's time to order Dominos. With no thought as to how we would collect our food, or even where we could eat it, we were beginning to realise we came slightly unprepared.
Hour 6

The Dominos has arrived. We had to get it delivered to The New Inn and sent a new library friend to pick it up for us. Yum.
Hour 7

We've found an abandoned study suite, in which we have set up temporary camp. A girl walked past and gave us a very confused look, maybe lying underneath the desk isn't a conventional study position from where she's from. Bloody internationals, am I right?
Hour 8
The night has well and truly descended. No one is here out of necessity anymore, we're here for science, and everyone else is here because their parents would be really disappointed if they didn't get a 2.1. One prepared student was wrapped in a blanket, clearly ready for the cold night ahead.
Hour 9
The intercom has just announced that staff have gone home for the night and will be replaced by security in ten minutes. This begs the question: who's going to stop us from breaking all the rules in that time? Chaos ensued for a solid nine and a half minutes.
 Hour 10

It's now well into the night and we have refrained from TV thus far. But Mean Girls is calling, and Lindsay Lohan cannot be silenced. A second year tried to join in, and we told them they just can't sit with us.
Hour 11

Mean Girls has been paused temporarily while we change into more comfortable attire. We are now snug in our makeshift den, which our 10-year-old selves could only hope to have rivalled. With a little imagination a few boxes turned into an impenetrable fortress. If you ever want to waste a night and sleep in the Billy B, top of staircase 4 is prime location.
Hour 12
Mean Girls finished, we're off to check out the remaining population of the library. It looks like only the most fearsome students remain. Yellowed cheeks, sullen eyes, and coarsely bitten fingernails, these intrepid academics were scattered around the library in a pre-deadline panic.
Hour 13
First security guard spotted, for some reason he wasn't too impressed with our onesies. Someone else said we look like a Scottish condom…rude.
Hour 15
Man down: half of us are asleep. I have now taken refuge in the disabled toilets for the warmth. A little bit of light reading while I'm at it too.
Hour 18

Morning! Time for breakfast – we're feasting on the remains of last night's Dominos.
Hour 19
The fort is all packed up and we've reclaimed our spot just in time for sunrise.
Hour 20

The lack of sleep is starting to hit and we're going stir crazy. We've resorted to wearing all the lost property – reclaim your Burberry scarf before we do.
Hour 21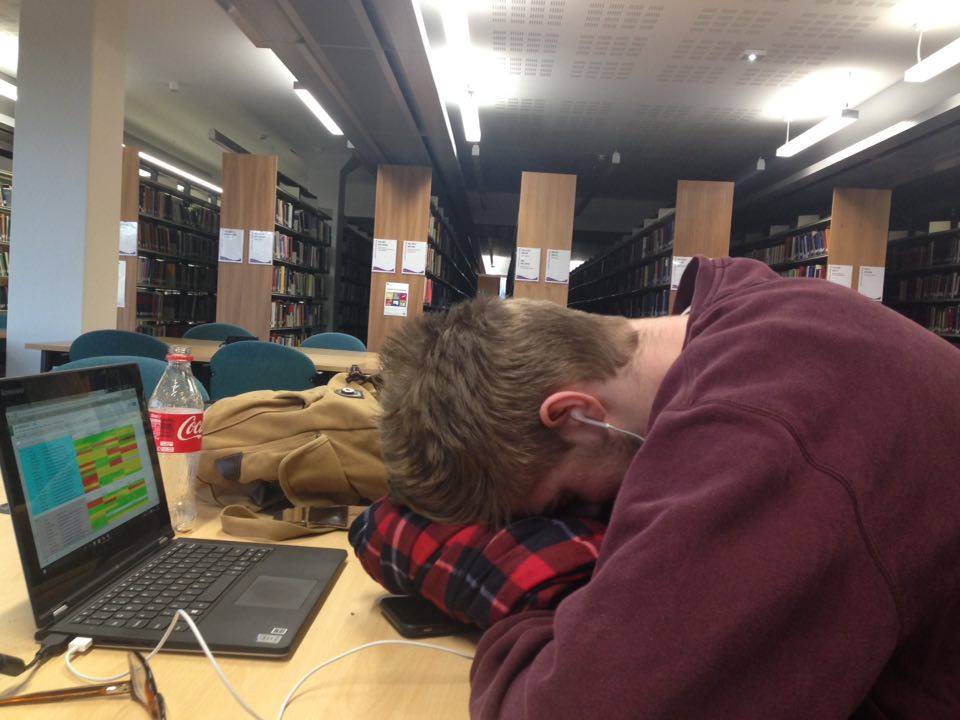 The struggle is real. He's now off to find a corner to nap.
Hour 22
Reinforcements have arrived in the form of orange juice and croissants. The future is looking bright.
Hour 23
Fun library game: hide and seek. We're almost there. Hide, from our exhaustion. Seek, the will to carry on.
Hour 24
We made it. 24 hours in the brownest, greyest, most uninspiring place in the uni.
On reflection, spending 24 hours in the library wasn't the enlightening experience we had hoped for, and it's not that great a hotel for the night.
We're tired, hungry and very much ready to head back to a proper bed and civilization. All in all, it's probably something we will never do again, but at least we now know what it's like to read an introduction to computer programming at 4 in the morning.