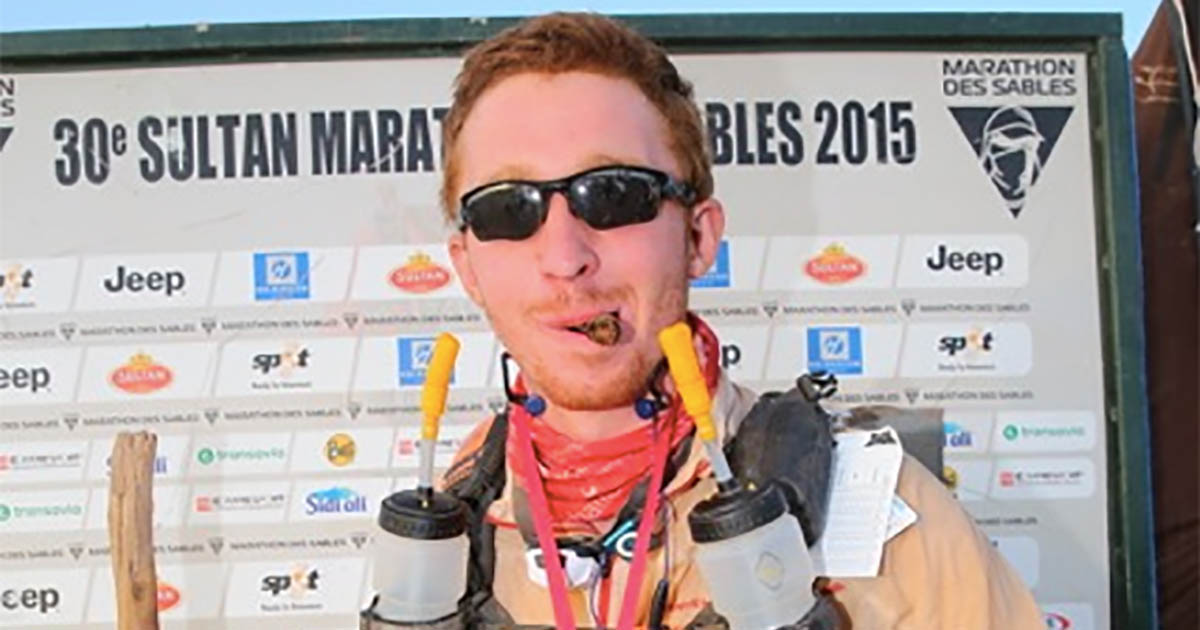 Durham second year runs 155-mile Ultra Marathon with broken leg
Is it just me or does he look like Brody from Homeland?
national
noad
A brave Durham Archaeologist completed the gruelling Marathon Des Sables with a fractured tibia, damaged tendons, and a shattered ankle.
Second year James Tufnell completed the notoriously difficult Ultra Marathon after running the last 60km on a broken leg.
The Marathon Des Sable is a 250 kilometer (155 mile), five day Ultra Marathon through the Sahara Desert. All competitors must be self sufficient, which means carrying their own food, drink, and sleeping material. One competitor notoriously got lost and had to drink bats' blood to survive.
James decided to run the Ultra Marathon after a conversation in the pub with a friend who told him the one thing he could not do was run the Marathon Des Sables.
"As soon as he said that I had already mentally signed up," Tufnell told The Tab before the race.
Having never run a marathon before, Tufnell threw himself into training, using his experience as a university and school boy rower.
Tufnell decided to run the Marathon for Mencap, a charity for those with learning disabilities.
"In 2014 out of 124,000 disability hate crimes, less than 1% were prosecuted, and I think that is just wrong. That's what made me keep on running in my darkest moments,"Tufnell explained.
Since starting his fundraising, Tufnell has raised over £10,000 for the leading UK Charity.
"I buggered my leg 10 miles into the 60 miles day, which was the longest day in the race," he said.
"I can't really remember how it happened, I think I was running down a sand dune and jarred my leg on a rock. I remember stumbling and swearing a lot, but I didn't fall.
"By Mile 30 I could hardly walk.
"I reached a checkpoint and started to go into shock.
"The next 20 miles were over sand dunes. I was taking two steps forward and one step back."
"It was during this part of the race when things actually started to get quite funny. Sir Ranulph Fiennes was also running the race, and we were both in a pretty bad way. As I ran past him I said 'Sir Ranulph, from the youngest Briton to the oldest, in the immortal words of Winston Churchill, keep buggering on'.
"He actually found it pretty funny, and we spent a lot of time leap-frogging each other. He would over take me on the flats, and I would take him on the sand dunes.
"All of the time we were being chased by a camel, who was marking the end of the race. I arrived into camp at about 3am, with about 10 minutes to spare.
"The next day I was handed a class winners medal. I'm not really sure what for, but I didn't dare question it.
"I wouldn't do it again. I think its one of those things you do once, but there are far many more stupid things I can do with my body. I think I'd do something similar.
"The injury definitely added to the experience. I went into the race with the mindset that I can do anything if I set my mind to it. Now when I'm struggling with an essay with my degree I really won't be able to complain.'
James is still raising funds for Mencap on his JustGiving page.