Collingwood is getting rid of 90% of the books in its library
Who really comes to Durham for all that fancy book learning anyway?
noad
Yesterday was World Book Day, a day of celebrating literature or, as we used to do at primary school, dressing up as our favourite storybook characters (perhaps with the addition of some alcohol).
Instead, it emerges Collingwood College Library is to be decimated.
Books are to be replaced with desks as the library's shelves will become sparser in the near future. And around 90% of books are said to be earmarked for sale, in order to provide space.
Collingwood currently has "about 10,000 books in the collection, including a number of reference books and small collection (a few hundred) of donated fiction books."
Currently if sale plans go ahead then there would not be enough books for each of the roughly 1100 students to borrow one books each at the same time.
In comparison, the library of St John's College has "around 30,000 books in it", albeit the majority in the field of Theology.
In an interview the Principal of Collingwood defended the loss of the library resources, and reiterated the need for increased study space.
He said: "We have had one of the biggest libraries at the University, yet for the last few years it hasn't been used anywhere near as much as it once was.
"Students these days can get hold of e-books very easily through the library catalogue. We're so close to the Bill Bryson Library as well, and paper copies of all the books that they need for their courses are available there."
Although so-called "essential" books will remain, competition for books is always a trial, especially around summative season.
For example, one book on the recommended reading list for a History course of 114 students, is only available in five centrally available copies. One copy is also found in Collingwood.
Collingwood students were not in any way consulted about these plans. The plans, however, will be funded by alumni investment. The donation page on the college's website calls the development of the Lormer Library as a "priority."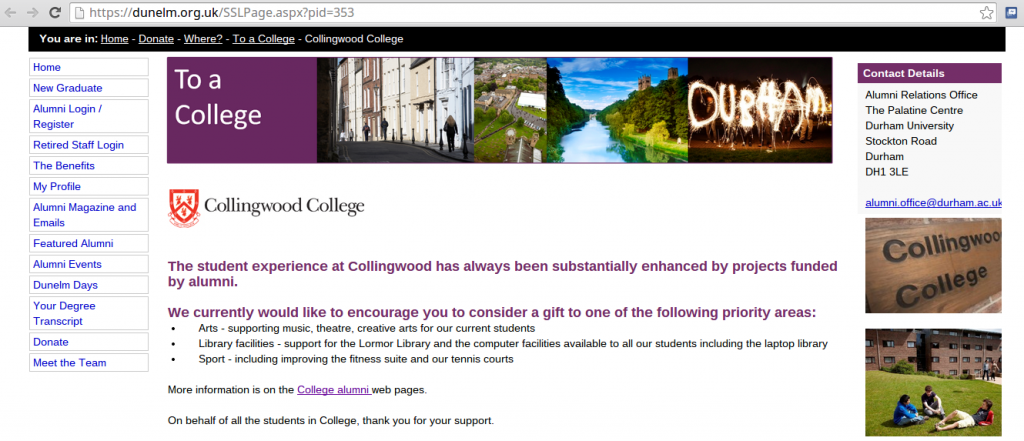 The October 2014 edition of Collingwood's online magazine Wood Words Online also includes mentions of plans for changes to the library.
In the magazine the JCR President for 2013-2014 writes: "Looking forwards, there are plans to refurbish the computer room and college library to provide even better facilities, and I know I'll be back to see the finished product!"