It's not just students who drink: What police stats show about alcohol and Durham
Drunk and disorderly arrests were higher in July and August – when most students were at home – than during September and October when Freshers' Week fell
noad
River safety is a contentious issue in Durham, after the deaths of three Durham University students.
The official response to the tragedies has been focused on alcohol awareness, with Durham's Chief Constable Mike Barton's response firmly against the use of physical barriers.
Following the death of Euan Coulthard he said: "Some people are saying this means we have to fence off the river. No we don't."
This comment appears especially misguided after the death this weekend of a local rowing coach who suffered a medical condition and fell into the river.
The focus upon student drinking specifically is also worthy of criticism.
While measures such as the use of breathalysers in clubs will affect students and locals alike, official rhetoric has focused firmly on student drinking. Barton drew direct attention to the "young men and women who are coming away to university", saying they "need to behave a bit more socially responsibly."
Figures obtained by The Tab from Durham Constabulary through Freedom of Information requests suggest excessive drinking is certainly not limited to students.
A close examination of the number of arrests for being drunk and disorderly appears to show excessive drinking may not be limited to the student population.
While the highest month for drunk and disorderly arrests was a month in which students were present, it was also the month in which A-Level students finished their exams and the start of summer.
The number of arrests in June was just three lower than in December — when most undergraduate students were present in Durham for just thirteen days. In this context, it's hard to paint students as the only members of the population who drink excessively.
Drunk and disorderly arrests were higher in July and August – when most students were at home – than during September and October when Freshers' Week fell.
This is notable as Freshers' Week is usually portrayed as a week of hedonism and excessive alcohol consumption. While of course, some students did take their new-found freedom a little too far, these statistics show another side to the picture.
One message to the student body from the police focused upon the lesser known crime of being drunk and incapable. This crime is when the person is classed as being unable to get themselves home safely.
An email sent to students at Collingwood College by Professor Joe Elliot earlier this month warned of a change in police stance.
"Police have changed their stance in relation to responding to public displays of intoxication," he wrote.
"The implication for those found to be in such a state are potentially very serious."
However, the number of arrests for this crime in 2014 was exceptionally low. Over a twelve month period, only six people in Durham Constabulary were arrested for being drunk and incapable.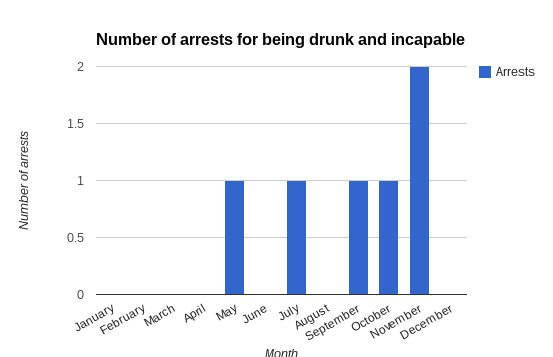 This very small number of arrests contrasts greatly against the hard line stance currently being taken by the police. The highest number of arrests took place in December – when students were present for only half of the month.
The increasingly strict measures regarding being drunk and incapable have faced criticism from the student body with some claiming that the way in which police are targeting student drinking is antagonistic and will cause more harm than good.
Collingwood second year Charles Bodenham said: "It shouldn't need pointing out that merely using the 'stick' to curb the public displays of intoxication is a naïve and disgraceful misuse of power and I for one am shocked that the implications of these policies could have been so incompetently overlooked."
The Designated Public Places Order in place in Durham, under which drinking alcohol in public places can lead to arrest, has also come under scrutiny in recent months.
In a response to our Freedom of Information request, the Alcohol Harm Reduction unit told us how in 2014 "to our knowledge there have been no arrests for failing to comply. This does not mean to say that those refusing to comply have not been arrested for some other related offence such as Drunk and Disorderly; however this would require scrutiny of each arrest circumstances."
The shift in stance of the police towards this policy has led to animosity and has not presented the most positive image of their alcohol awareness policies. Instead, it has created a further divide between students and those who are supposed to protect us.
River safety is naturally the issue that is focused upon most with regards to alcohol awareness but the issue of drink driving is also worthy of some attention.
There were 730 arrests within the Durham Constabulary area for drink driving in 2014, compared with 853 arrests for being drunk and disorderly.
Drink driving is a more serious offence than being drunk and disorderly, with penalties as high as six months imprisonment and a fine of up to £5,000. It also puts the general population at great risk.
The high number of drink driving arrests remains largely consistent throughout the year, showing little evidence of a link between student presence and crime levels. As would be expected, the highest number of arrests are in December when everyone is in a partying mood.
In addition, Durham University students are the proportion of the population least likely to be driving a car due to both the lack of parking facilities and the small size of the city. In fact, the University regulations even include a section on student use of cars.
They say: "University policy is therefore to strongly discourage unnecessary usage of motor vehicles by students within the city."
So the overall picture suggests  the drunk driving arrests are largely due to locals.
The relative lack of focus upon drink driving by the police is unsettling.
While alcohol is clearly a substantial issue in Durham, it is not the only issue.
With regards to the river it seems clear alcohol awareness alone cannot prevent further tragedies from occurring. The focus of the police upon drinking and student drinking specifically only serves to widen the gulf between locals and students, presenting students as uncouth louts who just want to get smashed.
That isn't the case. Most people drink — but that doesn't mean they should be labelled as criminals before they commit a crime.
Rather than criminalising students, the focus should be on making Durham safer. For everyone.