TabReview: Tango Burger House
Tab Foodie Belinda Davies dropped into Tango on her way across the Elvet Bridge and found it an atmosphere transformed but still not quite the full monty.
Tango has had a makeover and has revamped itself inside and out with a new menu and a chic new interior.
We were seated in a cosy concave corner of the restaurant which would be an ideal setting for a date. This time the vibe was buzzy and upbeat, with low lighting and rustic brickwork housing a kaleidoscope of wine bottles.
I kicked off with a punchy Caipirinha served in a jam jar which immediately got my vote, and soon a plate of sizzling hot gambas arrived – something which I traditionally go for every time.
These did not disappoint, and I have to say they were the star of the show. Fat little morsels doused in garlic butter, they seemed to be straining within their shells to emit their sweet and juicy interior.
Desperate to discover where these little gems had been sourced, it was slightly disappointing to learn that, far from a local catch off the North-East coast that morning, they had in fact originated from Beijing…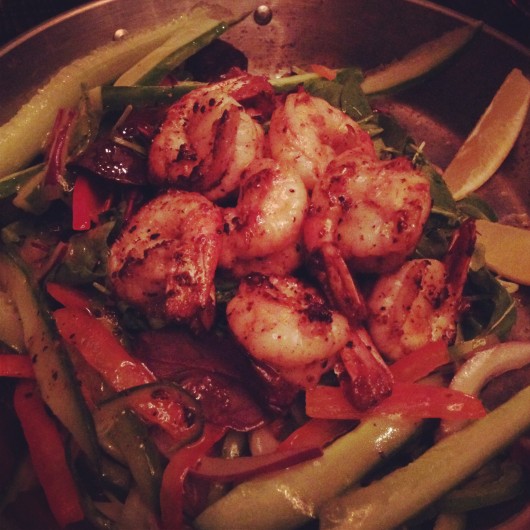 Not to be deterred, we moved on swiftly to a skewer or 4. These arrived heavily loaded with plump-looking nuggets of lamb and piri-piri chicken respectively, nestled in between roast peppers, and with bowls of guacamole and sour cream on the side.
These really were extremely tasty and a very plausible alternative to the classic burger choice.
I opted for the standard potato fries; Alex voted sweet potato chips, and I cannot deny, the latter were disappointing and poorly seasoned.
The burgers themselves serve a purpose and will certainly put any cravings to bed, although the burger-to-bun ratio was dubious and the bun itself of a disputable calibre.
On the plus side, they do offer free Wifi if your date gets really boring and the gin comes with Fentimans tonic.
Unfortunately the pudding menu is less than inspiring, and reminded me of something I might have seen on a Pizza Hut menu in the 90s.
Tango does add to your list of options when choosing where to eat in Durham, but don't set your hopes too high and do consider a skewer over a burger.
As far as the starters are concerned, with the honey glazed mini chorizos and a platter of plump gambas, you can't go too far wrong.