BISHOP TO ARCHBISHOP, DURHAM TO CANTERBURY
Bishop of Durham and former oil industry worker, Justin Welby, is set to become the new Archbishop of Canterbury.
Bishop of Durham and former oil industry worker, Justin Welby, is to become the new archbishop of Canterbury.  
Having been in England's fourth most senior role for only a year, Bishop Welby will be taking on his new position in December, replacing Rowan Williams after his 10 years in the role.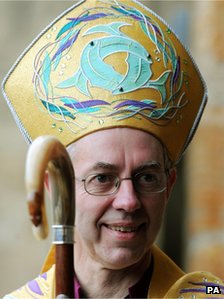 The 56-year-old was educated at Eton and Cambridge University. After working in the oil industry for 11 years he then studied theology at Durham and was ordained in 1992.
Bishop Welby's theological dissertation at Durham was entitled, 'Can Companies Sin?'. He wrote it in the early 90s after leaving his job as group treasurer of Enterprise Oil and, with it, what he described as "sinful" corporate excesses.
Bishop Welby sits on the parliamentary banking standards commission and is set to maintain his place on the inquiry set up by George Osbourne to promote transparency in the City.
He became bishop of Durham in November 2011, working as the archbishop of Canterbury's special envoy to Africa and attempting to build unity between Christians and Muslims in Nigeria.
The relatively inexperienced bishop Welby was appointed over more long-serving candidates such as the bishop of York, John Sentamu. At the beginning of the week, Ladbrokes was offering odds of 7/4 on the bishop Welby's appointment but decided to close betting on Wednesday after a flurry of bets were placed on the Durham bishop.
Labour MP and former Anglican priest Chris Bryant raised suspicions at these bets being made before any reports in the media regarding the archbishop decision. According to Bryant it suggested "a situation where people know about the appointment and do this kind of insider trading."
Bishop Welby is regarded as being on the evangelical wing of the Church. Ruth Gledhill, religious affairs correspondent at the Times, reportedly said the bishop is thought to be "conservative on the issue of gay marriage" and was "absolutely in favour of women bishops, but strong on protecting the position of traditionalists in the Church".
Gene Robinson, the first openly gay bishop in the worldwide Anglican Communion, has welcomed bishop Welby's appointment, reportedly describing him as an "immensely likeable and sensible man" and a "breath of fresh air for the Anglican Communion".
Christina Rees, who sits on the Church of England's governing body, told BBC News, "He's known to be wise, collaborative, a man prepared to take risks, someone extremely astute.
"He's worked in industry and commerce, in the oil business for many years. He's also known to be personally very warm and a man of prayer, deeply spiritual."
Justin Welby will become the 105th archbishop of Canterbury, and the nominal leader of 77 million Anglicans worldwide.