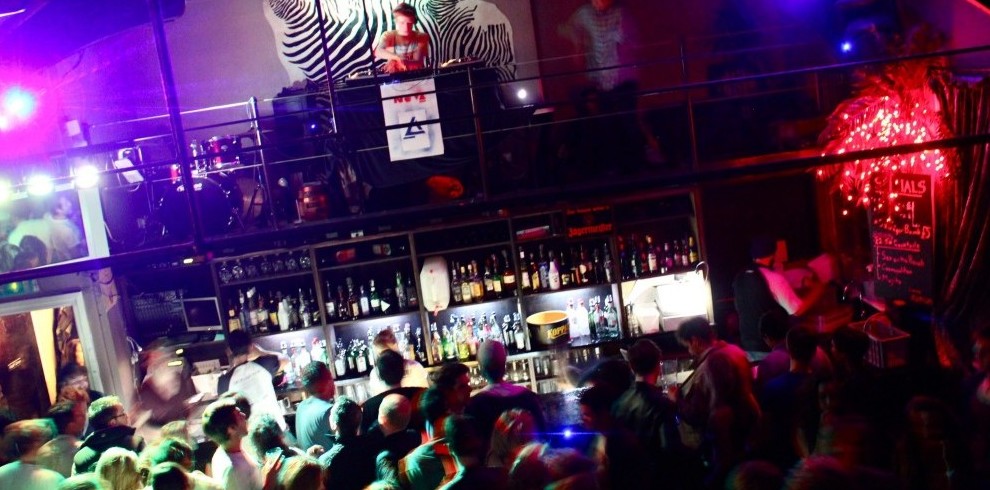 SUPERNOVA
Red Cross on standby after reports of Nova gas being deployed in the Hundred Beers War
Last Thursday the Hundred Beers War extended its frontier, as a new challenger stepped into the fray: NOVA.
Nova is an entirely student-run, home-grown phenomenon, seeking to bring something fresh to Durham. The first night offered house, bass and garage music, played by Resident DJ Ollie Scott (aka Gin-jah), and the headliner, up and coming signed DJ, Joonipah.
Theirs was a noble cause, certainly; but the founders of Nova knew that the stakes were high, and the Durham Derby was not going to be a walkover.
After observing the conflict from a distance, the founders of Nova, led by Trevelyan College's Yousef Al Qatami, staked their claim to a different turf. A battleground most used to the tread of Saturday night stilettos and an army with their top buttons firmly sealed: Fabio's bar.
Somewhat underused by students, it boasts perhaps Durham's coolest DJ booth, and seemed the perfect arena for Nova to stage their debut. The field of dreams, if you will…
It is a well-observed phenomenon that a select group of unfulfilled Durham students make the flat-capped Friday night migration to Newcastle. Whilst the promise of the disapproving commuter glances on the train home and radically un-Durham bedtimes deters many from making the trip, the success of such nights as Absolute Life's 'Old School Hip Hop' suggest that it is not only this minority who are excited by a deviation from the norm.
Admittedly, whilst I can confidently name every member of One Direction (and Blazin' Squad, oddly…), I didn't know if Joonipah was a he, or a she, or a they: "yeah, no, they're my favourite…" I went to Nova on Thursday simply to try something a little different.
And I wasn't the only one. Music connoisseurs and bass novices alike turned out in force.
Colin, a bouncer, noted that the bar was "busier than I've seen it on a Thursday night", and even Fabio was impressed by the turnout.
The atmosphere was electric, the dancing was manic; and with Mojitos flowing and a crowd of familiar faces Nova delivered the musical flair of such venues as Cosmic Ballroom, with the intimacy for which Durham is renowned.
Moreover, Joonipah complimented not only the "cool setup" at Fabio's, but equally the treatment he received throughout his trip as "the nicest ever": serious praise from a DJ who plays at the likes of World Headquarters. It would seem that it's not about the size; it's how you use it…
Third year Cuth's students Naomi and Hanna said, "We would definitely go again, saves us going to Newcastle!"
"There isn't anything else like it in Durham in terms of the music" said Josh from Van Mildert.
Nova even received support from some Newcastle students.
Annie, here visiting a friend, said that Nova "really confounded my expectations of Durham, I had a really great night"; whilst Kenny equally eloquently paid tribute to "all the fit honeys". High praise indeed.
In a turbulent economic environment, when only Klute seems to constantly obtain its sweaty, sicky fill; and Academy and Studio have closed more times than Proudlock on a Uni tour, one must take into account that Nova was free; almost unheard of in Durham.
Thanks to generous subsidising by Fabio's, the Nova ethos to bring fresh music to Durham did not have to be jeopardised by entry fees, leaving room for people to just give it a go.
So where Nova will go from here?
Will the names behind the decks keep getting bigger? Will the crowds keep returning despite the promise (or threat?) of no Call Me Maybe? Will Nova's Rocky be able to stand alongside the heavy hitters in Durham's nightlife, the Muhammad Ali that is Absolute Life? (I realise that they never actually fought. And that Rocky is fictional…)
The real question stands whether they can convert their underdog triumph into something more than just a novelty night.
With the promise of a follow up shortly, and rumours of Dark Sky Djing the next event, let's see if Nova can be a knockout.
Photographed by Grace Fforde