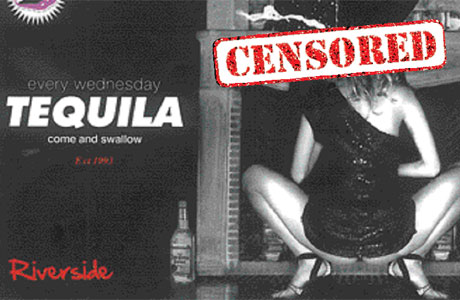 Tequilla Warfare
Residents fail to take saucy flyer with a pinch of salt
flyers
Newcastle
nightlife
tequilla
Newcastle student night and refuge to the Durham tippler, Tequila, is no more after a series of episodes which culminated in a suggestive promotional flyer sparking dissatisfaction among some local residents. Since it's release onto Tyneside this October the raucous night has run four times and never shied from the spotlight. Last week they gave away a convertible VW Golf to a Newcastle fresher and, previously, two female clubbers had fallen into the river Tyne before being helped out twenty minutes later by police. Some Geordies apparently do drink like fishes.
Most recently, a promotional flyer showing a member of the fairer sex crouched down while champagne spurts from a censored sign where her head is has sparked controversy. When questioned on the flyer the club's event manager, who gave his name as Tarquin Van De Vaart to Sun journalists, replied honestly. "We at Tequila see no problem with the flyer. it depicts a girl bending over to tie a man's shoelace while he fires a bottle of champagne over her shoulder. I am astounded that peoples' minds have become so polluted."
Unfortunately local residents did not take the image with a pinch of salt. One woman reportedly claimed that the flyer was pushed through her letter box before her young son picked it up. The director of the night's venue, Riverside, has dissociated himself with the flyers in question and terminated his contract with the promoters. Members of the Newcastle City Council are seeking advice on legal action.
Held every Wednesday at Riverside club on the Tyne waterway, the night has earned notoriety for it's innovative combination of Tequila and whipped cream, boasting "more naked bodies than For Your Eyes Only Strip Joint at 3am!" According a promoter, they get through 100 cans of whipped cream and 70 bottles of Tequila per night.
In an exclusive chat with Durham One, Tequila's event manager remained defiant in the prospect of legal pressure. "We got banned by the club because they did not want to lose their licence but we are going to re-open at another club soon." And if the papers label it as the most debauched student night in the country? "We overtook our rival night by a country mile and had to turn 1,000 people away." Any press is good press.
According to the manager there are also plans to extend the night to Durham. Reports suggest the Cathedral is interested in hosting the photo shoot for the next flyer.