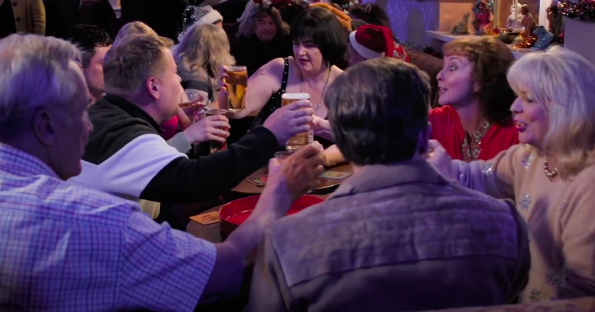 Gavin and Stacey stars to reunite for Christmas Day radio show
Will we find out whether Smithy said yes to Nessa?
There's been a lot of umming and erring over whether there will be another Gavin and Stacey episode. It was the most watched thing on Christmas Day last year. The BBC came out and said there will be another episode "one day", but Ruth Jones broke everybody's hearts by saying there might never be another episode again. What a rollercoaster of emotions.
But our hearts can heal again because Mathew Horne and Joanna Page, who play Gavin and Stacey, are doing a special Christmas Day show on BBC Radio Wales.
Joanna has a regular show on BBC Radio Wales. She said: "'I absolutely love Christmas and I've been having a fantastic time doing my show on BBC Radio Wales, so when it came up that we could do a Christmas day show I knew that if there was anybody I'd want to share that with, it's Mat."
"I jumped at the chance to do this show with Jo," Mathew continued. "I love working with Jo, I love Wales and I love doing radio. Christmas day is a special day and, particularly this year, it's been very challenging for a lot of people, so it's nice to feel like we might be bringing a little bit of joy."
They won't be alone either, which makes the radio show even more special. They will be joined by the majority of the main cast, including Mick and Pam actors Larry Lamb and Alison Steadman, Gwen actor Melanie Walters, Steffan Rhodri who played Dave Coaches and Robert Wilfort who played Jason.
James Corden is also going to present in the form of a special message.
The episode will air on Christmas Day, noon until 2pm and will be put on BBC Sounds for anyone who misses it.
Related stories recommended by this writer:
• It's true: Gavin and Stacey will return for more episodes 'one day'
• Cardiff University paid £150k to 232 students who complained about strikes
• Here's everything you need to know about the vaccine roll-out in Wales