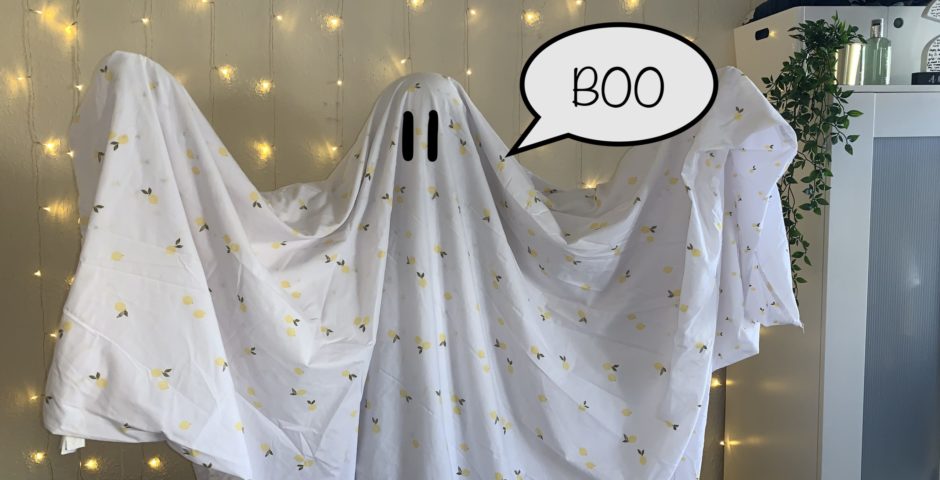 11 Halloween costumes you can make at home during a nationwide lockdown
Grab your white bedsheet and some imagination…
So this Halloween might not be what we had planned, but we can still get dressed up and have a good time with our mates! So here's some inspiration for costume ideas that you can put together to look spooky AF without having to leave your house.
(Some might need some more imagination than others but bear with us..)
A cat or mouse (duh…)
Whether you're being a mouse or a witches cat, this one is super easy. An all black outfit and some eyeliner whiskers and you're basically done. For anyone with hair long enough, some space buns as ears will look adorable. And for anyone wishing to really commit,  you can make yourself a tail: old socks/tights/a dressing gown rope – get creative.
A devil (sinning is optional)
Another Halloween classic. Obviously an all red/black outfit and then if you can't grab the horns on your one walk a day in Tesco, then get crafty. Cut some triangles out of a bit of cardboard, colour them in red, and try to clip them in to your hair or attach them to a headband – the devil is in the detail after all.
A mummy
So assuming Lidl doesn't go into shortage of loo roll, this one should be easy! White clothes, some of your housemates dark eyeshadow to make it look a bit more grubby and loads of loo roll wrapped around you – a classic!
Whoop whoop its the sound of the police (or the FBI)
Once again a super easy all black outfit. The trick here is to make your own badge. Don't worry about the state of your artwork, you'll all be drunk soon anyway. But either draw out or print off a police badge, cover it in Sellotape, and pin it to your outfit. Grab some sunnies, and ask your housemate for those handcuffs you know they keep under their bed and this is a 10/10 look.
Doctors and nurses – all that Grey's Anatomy paying off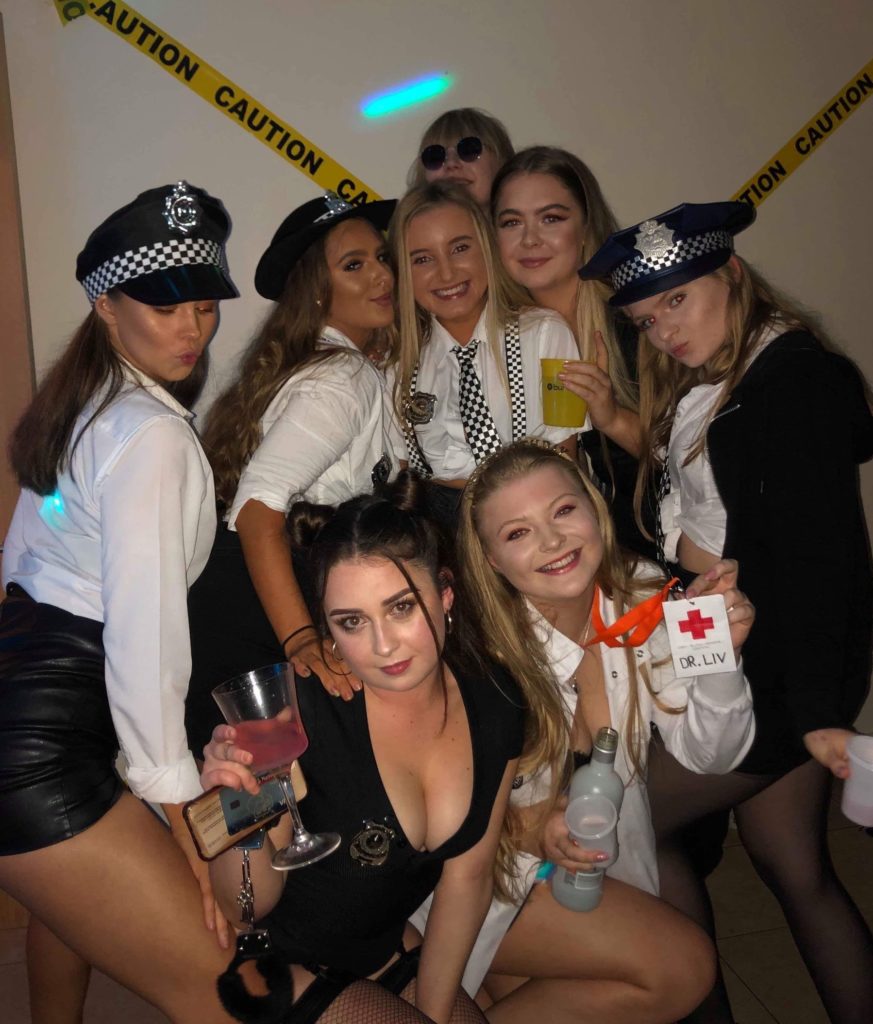 A similar idea, make yourself a doctors badge, add it onto whatever outfit you think looks best and if you've got a housemate that does BioChem and you can borrow their lab coat or even a stethoscope from a housemate who does medicine, even better!
A pumpkin, super spooky, we know
So this one is a product of our imagination but we think it'll look sick. An orange outfit, maybe some green if you've got it, and then colour the inside of a loo roll green and stick it on your head as the stalk!! Add some funky Halloween make up to be the carved-out face and it'll look great. We can't wait to see you do this one.
A scary (bedsheet) ghost
You could go all in with Batiste to make your hair white, add some spooky make up, and throw on a white outfit. Or you could just go with tradition and chuck a bed sheet over you.
Lara Croft, tomb raiding is optional
This one is also surprisingly easy. Some cycling shorts, a crop top, and some of Amazon Prime's £1.95 fake blood oozing out of a loo roll bandage and you'll look amazing. Extra points if you cut a cardboard gun out of a cereal box.
Jaws and his victims *Alexa play the jaws theme song*
This is perfect for a group or couples costume. For the spring breakers – get the shorts and swimwear on, or be a lifeguard with a red top and a cut out yellow cross.  And then for Jaws, wear a grey top and then – most importantly -sort out your fin. Cut a cardboard fin shape out of your Amazon delivery box , cover it in tin foil, tape it to your back and you're officially one of the scariest around.
A clown (as if this year hasn't been a big enough joke)
Clowns are a Halloween classic. Whether you're going full on IT or just for a simple last minute look, this is a great one to whip out when your house are moaning that you've got to get involved. Dig out that black eyeliner you haven't used since March and paint some triangles above and below your eyes and you're sorted.
School girls and school boys (dead or alive)
Finally, another super easy classic. Put those rugby or football ties to good use, a white shirt, chuck on some fake blood and voilà! You're a schoolkid. If you have knee-high socks, put those to use too.
We hope that's given you some inspo for what to be this on this bizarre Halloween, and that you have a great time getting dressed up and drunk within the safety of your homes. Enjoy spooky season!
Related stories recommended by this writer:
• Halloween is officially cancelled: Welsh Government strongly advises against 'Trick or Treating'
• Wales to enter a two-week 'fire break' lockdown
• Seven essentials every Cardiff student needs in an isolation care package