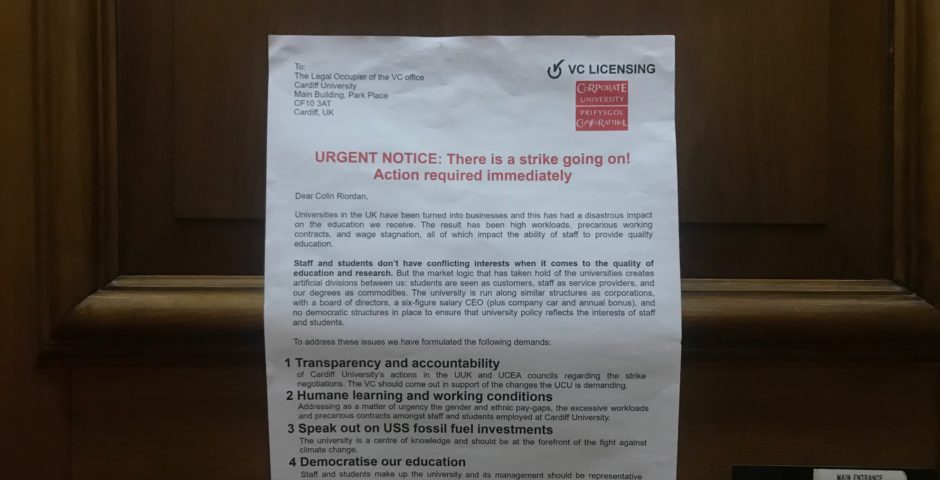 Vice Chancellor just straight up didn't turn up to a meeting on strikes this morning
The Deputy Vice Chancellor was present instead
Colin Riordan, the Vice Chancellor at Cardiff University, did not appear at a meeting at which he was supposedly expected to be attending on Thursday morning.
The meeting, which was focused on redundancy, is one of many meetings that will be occurring throughout the strike period. Students protested outside of a meeting they believed him to be attending, but were told both by security and his PA that he was not there. Instead, Deputy Vice Chancellor Karen Holford was present at the meeting.
People on twitter saw the humour in this as they compared finding the Vice Chancellor to a game of hide and seek.
However, this is not the first time Colin has been accused of being hard to find, with twitter users previously taking up the hastag #WheresColin?
It is so far unclear as to why the Vice Chancellor was not present, but in his absence the student protesters awaiting him left a letter on his door instead.
The letter, with a logo that reads "corporate university " in the corner, says:
"Staff and students don't have conflicting interests when it comes to the quality of education and research. But the market logic that has taken hold of the universities creates artificial divisions between us: students are seen as customers, staff as service providers, and our degrees as commodities."
Addressed to Colin Riordan, who's annual salary last year was £256,798, the letter goes on to criticise the University's structure:
"The university is run along similar structures as corporations, with a board of directors a six-figure salary CEO (plus company car and annual bonus), and no democratic structures in place to ensure that university policy reflects the interest of staff and students."
The letter concludes with their list of demands and is signed off: 'Yours sincerly, Your students".
Know something? Send tips to [email protected]
Want to break stories like this? Join the team, no experience required. DM us via @thetabcardiff on Instagram or The Tab Cardiff on Facebook.