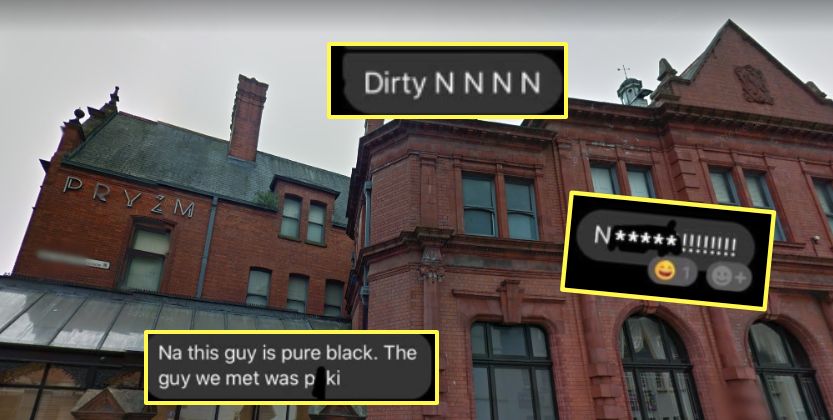 'This guy is pure black': Racist messages discovered in Pryzm staff group chat
The abuse was allegedly directed at another member of staff
Racist messages have been revealed in Pryzm's staff group chat, with several employees making racist comments and using racial slurs, The Cardiff Tab can reveal.
In screenshots obtained by The Cardiff Tab, the employees can be seen repeating the word n***** and making racist remarks about people, allegedly other members of staff.
A former employee, who will remain anonymous, told The Cardiff Tab there is "a lot of racism which made me feel very uncomfortable when I worked there, and ultimately lead to me quitting".
They said "a lot of it was directed at a guy who works there who is black" and employees would sit in the staff room and shout the word "n*****" out loud and "people would laugh". They said that one of the managers heard the racist comments once, but "didn't care".
When asked if the racism was ever directed at customers, the former employee said: "They'd say stuff very loudly and people possibly could have heard".
A spokesperson for Pryzm told The Cardiff Tab: "Our number one priority is fun and safety of our customers, and we never make judgement calls based on race, sex, religion or sexual orientation.
"We have not received any direct complaints, but these are serious allegations and we would welcome any evidence of racism, as it has no place in our venue.
"Apart from being illegal it is against our values as a business and the wonderful mix of people from all backgrounds and types we are proud to call our customers and colleagues.
"We would also like to point out that the […] group you reference is not an official venue/company group".
Know something? Send a tip to [email protected]
Want to break stories like this? Join The Cardiff Tab now, no experience required. DM us on Insta or message on Facebook.