Someone's ceiling collapsed in their student house in Cathays
Fairy lights won't make this any prettier
Student houses don't have the reputation of being the most glam, luxurious houses, but surely you'd expect the building to be in tact? Right?
Well some Cardiff students had a nightmare when their kitchen ceiling actually collapsed right before their eyes.
They posted a video to Overheard at Cardiff University and filmed water gushing out of the ceiling. One girl screamed 'I told them' and it's safe to say the tenants had the fright of their life.
The Cardiff student, who wishes to remain anonymous, told The Cardiff Tab: "We were all in the kitchen earlier and saw it was cracking and leaking and within 5 minutes it fell through".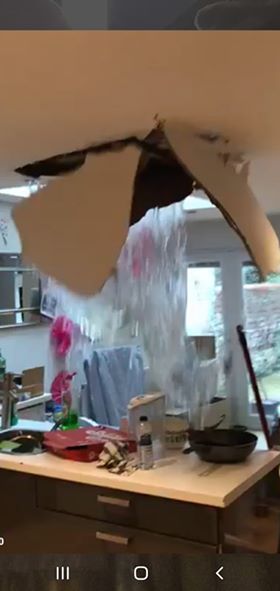 They went on to say "lucky we got out of the way in time so no one was hurt!"
Know something? Send tips to [email protected]
Want to break stories like this? Join the team, no experience required. DM us @thetabcardiff on Instagram or The Tab Cardiff on Facebook
Recommended articles by this writer:
The ultimate guide to a perfect Galentine's
All neighbours you encounter whilst living in Cathays
INVESTIGATION: Keylet have been charging Cardiff students for damage they did not do