The ultimate totems of Cardiff: Joe Goldberg Style
They're classic and you can't deny them
Netflix's Season 2 of 'You' has premiered and people are hooked, with majority of the country watching it (except those who live under a rock).
Joe tells us the seven totems of LA and you have to witness all seven before you are a true Angeleno.
What we want to know is if 'You' was centred around Joe being a Cardiff Uni student, what would the totems be then? We've compiled a list and they're undeniable.
1. 3-year-old Red Varsity tops still making an appearance
We get it, you love varsity and you bleed red. But wearing them wherever you go AND from varsities years ago? That is definitely something that only applies to Cardiff students.
2. The Taly freshers' walk of shame down Colum Road
Another sight you will see. Very recognisable; freshers walking shamelessly down Colum road on a Thursday morning or even halfway through the day. We salute you. What's even better? A third year walking from Taly towards Cathays, now if you see that then you really are a Cardiff Uni student.
https://www.instagram.com/p/Bync-OCiJGy
3. A member of a society wearing their sport jacket in a lecture
Cardiff Uni students are known for living for their uni, but what is even more stronger is the love they have for their society. Whether they're a fresher or a third year, they will be representing their sport everywhere they go. We get it, you prefer your society to your degree.
4. Cardiff Uni flasks in the JP Cafe
Fresh from the Love Cardiff shop or the JP Cafe counter, die-hard Cardiff uni students will take their flasks everywhere they go. From coffee to water and even tea, this flask will be used for everything and you can spot them from miles away.
5. Shorts and sliders in Winter
Come wind, rain or shine, Cardiff uni students will wear shorts sported with a pair of sliders without fail. What makes it weirder is that they'll be wrapped up in their fleeces, hoodies, coats and hats but their bare legs will risk pneumonia. Such a weird Cardiff totem but an undeniable classic.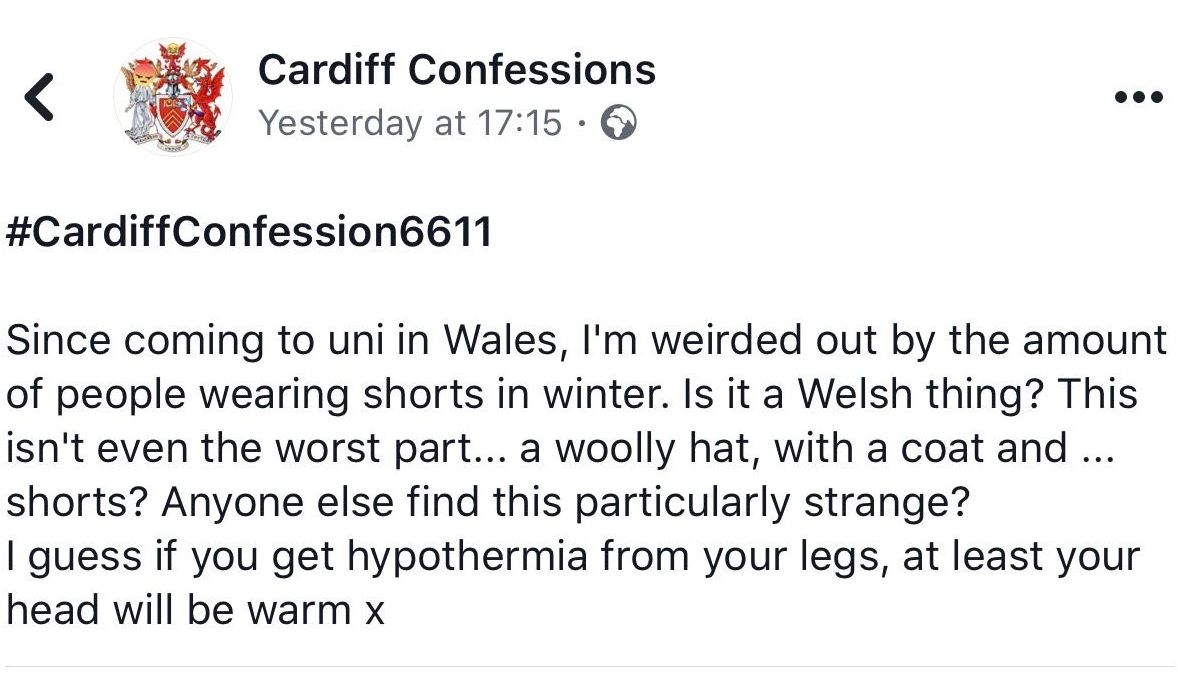 6. Cardiff Met insults on Cardiff Confessions
This is standard Cardiff uni behaviour. The rivalry between Cardiff Uni and Cardiff Met is longstanding and is never going away. You only need to spot one insult on Cardiff Confessions to understand (which won't be hard as there's usually one daily). You're not a true Cardiff student until you develop the hate for Met.
7. Seagulls eating out of the Cathays bins
They are forever watching you. Cathays on bin day is reminiscent of a scene from The Birds. Unattended bin bag on Woodville Road? That's certain to be shredded to pieces within an hour.
8. HAPPY DAYS
He is a pillar of the Cardiff community, a sure sight to cheer up any rainy Welsh day. Come winter, spring, summer or autumn, he'll be there, wearing his Christmas hat with pride.
9. A toga clad society in the SU
The generic fancy dress theme that everybody loves to hate. Week after week without fail one society or another will be donning their cheapest bed sheets and having the messiest of nights.
https://www.instagram.com/p/B4AVwkYgzkG
10. The English pretending to be Welsh on match days
The English, swanning around with their boring accents trying to makes sense of what 'now in a minute' really means. But on match days they can't help themselves, they whip out a Welsh bucket hat, every red piece of clothing they own and sing Cwm Rhondda like they've been singing it since birth. We see through that face painted Welsh dragon.
There you have them, the 10 Cardiff totems, once you've seen them all you know you're a true Cardiff Uni student.
Want to break stories like this? Join The Cardiff Tab now! Get in touch via DM @thetabcardiff or The Cardiff Tab on Facebook.
Related stories recommended by these writers:
• You'll only understand these photos if you live in Cardiff
• Get your sunnies out: Cardiff's Summer Ball is on its way
• Joe Lycett just held a rave outside CPS in Cathays
Feature credit image: Rolling Stones