'I've had my vote stolen from me': 200 Cardiff students unable to vote due to admin error
Cardiff Council said "our hands are tied"
Two hundred students in Cardiff are unable to vote in the upcoming General Election due to their student residences being described as "invalid addresses".
Several students registered to vote before the 26th November deadline, yet were not notified by the electoral office that their applications had missing information.
800 of the students with invalid addresses were contacted by the electoral office to add their flat room number onto their application, however not all students were contacted or failed to add their room number when contacted. This has left around 200 Cardiff students unable to vote.
Students from the Liberty Bridge accommodation, which is made up of Cardiff University, Met and USW students, have been vocal about their issues, with one saying: "I feel like I've had my vote stolen from me".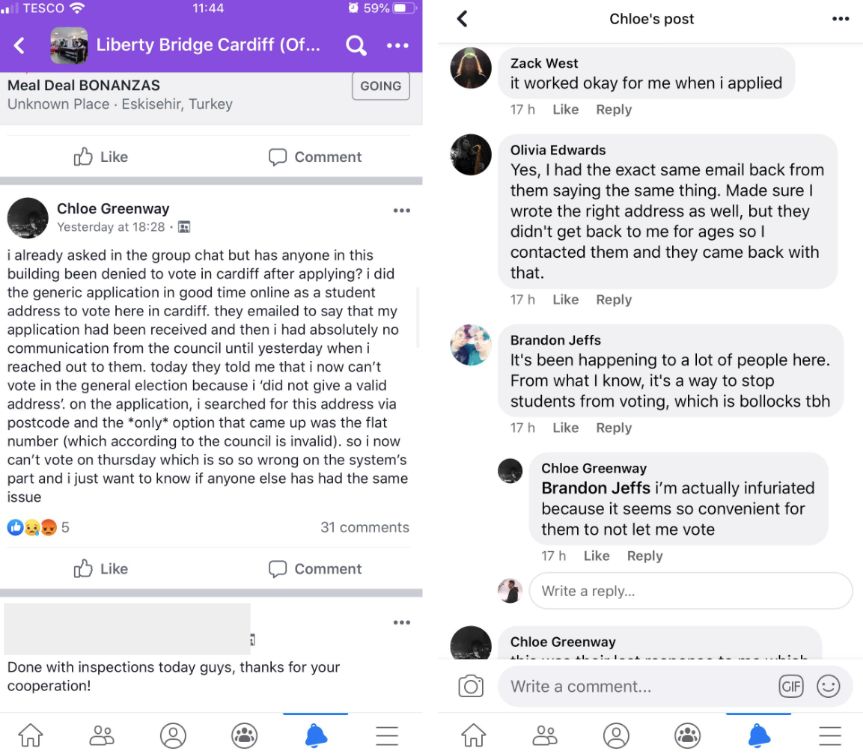 Chloe Greenway, a student who is now unable to vote, told The Cardiff Tab: "Basically, from my experience, I applied in time and gave the correct information, but I received absolutely no communication regarding my application leading up to the election which worried me. I enquired about it on Sunday only to be told my application was invalid and I now can't vote.
"Some people were contacted to clarify rooms whereas others, like myself, had absolutely nothing until we had to contact them. It's the fact that they know it's an issue because they've contacted people and allowed us to go without a vote."
When Chloe emailed the electoral office, the response she received was: "Large accommodation blocks can be an issue with partial addresses being provided. I understand what you are saying but unfortunately our hands are tied".
The Cardiff Tab spoke to another Liberty Bridge resident, Zoe, who was one of the students contacted by the electoral office to clarify an application.
Zoe told The Cardiff Tab: "For me it was fine. I put my student accommodation in which is a big block of flats. I then received an email from the council asking specifically what room I lived in as this wasn't an option on the automatic addresses. The issue people had was that not everyone was contacted about what specific room they were in."
Another second year student, Brandon Jeffs, told The Cardiff Tab: "I registered to vote about a week before the deadline. I've not had my voting card yet (though one has been sent to my secondary address at home).
"One of my flat mates is from Kent and has been made to travel back home a few days before they finish for Christmas to be able to vote. Anyone emailing gets the same copy/paste response, about an 'incomplete address', and when emailed with further questioning, they state 'Large accommodation blocks can be an issue.'
"They've also emailed after the registration deadline, which, in my opinion, seems very intentional. It feels like they're trying to limit the amount of students voting, especially given the election is also on a day students are in university."
Students are infuriated as those who live too far to go home to vote will now miss their chances of voting.
In response, a council spokesperson told The Cardiff Tab: "The national electoral registration gov.uk website allows electors to provide addresses manually when registering to vote and unfortunately, a number of people living in student accommodation have supplied incomplete addresses. Without the full and accurate address, including flat and room numbers, it is not possible to add individuals to the register.
"Everyone registering on the site receives an auto confirmation message that the application has been sent to us, regardless if the information supplied is complete or not. We have raised concerns about this issue.
"It is the responsibility of the elector to validly register and there is no obligation on the Electoral Registration Officer to chase up invalid applications. However, considerable time and effort has been given to trying to contact those affected and of approximately 1,000 invalid applications, around 800 people have been contacted and registered. Many have not responded, others have not provided contact details and unfortunately, due to the high volume of queries currently being dealt with, we have not been able to contact all of those who made invalid applications."