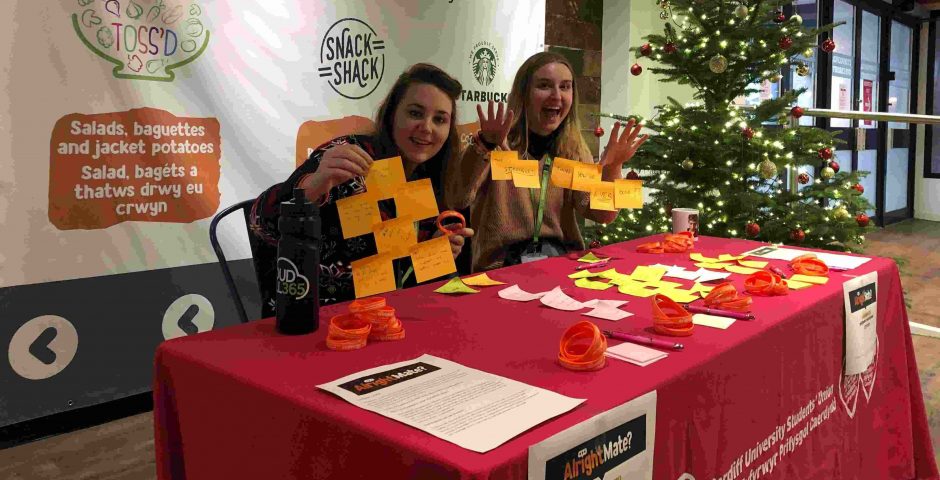 'Alright Mate?': SU launch new campaign to help mens' mental health
It aims to raise awareness for Men's Mental Health
Since International Men's Day, Cardiff Students' Union launched the 'Alright Mate?' campaign as a response to the alarmingly high rate of male suicide in the UK. The campaign is a huge step forward in the mental health discussion and is taking a lead in supporting men with this difficult topic.
In their own article, the Students' Union wrote that suicide is the biggest killer of men under 45, and an average of 84 men take their own life per week in the UK alone. It's an extremely sensitive topic but is incredibly important, the campaign aims to raise awareness and to start a discussion.
On the Students' Union website, the 'Alright Mate?' campaign aims to break down the stigma people face when opening up about their mental health. The website states the SU hope to "encourage every Cardiff University student regardless of gender or identity that they are entitled to support, and that speaking up and speaking out about mental health is a STRENGTH, and NOT a weakness."
*Video contains sensitive content.
So what services are available for students?
The campaign also aims to raise awareness around the support services that are available. The Student Led Services are a team who offer information on how you can reach out for support services at university. Their section on the Students' Union website shares the different services available, such as Eat Well, Cardiff Night-line, Student Minds, Talk It Out and Mind Your Head.
Mind Your Head offer 'cafe' sessions, where you are able to chat with someone in a calm and relaxed environment, with added comforts of free drinks and biscuits. The cafes run every other Monday night, yet there is always support and a chance to chat whenever anyone needs it.
As well as 'Alright Mate?', there's a campaign called 'Let's Share' which aims to support students and staff's emotional wellbeing.
Along with the campaign 'Let's Share', they've also been campaigning to support your emotional well being, where they're encouraging students and staff to talk about mental health with ease and free from worry. There is plenty more support and information available on the Student Intranet under 'Health and Wellbeing'.
A series of wellbeing workshops are taking place over the coming weeks. In particular, there is a workshop on 'Keep Safe: Suicide safety' which is taking place on 4th December in Cardiff uni, which will last four hours and aims to provide skills on how to support somebody who may experience suicidal thoughts and also skills to support your own mental health. The event is free and you can register here.
The campaign 'Alright Mate?', alongside these support services above, are hoping to break the stigma surrounding mental health, in particular men's. Cardiff Students' Union and the support teams are hoping to encourage students to speak out about their emotional wellbeing and to know there is help out there.
What can you do personally?
Keep raising awareness; open up, ask your friends how they're feeling, and most importantly, be aware that taking care of your mental health is a strength and not a weakness.
Related stories recommended by this writer:
– Cardiff Uni awarded £10m investment for new adolescent mental health centre
– This is how I've coped with my mental health while at uni
– Waiting times for a counselling session at Cardiff are the highest they've been in five years