Voting scandal and burning banners: The controversies behind this year's Cardiff SU elections
The VP of Education wasn't announced on the night
This year's SU election week, normally a fun week of dressing up and handing out sweets, has surprisingly been rocked by a "scandal". Rumours about this have been swirling around Facebook, especially since the Gair Rhydd, Cardiff University's student paper, claimed to have been "silenced", having to pull its front page after an election candidate asked that their side of the story was withdrawn, "having allegedly been placed under pressure from a member of the Sabbatical team."
The Cardiff Tab has spoken to many candidates who ran in this year's elections and claim there was foul play throughout election week. At the results ceremony on Saturday only six of the seven Sabbatical Officer positions could be announced due to an investigation into alleged cheating in the VP Education election. Banners were burned and torn down, the atmosphere described as "toxic" and one candidate was allegedly seen breaking election rules by voting for themselves on voter's phones. Not only that, but it has also been alleged that current SU President Fadhila Al Dhahouri is under investigation. Scandalous. Here's everything that went down:
The VP Education was not announced due to an ongoing matter
The next VP Education was not announced at the official ceremony on Saturday. No explanation was given for this during the ceremony or in any statement by the Students' Union. However the SU sent an email to VP Education candidates, which has been shared with The Cardiff Tab. The SU said they were dealing with "an ongoing matter" relating to the election and "until it is resolved, the count for VP Education will not go ahead." They said that "this matter does not relate to action with any candidate other than those who have already been made aware of the situation", adding "the Union will not be making any further statement on this matter at present" and candidates were told not to answer questions on the matter.
Three candidates, who have requested to remain anonymous, claimed to The Cardiff Tab that video evidence had been submitted to the elections team showing a candidate voting for herself on voter's phones. She then proceeded to vote for RON (Re-open nominations) which is selected if a voter thinks all other candidates are unfit for the role. The voting for the SU elections allows the voter to rank all of the candidates in order of preference, and so by selecting herself and RON on others phones, the candidate appears to have been breaking SU rules.
The Cardiff University SU election regulations state "students must be free to cast their vote without undue influence or pressure. Candidates may not stand and watch students when they vote as the student would be under pressure to vote for that particular candidate".
Following this, on Tuesday evening there was a second results ceremony, where Tomos Evans was elected as the new VP Education. Sophia Khirani, who had been a candidate for VP Education, was not included in the results which named the other 10 candidates. Sophia Khirani has declined to comment.
The current SU President Fadhila Al Dhahouri apparently compared the incoming SU President Jackie Yip to Donald Trump
The incumbent President supported Jackie's fellow candidate Amr Alwishah in the election, and reacted badly to the results by apparently comparing her successor to Donald Trump. Following the election results on Saturday she posted on Facebook that she now knows "what Obama felt when Trump was elected", comments widely assumed to be a reference to Jackie's win. She later denied a comparison had been made and subsequently deleted the post.
Current VP Welfare Amr Alwishah has also been accused of rigging votes
Amr Alwishah is the current VP Welfare, and lost the election for SU President to Jackie Yip. He campaigned throughout the week with Sophia Khiriani, they did lecture shoutouts and Facebook videos together. A candidate for a different role told us that a member of Amr Alwishah's campaign team was allegedly caught on film voting for Amr on other student's phones. However there was no delay to announce the Presidential result as there was for VP Education.
Amr has told The Cardiff Tab that he had a positive campaign overall and found it amazing talking to so many students. When asked about the allegations, Amr told us: "I haven't noticed any thing my team or I has done to make people uncomfortable. However, this is the first time I am hearing about this particular complaint mentioned.
"I briefed my team of the election rules. I was not notified of any complaint made about me or my campaign team to the SU's elections team of this nature.
"Sadly, this year has been especially toxic and it's not what the students deserve. Theres been candidates asking for votes on Sunday and posters being ripped down. The election team know mine was repeatedly ripped down in the SU stairwell."
During election week, Amr also claimed credit for the Stand with LGBT+ campaign. However LGBT+ Women's Officer Hannah Ryan who ran the campaign told us Amr did not have a right to claim the campaign as one of his successes: "It should have been classified as a campaign he supported but did not run."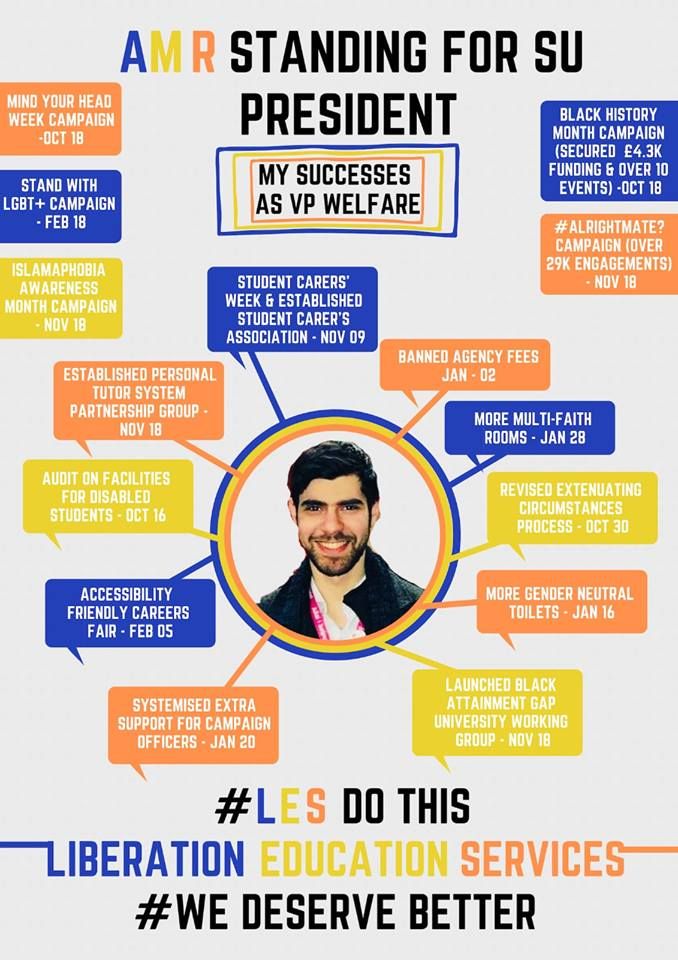 At Candidates' Question Time Amr also said that after "recent tragedies in the LGBT+ community", he had to make the tough decision to "implement specialised services for LGBT+ students". However CU Pride Co-President Lewis Payne told us "the new LGBT+ support services were a joint effort between CU Pride, the wellbeing team and the university." Hannah Ryan added: "The new mental health strategy for LGBT+ support was a joint effort – which often consisted of discussions with LGBT+ students and Student Support was heavily involved in bringing the strategy together – it was a combined effort from many different people and not one person should claim credit for it as their own."
The Cardiff Tab contacted Amr again regarding these claims, but were blocked from further messaging.
SU President Fadhila is allegedly under investigation by the SU – a claim she denies
Jackie Yip is the current VP Education, and works under the leadership of current SU President Fadhila.
Candidates have told us that outgoing SU President Fadhila is allegedly under investigation by the SU for planting a question that put Jackie under pressure to reveal what way she voted in what should have been a highly confidential vote. The investigation into Fadhila is allegedly why the current President was not in charge of the second question time. Fadhila Al Dhahouri has told The Cardiff Tab she is not under investigation from the Students' Union, and the Union have since confirmed Fadhila Al Dhahouri was never under investigation. A spokesperson from the SU said: "The Students' Union can confirm and would like to make clear that the current SU President has not been, and is not under investigation."
At the second question time event, which was not chaired by SU President Fadhila Al Dhahouri as would be the norm, Jackie Yip answered a question about the toughest decision she has had to make. She said: "In light of recent events, I think the toughest decision I've had to make is to come with bravery to question the leadership which I've had, someone whom I had respected. I think our Students' Union deserves a leadership which is honest, someone who fights with integrity, and I promise to bring that leadership."
A different candidate said: "Certain people in the SU planted very demanding questions towards Jackie during candidates questions, questions that would have been impossible to answer clearly and concisely within 30 seconds allowed in candidate questions. That's putting Jackie in a very negative light."
Jackie told The Cardiff Tab: "I'm really proud of the campaign I ran, it was honest and respectful from start to finish. Yes, I experienced some difficulties throughout the week, however now I want to focus my energy on completing my year as VP education and serving students the best I can.
"I had a fantastic elections week with a really amazing team and I am happy with how it went for me."
Banners were burned and campaigns became rowdy
Further to Amr's claim his banners were ripped down, on Friday Orla Tarn, the successful candidate for VP Societies, posted on Facebook that her banner by the Woodville was burnt down. It was seen burning in the early hours of Friday morning. It is not known who was responsible.
Talking to The Cardiff Tab candidates described this year's election week as "very negative" with "a very different atmosphere to other years" that had "brought out the worst in people". Multiple candidates described the atmosphere as "toxic", with one saying that they thought "tensions within the Sabbatical Officers" were responsible for causing this change. Another said "students deserve to know if their elected team are under investigation for wrongdoing."
When asked about the scandal of this week's elections, a Cardiff University Students' Union Spokesperson said: "We have now concluded all election-related matters. We do not comment on the specifics of complaints received about candidates or their campaign teams.
"The Union always takes steps to encourage candidates and their campaign teams to conduct themselves in a respectful manner. This will continue in future years and, as always, we will review the election process to consider improvements for the future."
Fadhila Al Dhahori was contacted for comment, but did not respond. Amr Alwishah did not respond to further comments made by the LGBT+ Women's Officer and CU Pride Co-President.