We've officially found the fittest coffee shop in Cathays
From taste, to an Instagrammable aesthetic, we have found the best coffee experience in Cathays
It's deadline season, and you're getting sick of sitting in the sweaty and often packed libraries at uni, and all you can think about it having a dose of caffeine to keep yourself alive. But, there are tones of places to go for coffee in Cathays, so which is the best one?
I put my detective cap on and went on the case. It's safe to say, I had a well justified reason for spending ridiculous amounts of money on coffees and cakes this week.
Blanche Bakery
Ah, the Gucci of Cathays coffee shops. Tucked away on Mackintosh place, you wouldn't realise from the countless #blanchebakery snaps that it's absolutely tiny, and is always, no matter what time of the day, filled with hipsters and full time Instagrammers. On arrival, staff are friendly and accommodating, although, I made the mistake of turning up with six people where there's only about four tables, and everyone wants to sit in front of the neon sign for the selfies.
PROS
Insta wise, you're in for a treat. The lighting in there is fit, and you're guaranteed to food porn the shit out of the doughnuts and coffee you just bought. Even the mugs are boujee.
They also have some really cool flavours of coffees to mix it up from your average coffee shop. My friend got the Strawberry iced latte, which apparently just tasted like coffee, but nevertheless looked funkier than average
Their donuts are also all vegan, and they frequently release different flavours to go with the seasons, so at the moment it is pumpkin spice central.
CONS
Let's face it, you're in a student are and you're charging £4 for a donut. Did they taste amazing? Yes. Were they prettier than my entire face? Also check. But did I feel physical pain when I slapped my contactless on there? Oh of course.
The coffees weren't hot either, so I'd definitely ask for an extra hot, sorry to be that guy.
PRICE: £3-4 for a coffee
RECOMMENDED DRINK OF CHOICE: Try one of the weird and wonderful concoctions that they make there, such as a strawberry iced latte or seasonal option.
ALL ROUND RATING: 7/10
Early Bird
It's a place everyone wants to take their Mum to. With a bakery in the back, they have cakes and sourdough bread by the tons all day. They also do some amazing breakfasts if you're looking for something more to have with your morning coffee.
PROS
There's always a place to sit, as they have a lovely outdoor area- better wrap up at this time of year though. It's a really small but cute converted bakery and coffee shop and definitely somewhere to take your friend to for a catch up.
The coffee is always consistently good, and the staff are always up for banter- shoutout to the nice Irish guy who works there on the daily.
The Early Bird is really easy to get to from almost all uni buildings, but it's just a little hard to find amongst the terraces of Woodville Road- it's the cute tiny yellow house next to Jupiter estate agents.
They also cater really well to the unfortunate people such as myself who can't have milk. Oat, almond, you name it, they've milked it.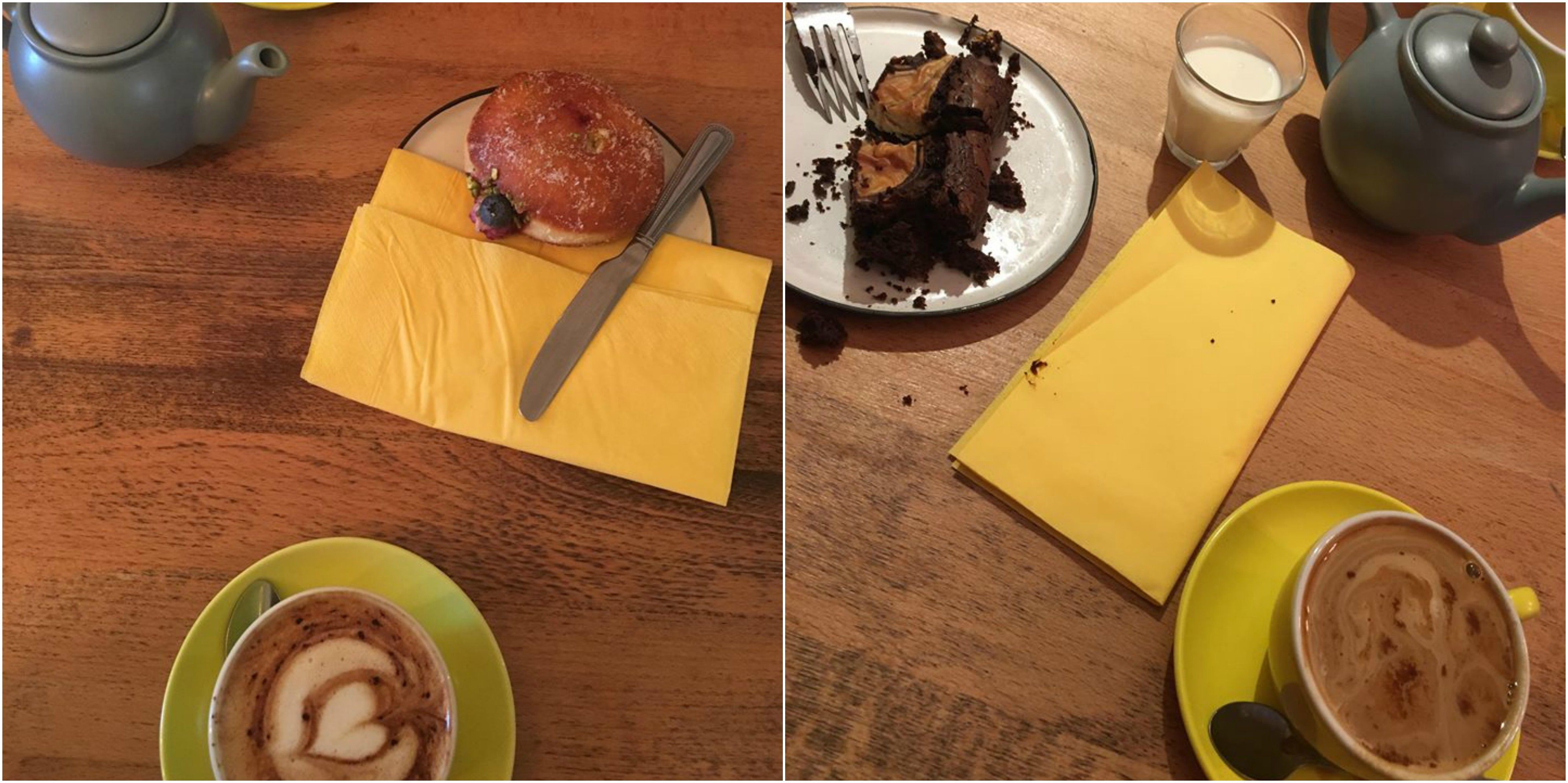 CONS
They only have one size of coffee, which is extremely small for someone who downs it like water, priced at £2-£2.40 depending on what your poison is. Don't get me wrong, I'm happy to pay for good coffee in small portions, but it's not smack you in your face amazing for it to be priced like that. Once again, I'm a poor student who needs caffeine so she's not a zombie in her afternoon lectures.
PRICE: £2-3 for a coffee
RECOMMENDED DRINK OF CHOICE: Cappuccino/Latte
RATING: 7/10
Hoffi Coffi
Now, this is a place of legend. Everyone knows about it, and if you've got your lectures down Park Place, the odds are that you'll spend a decent amount of time queuing outside the tiny shop. You'll definitely have waiting outside for long enough, trying to get over the infamous cross roads anyway.
PROS
It's definitely central and the coffee is always insanely good. They're not too shy with sizing either so you're deffo getting your moneys worth.
The food there is insaaaane too, so treat yo self. There's hot paninis, bacon sandwiches, Welsh cakes, pretty cup cakes- pretty much anything tasty and aesthetic.
CONS
You know what, I'm gonna be nice and say there aren't any cons about this place. It's always busy and there isn't loads of space, however the pricing and the taste of the coffee is all around good. No qualms here.
PRICE: £2-3 a coffee
RECOMMENDED DRINK OF CHOICE: They've got a peng latte menu with some really weird and wonderful flavours, so I'd definitely take a look at that if you're into something different.
RATING: 10/10
Coffi Co
I was definitely not happy to say goodbye to the discounted Starbucks in the food court, but was I going to let this fog my judgement of the replacement? Never. Coffi Co does the job just as well.
PROS
Honestly, I'd say that it's a peng cup of coffee and I was thoroughly surprised with everything it had to offer. There's some wicked pasties to have there too if you're fancying some nosh.
It's a really good place to study as well as have a cup of coffee, and the coffee is so affordable for what you're getting.
CONS
I'm sorry, but it's 2018, and I know you may not have the space for it, but giving out all your coffees in non reusable cups is killing the earth dude.
PRICE: £3
RECOMMENDED DRINK OF CHOICE: Anything with caramel in it
ALL ROUND RATING: 9/10
The final result:
So, out of the main coffee shops Cathays has to offer it is clear that they all have different vibes. Blanche Bakery may be the most Instagrammable coffee shop by far, but in light of the price, quality of coffee and quick service, Hoffi Coffi is the clear winner. It doesn't break the bank and is in a central location to nip in between lectures.
Trust me, it's hard to get out of the caffeine addiction hole once you're in it.