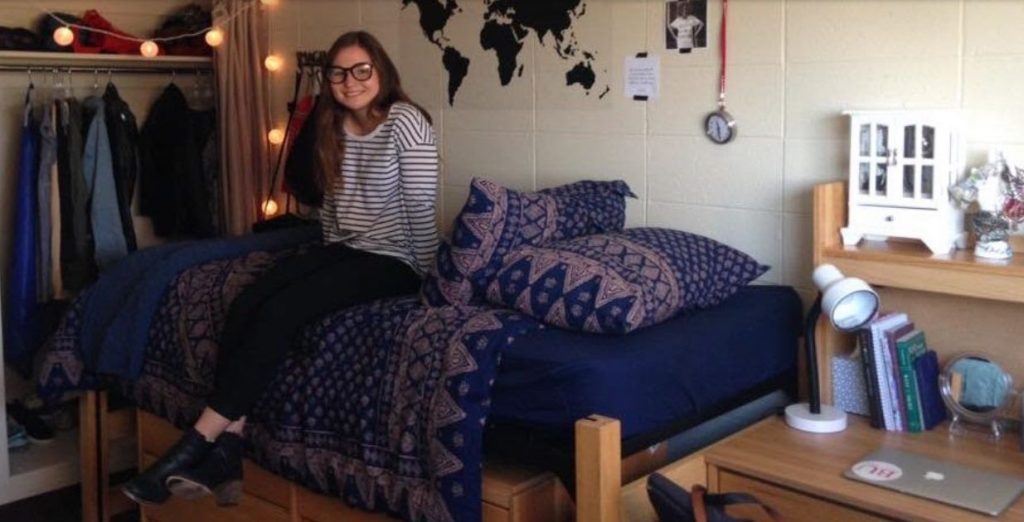 Why does every bitch in Cathays have these things in their room
Cacti, cacti everywhere, and you're not even in the desert.
Let's face it, no matter who we are, we're all basic bitches when it comes to our uni room aesthetic. As soon as that UCAS application was accepted, you were straight on Pinterest looking at luxurious decor to fill your new room. Little did you know your dreams would be shattered when you arrived at your tiny box room and realised you'd never be living in a MTV Cribs worthy pad.
You practically cried when you were faced with the hall's rule of no blue tac, candles or wall decorations. But let's be honest no one actually cares, especially when the poster sale at the SU is on, or rose gold fairy lights are on sale at Primark. Everyone has them, and this my friends, is what makes your simple uni room a basic bitch boudoir.
In fact, if you have any of these things, you can assure yourself you're a basic biaatch:
Every single item from Primark's Homeware department- but especially the fairy lights
Don't deny it. Once you walk through those doors, you cannot help but heed the call of Primark's cheap and cheerful homeware. The marble print notebooks are hard enough to resist, let alone the endless amount of rose cold fairy lights, cute baskets, velour throws and little to-do list blackboards you'll never use.
Once you start, you cannot stop. After two weeks back at uni, you'll soon end up with a bedroom full of geometric print goodies and probably one of those box lights you can write messages on.
Lol if you actually buy the Harry Potter merch though.
An indie wall hanging or a tapestry
If you have one of these you probably once went to Thailand, or Camden market- edgy. Either way, when you first move into halls, you'll follow everyone in the big house chat on Instagram and be offended by the fact you're not actually original with your ying-yang or elephant print tapestry.
In fact, you'll probably try and claim that yours is super rare and not just from Ebay- because of course, you went all the way to Ankor Watt for yours on your gap yah.
Fairy lights
Oh, fairy lights.
What begins as a way of making your uni room homely, spans into a three-year love affair with the this basic bitch accessory. But just be prepared to periodically make trips to Poundland for batteries, and you must also have the patience to constantly hear them fall down in the early hours of the morning.
A Welsh flag
This is no suprise. A uni room in Cardiff just simply would not be complete without a Welsh flag flying proudly out of the bedroom window whenever a rugby game is on. Which, let's face it is 70 per cent of the year. You're obviously very brave if you put your English flag on display.
Neon lights
Neon lights are no longer just for clubs and dodgy nail bars. The basic bitch homeware trend of 2018 has to go to these art forms. Although always popular, it is now the fresher must have in halls everywhere. Be it cactus, flamingo or cloud, you are going to see these things in every window when you're walking around Cathays or Taly.
Rose gold EVERYTHING
Rose gold document tidy, rose gold pencil holder, rose gold letter in-tray, rose gold notebooks, rose gold make up organisers, rose gold loo brush…
ROSE GOLD EVERYTHING.
What even is normal gold? And what even is a bedroom at uni without any of this precious metal?
A personal gym rack
For the basic lad room, scatter dumbbells all around the floor to show you workout 24/7 and bring the gym home- what does chilling mean?
You can tell the guy with the gym rack is one of those annoying flatmates who probably plays Ibiza 1999 music for hours as they do press-ups on the floor. They deffo have five kilogram tub of whey protein on show too.
Posters galore
The beauty of Freshers' Week, is the SU poster sale- you miss it, and you're screwed. We live for it. It may waste half of our student loans but it's god damn worth it. But if you're super indie then you need to be prepared for the fact there are 100 other people with the same tie dye world map poster as you.
Be prepared to see bedrooms decorated to the brink with Pink Floyd's naked women, Uma Thurman in Pulp Fiction and classic New York skylines.
Teddy Bears
It wouldn't be a basic bitch room without a fluffy panda from home. It's a little weird but it's something that has to be done to combat that homesickness. Most of you will have pets and it will be an utter shock how much you took their cuddles for granted.
Lidl biscuits or bakery items taking centre stage on the desk
Cacti, faux plants and succulents
The statement millennial plant is the cacti. Again, a product of the beautiful SU sales, who could resist a sombrero-wearing prickle machine?
Anyone who's been lucky enough to go to Ikea will also probably have picked up a shed load of random green plants- if it photosynthesises, it's going in the basket.
Photo evidence that you actually have friends
It started off small enough on the notice board, with a few snapchat classics and drunk selfies you can't remember. But as soon as you discovered Freeprints you went wild and filled your whole room with cheesy pics. You probably still have pics on your wall of people you fell out with after Freshers' Week and random girls you made friends with in the Glam toilets.
The Y Plas duck
The infamous Y Plas duck. It's elusive. It only comes out at freshers. It's overrated, but it's a must for all Cardiff Uni students. If you're lucky enough to have one, congratulations, you have completed the basic bitch uni room.
Oh, and don't forget to buy a live, love and laugh ornament for your window sill.