The protestors responsible for graffitiing Cardiff University's Main Building have apologised
The leader of People and Planet has said she is sorry and has explained the group's motives
The protestors who graffitied Cardiff University's Main Building have apologised.
This follows events reported yesterday by The Tab Cardiff, after a group of students covered pillars in the VJ Gallery inside the Main Building in orange spray. The leader of the protesting group, People and Planet has said she is "sorry", but is willing to do what it takes to "wake people up."
Speaking to The Tab Cardiff today, Friederike Lürken has also said:
"I'm a psychology student, I don't like it when people are upset and I'm very sorry for any distress that our action caused. I did it because we are rapidly heading towards an environmental catastrophe if institutions like Cardiff University do not immediately start to invest sustainably."
People and Planet were protesting against fossil fuel investments made by Cardiff University and yesterday's protest wasn't the first time they've staged a demonstration.
For the last three years, members of the environmentalist group have been dedicated to pressuring Cardiff University to cease their investment into companies which engage in the process of fossil fuel extraction, including; Shell, BP, and Billiton. The group have estimated that the university currently holds 10 million pounds worth of investments in these organisations, which makes up four and a half per cent of their total investment portfolio.
People and Planet's recent protest is a follow up demonstration to several other of the groups actions, including a sit-in outside the Vice-Chancellor's office two weeks ago and a recent bake sale in the Bute Building.
One of the group's members Abdu Salih explains that they have been forced to drastically change their protest tactics as they have already exhausted other options.
He says: "We had petitions, news articles and even staged a sit-in not that long ago, but the Vice-Chancellor has been ignoring us for years."
The group has stated however, that they ensured their spray chalk will not cause any damage to the grade II* listed building. A spokesperson has said:
"Our intention is not to disrupt the lives of our fellow students or staff, instead we are raising awareness for an important campaign. There is only one planet and the university is investing into companies that are actively destroying it."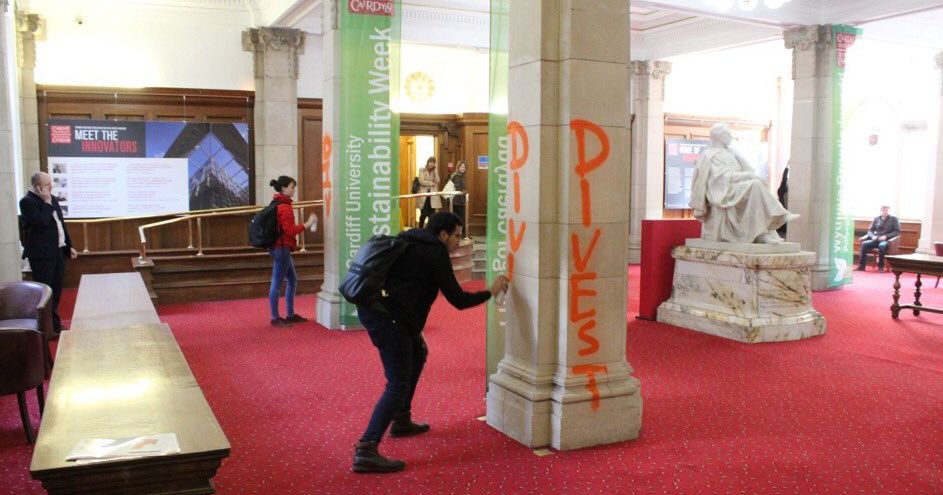 In response to the protests, the Investment and Banking Committee of Cardiff University have now come up with a policy proposal. They say:
"Cardiff University should divest from all companies that generate more than ten per cent of their revenues from coal and tar sands. None of Cardiff University's current investments fall into this category."
The final decision on the University's divestment will be made by its council on the 17th of March.
However, group leader, Friederike is prepared to go through further measures in pursuit of People and Planet's goal. She says:
"On the 9th March, my fellow campaigner Lucy and I, will go on a hunger strike until our Vice-Chancellor Colin Riordan agrees to meet with us and seriously discuss full divestment. I am not looking forward to it. But if this is what it takes to wake us all up, then I'm ready for it."
If you want to support the group, you can find them on Twitter and Facebook.