We tested every portion of cheesy chips in Cathays to tell you which is the best
Our diet only includes items that are yellow
After a night out, early afternoon, quick dinner wherever basically, chips are a siren call. In Cathays, we are blessed with numerous chip establishments, all of which encourage fried potatoes topped with the maturest of cheddar, hopefully warm and stringy.
So which is the best one to go to? Which is the best place for your carby goodness? The Tab Cardiff investigates…
To do this we obviously had to set out a clear methodology in how to investigate which takeaway did the best cheesy chips. The most obvious choice was a ranking system out of five based on these key criteria: Chip crunchiness, cheese meltiness, portion size, cost, is the sauce free, and finally an overall rating out of five.
Six chip establishments were selected – Family Fish Bar, Woodville Fish Bar, Mama's, T&As, The Students' Union, and finally Khan's. And we found out which one had the best cheesy chips.
Mama's
Mama's in the heart of Cathays, part of the Senghenydd Road massive, was first up. The wait wasn't too bad, and they were nice and friendly. Overall though the cheese wasn't the tastiest, so probs stick to their kebabs.
Chip Crunch: They were fries not chips so had a bit more crunch to them, so good on that front, and let's not get into the chip vs fry debate here.
Cheese meltiness: Insane meltiness to the extent it became a sauce, top effort from the boys at Mamas.
Portion Size: Good size definitely, after a night out would certainly do the job.
Price: £2.40 for a small, which was one of the cheaper ones.
Free Sauce? Yep, which is a bonus because Mamas has a very good selection of sauces.
Overall Rating: 2.5/5
Family Fish Bar
Possibly the most well known takeaway in Cathays, Abdul did not keep us waiting at all, and was pretty much instant. And it was a very strong effort, from Fam Fish, with nicely melted cheese, a good portion size and tasty chips, proving to be worth the fame.
Chip Crunch: Not much crunch but after being microwaved and covered in cheese that wasn't the worst thing in the world, taste is the name of the game here.
Cheese meltiness: Abdul did ask if we wanted the cheese melted, which we thought was a given, but yes as shown by the picture above it was a very strong melt.
Portion Size: Pretty decent.
Price: £2.70 so one of the more expensive ones.
Free Sauce? Yep, Abdul doesn't disappoint.
Overall Rating: 4/5
The SU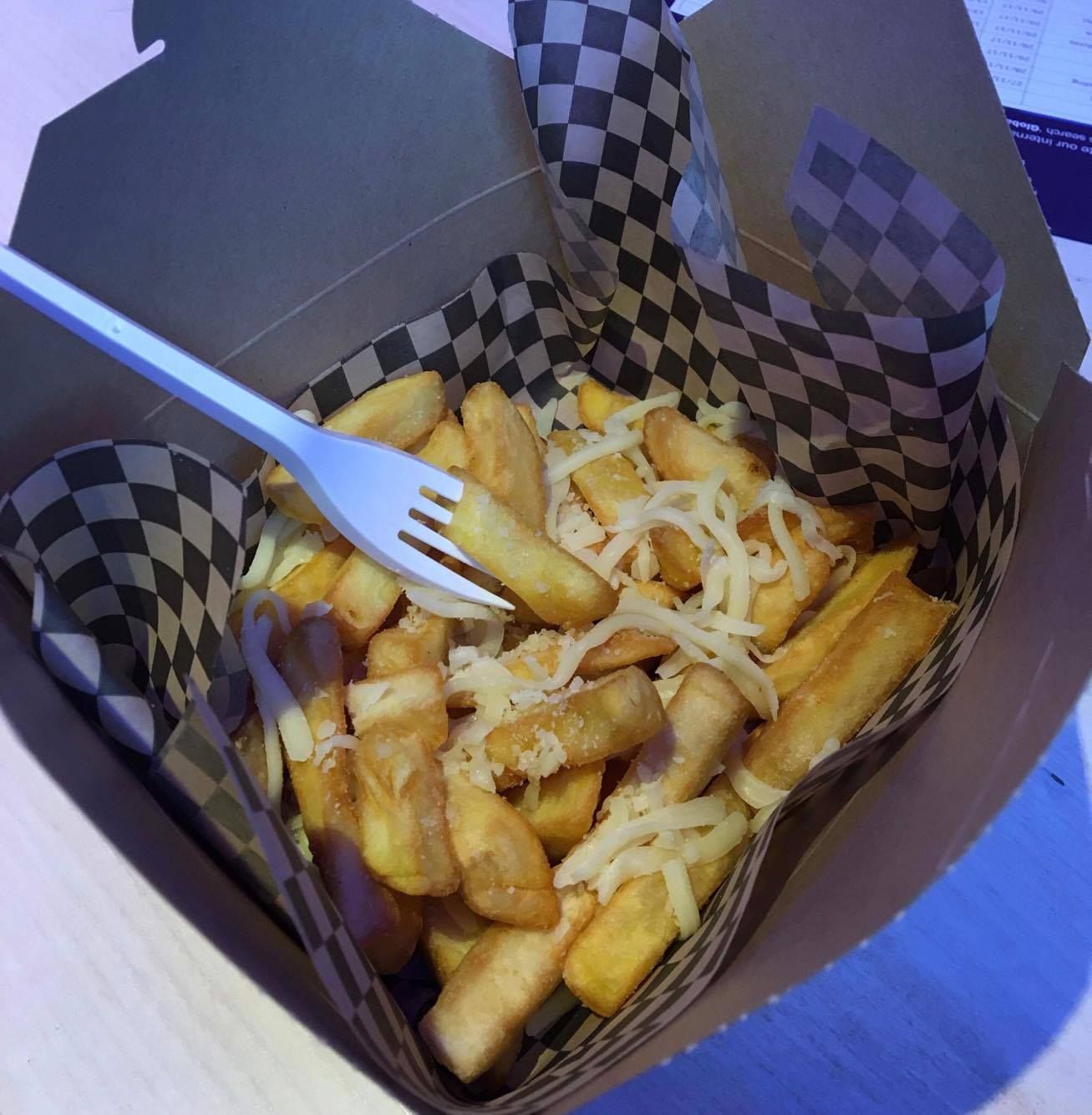 So this was more of an issue as we tested them out in the day, and cheesy chips are more part of the night time menu. Nevertheless 'The Hut' provided us with chips. Unfortunately they were quite disappointing. The cheese wasn't melted. But a good portion size for sure.
Chip Crunch: A thinner chip, as seen above, lives and dies by its crunch. And by that metaphor, these chips are on life support – the crunch is there in a couple, but it's probably not going to pull through.
Cheese meltiness: Absolutely none, the cheese hadn't even begun to lose its original shape. It held firm over the chips.
Portion Size: Quite good, not enough to fill you up completely but definitely enough to satisfy your cravings for sure.
Price: £2, the cheapest of the lot which, after a night out at the lash, the drop from £2.70 VK to £2 chips is quite welcome.
Free Sauce? No, have to pay.
Overall Rating: 1/5
Woodville Fish Bar
Woodville Fish Bar was one of the first takeaways we visited and bizarrely they had no chips? So we couldn't rate them. Sad times indeed.
Overall Rating: N/A
Khan's
Our only venture to the north side of Cathays, Khan was in a very pleasant mood when we saw him. Everything was ready quite quickly and of course he was up for a picture. As for the cheesy chips they were really good. The cheese was the best one we had – Khan said it was a white cheddar and mozzarella mix, and the chips were chippy chips too which is always a bonus.
Chip Crunch: Not much, but again chippy chips don't microwave well, which most places do to get that melty goodness. Khan's is no exception, but crunch is never the game chippy chips play.
Cheese meltiness: Melts well the two cheese blend, but not enough cheese to cover every chip, mainly the top layer instead.
Portion Size: Big
Price: £2.50
Free Sauce? Depends if you're a regular or not.
Overall Rating: 4.5/5
T&As
T&A, the final member of the Senghenydd road quadrangle of takeaways, unfortunately did keep us waiting. Though most of their business, is probably after 12, rather than 6pm when we turned up. As for the chips, not the best chips but a healthy portion size as shown above. Not much melt either. Chips were fresh and crispy though.
Chip Crunch: Being a fry, the crispness of the chip was back in a big way, a very nice crisp chip indeed, though the taste wasn't the best.
Cheese meltiness: Good cheese coverage not enough melt, which was a shame really, a lot of potential but didn't carry through when it mattered.
Portion Size: Very good size filling for sure.
Price: £2.50 which was standard we found.
Free Sauce? Nope.
Overall Rating: 2/5
There you have it, Khan's is officially home to the best cheesy chips in Cathays. To the runner ups, no need to despair, everyone knows a drunk student's priority is convenience not quality or taste.