A shortlist of every type of person you'll see at Cardiff's easyGym
The girls who lift who make you hate yourself just a lil bit
If you're a student who can't afford the luxuries of David Lloyd, or can't handle the distance of PureGym from Cathays, chances are you have frequented the cheap-n-cheery establishment that is easyGym, along with half the student population of Cardiff.
With its lil free weight area and consistently steamed up windows, here you will always see someone you recognise.
Now, while every gym has their stereotypes, easyGym's combination of being cheap and very accessible means there is a wonderful and weird array of people probably less frequently seen in other gyms.
Sports clubs
They will walk around in groups of two or four and take in turns using one machine. They will probably be discussing some hilarious antics they got up to on their last social, while also talking in serious depth about protein shakers and meal prep. They probably skip leg day, and wear their Varsity shirts, Cardiff hoodies and trackies too make sure everyone knows they're on a team.
The guy who's on roids
He will be wearing a wife beater to show off his misleadingly inflated biceps and either tight grey trackies that show a whole lot of not much, or a bizarre shorts and leggings combo, which you know must be boiling. He swaggers around the gym like he owns it, but everyone knows those muscles are lowkey enhanced and probably didn't come naturally. He will probably holiday in Ayia Napa, and his Instagram will be a conveyor belt of mirror selfies and progress pics.
Girls who lift
These girls are FIT. They probably walk around in sports bras and leggings because they have actual real life abs. They have biceps that frighten you a little bit, and are probably a model for Reebok. They brave the testosterone fuelled weights area, because they aren't intimidated by anything and know they could take on half the guys in there. They have perfect skin and probably make you hate yourself a bit.
The ones who you hate being next to
While your throat is coming out of your mouth as you attempt a leisurely jog, they've turned the treadmill up full speed and have barely broken a sweat. These guys probably run marathons for fun and are totally fitness goals. But when you're lowkey having a heart attack, it's never fun to be next to someone who makes it looks so goddam easy.
The one who tries too hard
She will be immensely careful not to sweat off her perfectly applied contouring, and will usually stick to 10 minutes on the cross trainer, throwing in a squat every now and then for good measure. She is not here for the workout, she is here for the Snapchat of her cute new Nike sports bra and to eye up the somewhat impressive eye candy.  She probably owns a yoga mat and a juicer, and a lot of stuff from Topshop.
Girls who come in pairs
They gossip on the cross trainers about the latest drama, occasionally heading to the weights area to do some cute paired exercise. They'll do classes together and offer kind words of encouragement. They're cute AF, the epitome of gym buddy friendship goals.
The ones you love being next too
They just stare at their phones and chat to their mates, they make you look the epitome of health.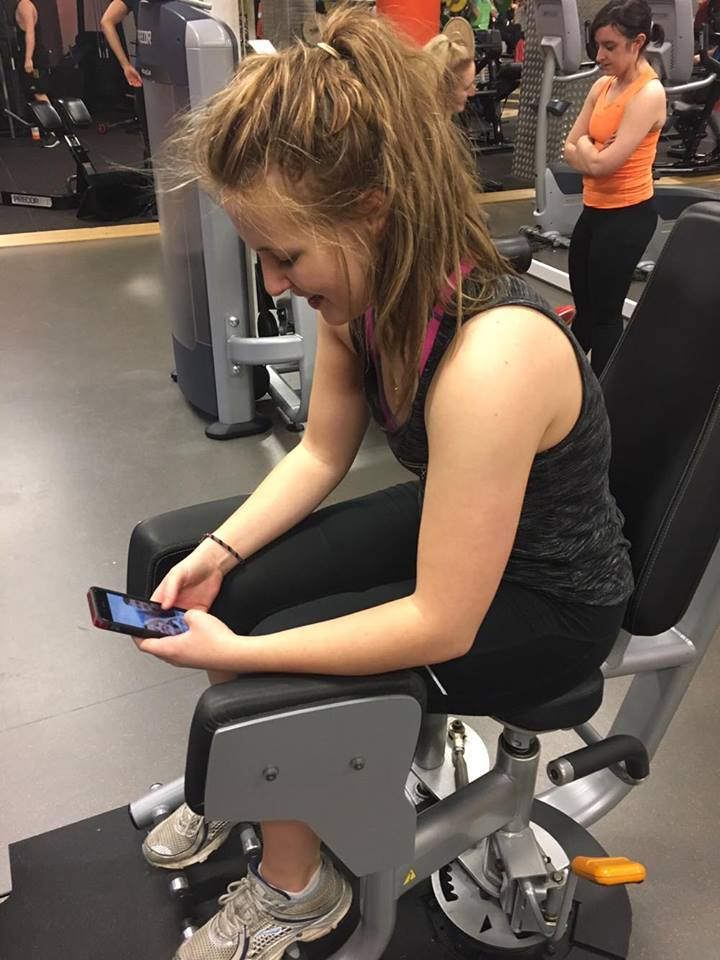 People who wear weird stuff
I mean, for starters, what is the snapback look all about? They must be super uncomfortable and the overall effect is definitely not worth it. There's also the people trying to run 5k in skinny jeans – what the fuck are you doing? The chafing doesn't even bare thinking about. Please, stop, and save yourself and your inner thighs the hassle.