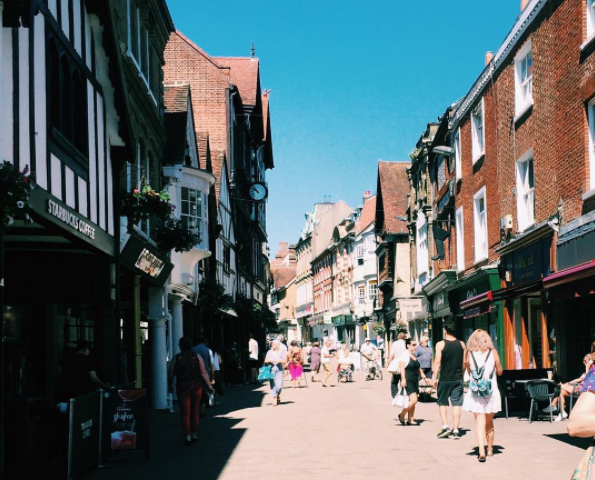 The tragic voyage you embark on during a night out in Winchester
Okay it's tragic, but classy
From the ornate Gothic cathedral to the Diagon Alley-esque high street, Winchester is an objectively lovely place. England's ancient capital boasts history, beauty, and charm.
But nights out here only ever seem to go one way.
Early evening
There's no such thing as pres before Winch. Everyone's told each other they'll be getting the last bus home, so you go in nice and early. Plus, you know in your heart of hearts you can't afford more than a few drinks.
Unless you've decided to sink a few tinnies in Cat Grounds, you'll be heading for the one thing Winchester can safely boast it does better than most – pubs.
Home to questionable drum and bass nights and drunken misanthropes too moody for their Christmas parties, there's no escaping the dingy charm of the Riser. Probably (definitely) the cheapest pint in town, their £2 Carlsberg might taste a bit grim, but that won't dull your determination to knock them back. In the golden days this was the establishment of choice for the spotty oik looking to sink a few with their older friends.
For the more discerning individual, there's Spoons. Riser aside, it's perhaps the only other place in Winch you can get three pints and change for a tenner. Yes, the manager is overly strict on ID to the point that makes rounds nearly impossible, but at least having a Spoons qualifies Winchester to be worthy of a night out.
Make the treacherous journey along the river, and you'll be rewarded with the Black Boy. Filled with stuffed mooses, old books and an aga, the inside is pure Winchester. It's not for anyone wearing anything other than some combination of grey hair, red chinos, tweed and a gilet.
Outside is where the magic happens. The only thing keeping you from relaxing amongst the inexplicable tube sign (celebrating Winchester as one of the South's premier commuter towns), wobbly benches and heaters that turn off just as you're getting comfortable, is the fact you're being bled dry for some pretty mediocre beer.
This is the point where drinks rise above £4. It's nice to cherish this moment. Accept the fact you're gonna be poor tomorrow. At least have a good night.
Around ten, half ten, the night takes on a more predictable shape. Alfie's beckons. Literally everyone you know is crammed into the back garden, expressing deep sorrow that they don't see each other any more whilst knowing exactly why. There's always the chance you'll end up sharing an awkward round with your Symonds tutor, being told how far you'll go, despite you both knowing all too well their reference left a lot to be desired.
You're a captive audience and the drink prices are really letting you know that, but at least they try and justify it by having drinks with cool names like Camden.
11pm
As the eleventh hour looms, your options constrict. Keeping their earlier promises and fleeing with the last bus, those who go home fall victim to a Darwinian force. Only the strong survive to endure Winchester in the early hours.
Late
You'll stay in Alfie's until it closes, and as you spill out there's not really much choice. Sure, you could dive into one of Wintax's finest, but Pitcher and Piano is just over the road.
Ever the classy option, P&P even has a DJ. Ignore the drinks prices and just slap down the contactless until the pain goes away. Nothing says nightlife hotspot like pushing aside tables and putting some green lights on. No need to venture more than five steps beyond the door either, because that's as far as the dance floor extends.
As you dance in the near pitch-black darkness, there might be tinges of regret that you're still out. No. Push on.
In an alternate universe, you didn't get into Alfies, and have been at O'Neil's since about half 10. Coming here at one, with no other options, is cavalier. Before that is brave. You'll end up dancing to Busted, sandwiched between a dead ringer from the Wealdstone Raider and the most half-hearted hen do ever. Tragic gets thrown around a lot. This is truly tragic.
Later
Actually, no. If you make it far enough through the night you wind up at Vodka. Embarrassingly, not just for the owners but for everyone in Winchester, it got its music license revoked and had to play 30-second clips of songs. Selecta.
That said, if you've ended up here you've smashed it. None of the negatives matter. Nothing can bring you down.
Winchester? Completed it mate.