Everything that Cardiff uni teaches you
Your degree isn't even that important compared to this
Spending three years at Cardiff uni gets you much more than a degree. Cardiff provides you with life lessons and knowledge that only you and your fellow Cardiffians can understand, like how to say Clwb Ifor Bach, how good the burgers outside the Union are, and how much you genuinely enjoy a VK.
Here is everything you'll learn at Cardiff University.
How Cathays is actually pronounced
Your first day of freshers is always met with someone thinking they're Hermione Granger: "It's pronounced Cat-ays, not Kathys".
If you're not from Wales, you will never be able to master all the street names
You feel like a moron when your estate agent asks what your address is and you have to tell them landmarks around you because you can't pronounce the street name. Llantrisant? Malefant? Gelligaer? Help please.
Seagulls are the devil in disguise
They wake you up out of your hangover at Talybont, they abuse you on the streets of Cathays, and they are the reason you get fined for rubbish sprawled outside your house. These terrorists are not to mess around with.
The Bute building is confusing AF
Why is it half underground? Why don't the rooms go in order? Why am I going up stairs then down stairs then back up again…are these fucking Penrose steps? You never expect to get to that seminar on time – it's just not happening.
Flux will always hold a special place in your heart
There will never be anywhere better on a Saturday night than the Union. Fact.
You proudly admit to loving VK
There is nothing to be ashamed of here – you can come clean to your friends at home that no, you don't drink pints, spirits or shots on a night out. You drink 4% VKs and you bloody love it.
Crossroads are dangerous places
The Colum Road crossroads are life-threatening. After many hairy moments thinking the red man was BS, you know now to trust the green man to guide you to safety.
Rubbish-free streets don't exist
But we don't do anything about, if seagulls open the bags up it's their problem, not ours.
You long for the Severn Bridge when you drive back to Cardiff on the M4
Snapchat at the ready 20 miles in advance
Wales is damp all the time
Shock
Instagrams of Roath Park, City Hall, Bute Park, Main Building and Alexandra Gardens are essential
You can guarantee at least 20+ likes on those bad boys
You can't walk up the Union steps in a hurry
You will be: 
Sweaty

Out of breath

Red in the face

On the floor
Cafe 37 is the ultimate hangover hangout
There's not better feeling than sticking to the red leather seats,  sweating out your fry up, regretting eating the black pudding, and considering throwing up the skittles and Kinder Beuno milkshake you thought your stomach could handle.
No one walks under Senghennydd bridge, they run
There is a 80% chance you will have pigeon poo on your head when you come out the other side – not the look you were going for on the way to Buffalo.
Lidl is a no-go between 4-6pm
Full of science subjects who have been at lectures all day, or humanities students who have just come out of a seminar, Lidl between these hours is an apocalypse. All that will be left will be potatoes and opened grape packets.
YOLO is actually called the Lash
YOLO is blasphemy. Fight the power.
The John Percival cafe is extortionate
You are a true mug for succumbing to the JP cafe prices, rather than walking to Sainsbury's or to Lidl. Who in their right mind can afford to buy a ham sandwich for £4.50?
Family Fish Bar rules them all
Not only are the people who work there the best, you can pre-order your food before you go out so it's ready for you when you stumble in.  Plus, where else does spring rolls in a fish bar?
North Road could be Total Wipeout
All that's missing outside Uni Kitchen/Fattoush now is those big red balls and Richard Hammond.
The burger van outside the Union is so gross but so good
You probably even left Flux early because you could smell the fried onions and wanted to get ahead of the queues.
Fanny Street will never stop being funny
Lol
You'll learn to love rugby whether you actually like it or not
It doesn't matter if you sit there for 80 minutes not understanding what is going on thinking 'why everyone is throwing the ball backwards?' By the end of your first term you have become a hardcore rugby fan. You wouldn't dream of missing any game, especially if it's coming from the Millennium – after all, you know it's the best excuse for one big sesh.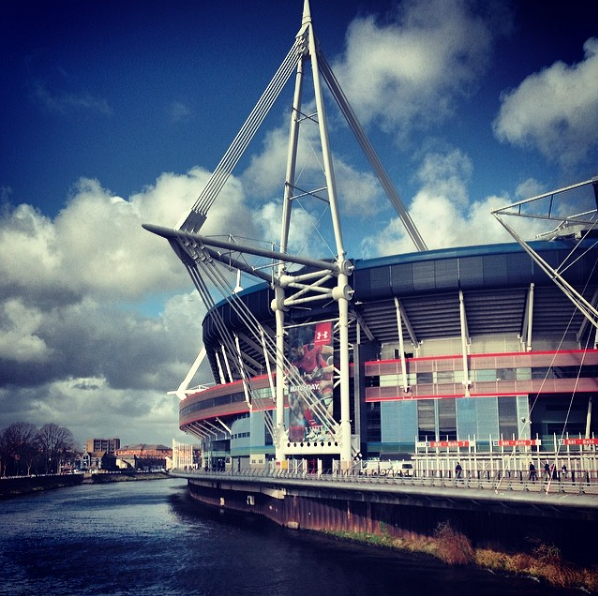 The ASSL is a prison
What used to be a pretty chill space you popped into in first year and spent a bit of time in during second year turns into a fully fledged incarceration in third year. Once you're in at 8am, brawling with the person next to you for the plug socket, you know you won't be leaving until it's dark again. You even started to feel intimidated by the security team patrolling the floors for whispering.
If you get Teak tickets, you're a wizard
Tickets to this exclusive night are gold dust. Selling out in under 30 seconds, people will gawp at you with amazement if you say you have got a ticket to Teak. They'll ask you what broadband company you're with, how many tabs you had open, can you help them get a Glasto ticket, because you're clearly a magician.
The Taly Social is shit
You only ever go in there to see where you're sat for an exam. 
You will go to big Tesco once on your first day of Freshers' Week then never again
Tesco didn't look to far away in the car when your mum drove you round to see how close it was to your halls. It's not until you're perspiring, carrying eight bags of shopping and a crate on your head do you realise that Talybont is not near enough to big Tesco.  You will only venture here unless your mate has a car.
You will never be able to drink as much as your Welsh flatmate
They just. keep. going.
Varsity is the most important day in the calendar
Who gives a toss if we win men's football or remain champions, all you really care about is getting leathered and making a fool of yourself.
Snapchats in Bute Park are compulsory once it gets above 15 degrees, especially in exam time
Your ten second video is basically saying: "Hey everyone, look at me, I'm in Bute Park having a disposable BBQ with all my friends listening to Spotify having a rad time haha look, here's one of my housemates kicking a ball and then catching a frisbee x"
Miskin Street will always hold the best house parties
You know you've made it when you go to one of these.