Cardiff Athletes Bare All For Charity
CU Athletics Union produces another naked calendar to support mental health charity Mind.
As a result of the big success last year, Cardiff's finest nudity enthusiasts have again exposed themselves in the name of charity.
The calendar, produced in aid of the mental health charity Mind, will be available to buy from the Finance Office on the third floor of the SU.
DanceSport Team Captain Bethan Edwards told the Tab: "I really enjoyed being involved with Naked Calendar; it's all very tasteful really good fun and raises money for a good cause at the same time."
The calendar's photographer, Gethin Nadin, said: "This is the second year I've done the calendar for Cardiff Uni and its always great fun. Its a bit cheeky and everyone is always up for doing it and to be able to just have fun with it and create something that will raise money for charity is great."
"My photography company, Shot from the Hip, is run as a social enterprise. This means that I donate all of my profits to charity or work for free. In the last 3 years, Shot From The Hip has donated more than £10, 000 to chartable causes in/around South Wales."
"The challenges with a naked calendar are usually location – to shoot somewhere relative to the sports team being shot, but also somewhere without onlookers! It was also pretty cold this time of year, so that came with its own obvious challenges."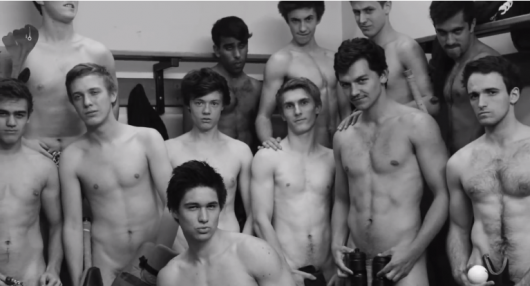 AU member Lawrence Lovell said: "I love the calendar, mainly because it is a really easy way to raise money for charity, people always talk about it and it is really fun to do.
"You don't need to train for it like you would have to for a charity run for example, everyone involved has a laugh and there is still the potential to raise a lot money for a worthwhile cause like Mind."
Mind provides support and advice for anyone experiencing a mental health problem. They support over 250,000 people across England and Wales by campaigning to improve services, providing counselling and training schemes.
AU Exec Edore Evuarherhe said: "The naked calendar is a fun event for all the clubs and mainly it's a great cause.
"Please head to the Finance Office and support Mind."