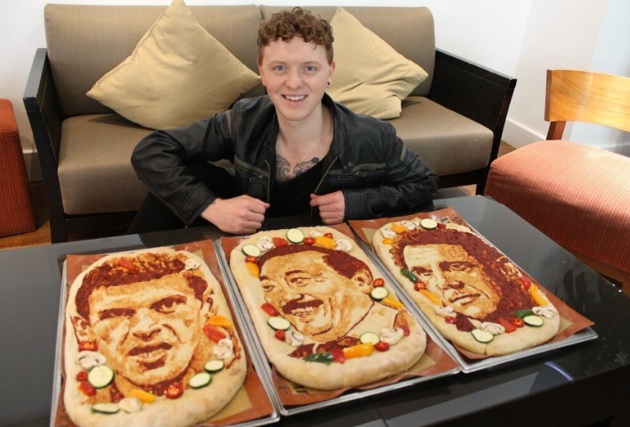 We'd like a pizza him!
Welsh artist and former Cardiff student Nathan Wyburn, talks exclusively to The Tab about his artistic talent of using food to create celeb portraits
With exams looming and inspiration draining, Welsh artist Nathan Wyburn's talents prove that if you work hard enough you can achieve success.
The Welsh 23 year old wowed Britain's Got Talent judges in 2011 when he created a portrait of Simon Cowell made entirely out of toast and marmite.
The artist, originally from Ebbw Vale, claims the judges were "lovely" and that Simon is far from his icy TV persona and appeared as a "an all round good guy".
Since then, Nathan has appeared on Blue Peter, ITV News and Sky Sports.
He has received messages of admiration from Justin Beiber and fellow Welshman Katherine Jenkins.
Nathan has even designed a denim portrait of the 90's girlband B*Witched to promote their new single "Love and Money" as part of the The Big Reunion Tour, which hits Cardiff Motorpoint this Saturday 11th May.
With claims to inspiration from Andy Warhol, Nathan originally studied Fine Art at Cardiff College of Art.
However he soon turned his talents from traditional portraiture to experimenting with ketchup, candles, make up, curry, and even fake tan!
Growing up in Ebbw Vale, Nathan claims his hometown have been supportive in his career, despite the lack of bad press the Valleys get!
If you feel inspired, either as a budding artist or just to watch the man in action, check out Nathan's amazing work via the links below.
Nath Wyburn makes a marmite portrait of Simon Cowell
www.Facebook.com/NathanWyburnArtist