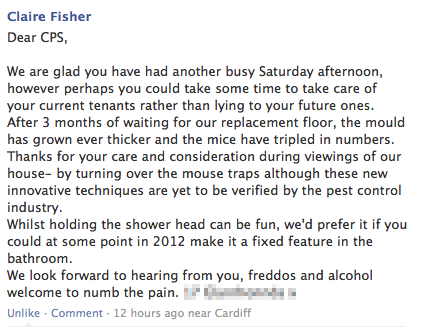 Mould and mouse traps
An angry Cardiff student hits out at letting agent CPS on Facebook
A Cardiff student hit out at letting agency CPS on Facebook, with a post that attracted 250 likes.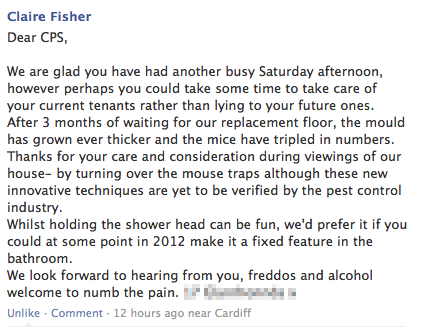 Claire Fisher, a current tenant of a CPS property posted on their Facebook page:
"We are glad you have had another busy Saturday afternoon, however perhaps you could take some time to take care of your current tenants rather than lying to your future ones.
After 3 months of waiting for our replacement floor, the mould had grown ever thicker and the mice have tripled in numbers.
Thanks for your care and consideration during viewings of our house – by turning over the mouse traps – although these new innovative techniques are yet to be verified by the pest control industry.
Whilst holding the shower head can be fun, we'd prefer it if you could at some point in 2012 make it a fixed feature in the bathroom."
CPS note on their website: 'CPS Homes strives to provide the best possible service to each and every customer.'
All of this comes just weeks after The Tab conducted a survey to find the worst thing about Cardiff, in which Letting Agencies came out on top with 48% of the vote.
Use the comment box below to let us know your housing horror stories, or email [email protected]