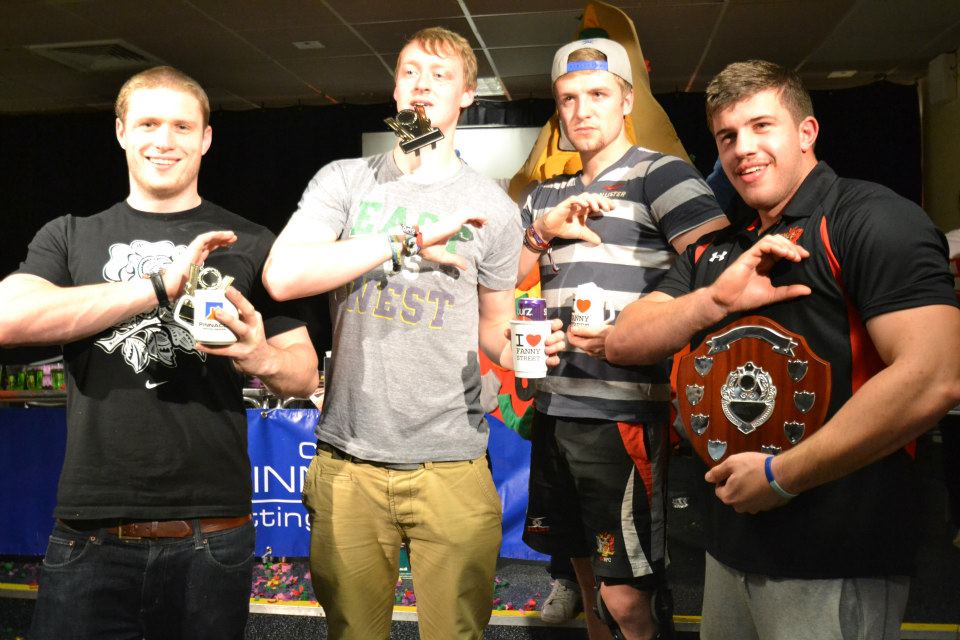 CURFC dominate RAG's Student Vs Food
The rugby club's first silverware of the season, without a blade of grass in sight.
Student Vs Food is usually the kind of battle I face when I look in the fridge and can only see milk, ketchup and cheese, but on this occasion it was a thoroughly entertaining night for a great cause.
Cardiff University Rugby Club sent an elite band of men into RAG's first annual Student Vs Food eating competition and returned with their first silverware of the season. Taking on 3 challenges across individual, spicy and team classes, CURFC returned with 2 out of 3 trophies, free Papa John's pizza for a year and a butt-load of free booze for our next social. Here's how the war was won.
I entered this round myself and I won't lie, I did it because it seemed like the easiest. Mumma Slorpe didn't raise a fool.
The premise of the challenge was simple enough, 6 competitors race to eat 7 Jacob's Crackers, a scoop of Marmite and an XXL Papa John's pizza. The execution of the challenge proved to be a whole lot harder though.
Having powered my way through the Jacob's Crackers, leaving my mouth dryer than it is after a night in The Lash, I moved onto the Marmite. Love it or hate it, it's definitely better on toast.
With the Marmite gone I moved onto the pizza, where I decided to pioneer an innovative technique of double stacking my slices. This shall henceforth be known as 'Slorpe's Victoria Sponge Method'. As I moved onto my final two slices things were tight between me and another contestant. His strategy was to save the crusts until last, amateur. Soon enough he was chundering in one of RAG's collection buckets and I was the victor.
My mum was so proud when I told her.
Ollie Hudson stepped up for this dangerous round and I didn't envy him one bit. This challenge consisted of one Habanero pepper, then a cup of Habanero sauce, followed by a brutal one minute burn period. As if that wasn't bad enough, it was followed up with an XXL jalepeno laden pizza, 2 African Bird's Eye chillis and half a pint of double cream.
Ollie was quick heading into the burn period, which saw sweating and even crying from the big man and it looked like CURFC might be taking the 2nd trophy of the night if he could keep up the pace.
Moving into the pizza though, Ollie slowed right down. Too much time in the gym appearing to leave him unable to deal with carbs. Sadly, this match slipped away from CURFC after a highly promising start and Ollie could only manage 2nd place. Respectable, but if you're not first, you're last.
And so the night progressed into the final, show-piece event, the team class. This was a behemoth challenge consisting of teams of 2 racing to consume 1 lamb's heart (yeah, you read that right), a foot-long sub sandwich, an entire cucumber and an XXL pizza. Now you know why I picked the indiviual class.
It was no easy feat, so CURFC sent in the remaining big guns, club chairman Laurie Miller and sponsorship secretary James Pearse.
The strategy here appeared to be preparation, Laurie was convinced that if the food was crushed to be smaller it would be easier to consume. As such, the foot-long only remained  that length for a brief period of time. That being said, James did take the time out to enquire where it was made, his compliments to the chef.
This class appeared to be a 2 horse race throughout with CURFC neck and neck for supremacy with another team. Things were tough, really tough, but at CURFC we're used to that. So when it appeared that Laurie and James were hitting the wall, comradery kicked in and they fed each other. There are no no small bites when you're being fed by an 18 stone prop.
This worked for a good while and the boys were going strong, but things eventually caught up with Laurie and for a period of 5 minutes he employed the controversial 'Eat, Vomit, Eat More' technique. Whilst disgusting to watch, it proved to be quite effective at freeing up more space for him.
This ended up making all the difference and when the final bite was taken, it was into a rugby club mouth. CURFC's small band of brothers had entered into the war of Student Vs Food and emerged as victors in 2 out of 3 events.
Amidst all the pizza and the chundering though, was the work of the RAG team who put on a cracking night in aid of some great causes. Hats off to them and roll on next year, CURFC is coming back for the crown.