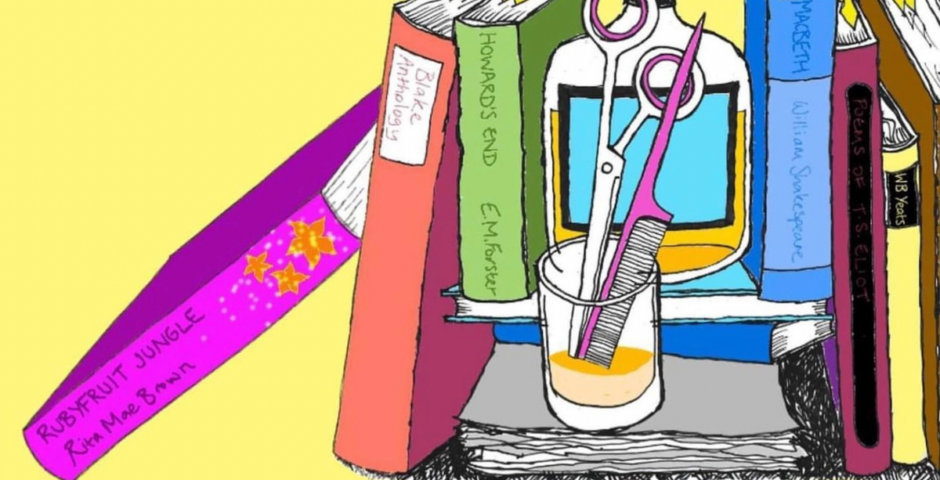 Review: Educating Rita
A show capturing the dynamics of a supervisor/student relationship, without having to experience the personal academic stress!
In the depths of exam term, it does feel slightly horrific to think about going to see a play based around the concept of supervisions leading up to a big final, but despite the ironic timing, the Combined Actors of Cambridge have put together a delightful rendition of Educating Rita, capturing the supervisor/student dynamic, as well as creating a strong sense of interest in the growth of Rita from both an academic and personal standpoint.
Davinia Fisher's Rita is a delight to see, with her passions in all things coming through strongly, whether that be her love of trashy romance novels, or her desire to learn as much as she possibly can about absolutely everything. Fisher is able to effectively present not only a lighthearted character who is incredibly fun to watch bounce off the beaten down and more despondent Frank (Martin Maynard), but she is also able to brilliantly show the sense of pressure Rita feels under, be it to live up to her academic ideal or to try and please her husband.
All of this is effectively paired with Maynard's cynicism as Frank, with his apathy for academia incredibly relatable to anyone who is still locked in the library having to revise an inane paper they absolutely despise, leading to a situation where the two bounce off of each other incredibly well, with the more muted Maynard perfectly complimenting the ever chatty and full of personality Fisher.
Seeing the growth of both characters throughout the year-long course is an absolute delight. Maynard's initial outright refusal shifts towards finding charm in Rita's openness, and then towards hatred of her academic growth. This makes for an interesting look at the impact which education can have not only on what is gained, but what is lost – feeling particularly poignant for Frank considering the despisal of his discipline from both his hatred of academia and his own artistic and personal failings.
Frank's attitude greatly contrasted with Rita's desire to grow through literary critique, and escape the vapidness with which she finds herself as a young housewife and hairdresser. This leads to a dynamic which not only explores the imposter syndrome prevalent in entering academic life, but also what is found and lost through seeking education, the inevitable change which comes about, and the consequences that can have, for good in the eyes of Rita, or ill in the eyes of Frank.
All of this is accompanied by an extremely effective use of the small nature of the Corpus Playroom, with the creation of a cramped 1980s academic's office not only typical of the scenes found in any humanities supervision but also allowing for each actor to bounce brilliantly off of one another, as they are almost always forced to remain close together, making changes in positions across the space, have all the more weight.
Educating Rita is an excellent rendition of a classic script. Whilst trying to find escapism in a play focused on academia during the height of Easter term seems to be like an act of self-flagellation, the way in which both Fisher and Maynard not only portray their own struggles through their personal and academic lives, but also bounce off of each other brilliantly due to their different backgrounds, is a delight to see on stage.
Despite the show being solely a duologue things feel like they are constantly moving and there is rarely a slow moment, creating a charming piece of theatre well worth the time to see as a revision break, before having to relive your own version of Frank's life and hitting the books you're more than done with at this point!
4.5/5
Educating Rita is showing from the 7th  – 10th of June at 7:30 pm in the Corpus Playroom. Book your tickets here.
Feature Image Credits: Combined Actors of Cambridge
Related articles recommended by this author: