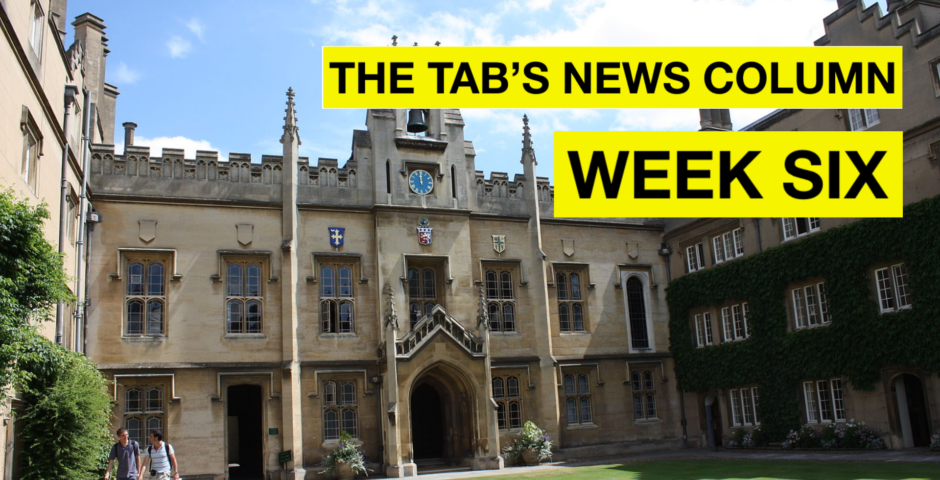 Week six news column: Endangered newts, churros and Lego Lent Bumps
Will the Medwards Churros Van be touring to my college anytime soon?
Week six has flown by and it feels unbelievable to say that we are now entering week seven! This week has certainly been a busy one – we're now gearing up for a potentially COVID-free summer and many students have been scrambling to get hold of festival tickets which seem to be like gold dust this year!
This week has also been buzzing with news on the SU elections and we finally got the announcement that we were so desperately waiting for… Jesus Green Lido is reopening! Oh, and the university is planning to have as many students back as possible in Easter term, we can't forget about that one.
But, of course, that is not all! From newts and cows to churros and asbestos, this week's news column really does have it all…
Sidney Sussex to increase rent fees
Sidney Sussex College has announced this week that they plan to increase student accommodation fees by three per cent plus inflation for the academic year commencing in 2021.
The increase was originally set at five per cent but was subsequently reduced following an open letter that demanded the college abandoned the rent increases.
The letter acknowledges that the college has had to face unprecedented financial difficulty due to the coronavirus pandemic, but adds that "the cost of the pandemic should not be borne by students and decisions around permanent rent increases should be taken independently of the financial impact of the pandemic."
Trinity College helps to empower parents to inspire children
Trinity College has announced on their website their support for Parent Power Oldham, a group made by parents for parents to help support and inspire children to apply to top UK universities, in particular to Oxford and Cambridge.
Dom Clarke, @TrinCollCam alumnus, speaking to @OldhamChronicle on empowering parents & their high-achieving children to aim high @ParentpowerOLhttps://t.co/WbDFSDql9t #wideningparticipation #educhat #education #students #highereducation #inspirethefuture #university #highered

— Jon Datta (@DattaJon) March 2, 2021
Trinity's partnership with the group is a part of the college's new outreach strategy which aims to broaden the range of students that the college interacts with whilst also increasing its reach both geographically and numerically.
Trinity is now supporting Parent Power Oldham by expanding and equipping the growing network with the tools to help more children realise their full potential.
Downing installs LGBT+ fund
This week, Downing College unveiled a new LGBT+ fund for its students worth £1,500, the largest of all specific LGBT+ funds in all Cambridge colleges.
The fund is aimed to help support the wellbeing of LGBT+ students of the college and can be used for "therapy costs, gender affirming clothes, travel to clinics etc."
There is currently a cap of £50 per applicant.
Endangered newt found in Lucy Cavendish pond
This week Lucy Cavendish College discovered a rare and endangered species of newt when they drained one of their ponds as part of an ecological survey.
Once the great crested newt was identified, work on the pond immediately ceased. There are currently plans in place to relocate the newt to a new environment where they will be safer.
The college sent an email out to students citing the "exciting discovery" of "the important and lovely creature".
Is it too late for this newt to be added to the BNOC group chat?
Newnham College catering to only provide veggie and vegan meals for Green Week
To celebrate the Newnham College Green Week, Newnham catering will be only be serving vegetarian or vegan meals for the entirety of this week.
The Newnham Environmental Justice Society (NEJS) has said that this an important and positive step forward in the college's fight to become more environmentally friendly.
Excited to announce that our Green Week is starting on the 1 March! We have amazing speakers, panels and more lined up for you, and we'd love to see as many of you there as possible!
Sign up here: https://t.co/orf7uQRZOs pic.twitter.com/ay0VcCaGAB

— Newnham Environmental Justice Society (@NEnvJS) February 25, 2021
The NEJS also plan to launch a new campaign in the coming weeks to completely remove beef from the college menu, following in the footsteps of the University Catering Service which removed both beef and lamb from its menus in 2016.
Girton holds Lego Lent Bumps
In replacement of this year's Lent Bumps, Girton College took to Twitter to show the handiwork of one of their students who created a Lego Lent Bumps.
As we are unable to cheer on our crews at Lent Bumps this year, a Girtonian and her family have been busy recreating the Bumps course, and boating action, at home. We bring you, therefore, the LegRow Lent Bumps!🚣‍♀️ pic.twitter.com/4KUIgFvIoM

— Girton College (@GirtonCollege) February 26, 2021
The LegRow Lent Bumps is a 20 second clip that shows the bumps taking place on the River Cam. We can even see a figure of the iconic Cambridge cyclist in the background. There are some rogue punters disrupting the course, with one punter looking as if he is catching some rays, ignoring the carnage of the bumps around him. There's also an adorable family of ducks taking in the scenes, you can't miss this thrilling event!
Camfess and Chatbridge launch Speed-Friending
This week Camfess and Chatbridge have joined forces to launch a new event, Speed-Friending, which aims to connect students during a period where social contact remains incredibly difficult.
The event will work like a speed dating programme, but instead of finding the love of your life, you can find a new BFF. It's a PG version of Omegle!
The event will randomly pair people together and have them chat virtually until they wish to move on and find another friend.
The event is scheduled to take place on Saturday at 19:00 GMT.
Churros at Murray Edwards
On Tuesday this week, Murray Edwards College had a temporary churros van in one of their college courts!
We have a Churros van in College today, so students can have a socially distanced snack! 😋 pic.twitter.com/WEHY8j6KHv

— Murray Edwards College (@MECCambridge) March 1, 2021
The van was serving churros to students of the college so that they could "have a socially distanced snack."
I mean the hot chocolate stand at my college is pretty cool but NOT on this level! I don't think I've ever been so jealous.
Jesus Green Lido to open five weeks earlier than usual
The news we have all been waiting for! Jesus Green Lido is set to open five weeks earlier than usual after the government outlined plans to ease lockdown restrictions.
Jesus Green lido to reopen five weeks earlier than usual from April☀️ https://t.co/aFACjHJRPL

— Cambridgeshire Live (@Cambslive) February 25, 2021
The council are currently preparing to open the outdoor pool on April 2, five weeks before the usual opening dates. It will be first public swimming space in Cambridge to reopen.
The council believes that opening the lido earlier will be a positive step for people's mental and physical wellbeing.
So if you didn't manage to get Reading tickets, I think the Lido would make an excellent substitute.
Trinity Hall students told to use Churchill catering services
This week, students at Trinity Hall have been told that instead of using the College's own catering services, which are currently closed, they should use the services at Churchill College.
The main servery at Trinity Hall has not reopened this term, meaning that students who are in Cambridge and ordinarily reside on the central college site would only have access to small gyps with limiting cooking facilities.
Therefore, students that have returned this term have been moved to the accommodation at the Wychfield site, on the Hill, which has better cooking facilities. To accommodate these students, Churchill has opened up their catering services for Trinity Hall students.
Forget pub crawls, this term is all about servery hopping.
Asbestos at Selwyn
In an email sent to students of Selwyn College this week, it was revealed that there was asbestos removal work taking place in one of the college's staircases.
In response to the removal works, the staircase and surrounding access areas were closed for three days.
The carcinogen was present in a small number of staircase basements but was not ruled to be a threat to any students.
Free-grazing cows saved following budget U-turn
This week the future of the cows grazing freely around Cambridge was thrown into doubt as Cambridge City Council proposed an end to out-of-hours help for kerfuffles with the cattle.
Usually, if a problem with cattle arises outside of office hours, the council or emergency services would provide support, costing the council around £8,000 per year.
A budget cut that critics said risked the future of cows in the city centre has now been scrappedhttps://t.co/KJQk82Xm6D

— Cambridgeshire Live (@Cambslive) February 26, 2021
However, initial plans would have instead meant that out-of-office-hour care would have fallen to the responsibility of the graziers (the owners of the cattle) who said that this would make the cows' presence untenable since they cannot care for them 24/7.
Yet, the proposed budget cut has since been reversed meaning that out-of-office-hour care for the cows will continue to be provided by the council.
The Cambridge cows are often in need of assistance or rescue, occasionally getting stuck in the River Cam (hopefully they don't catch scabies), but they remain iconic to Cambridge and many of its residents. A number of graziers welcomed the news of the reversal with joy.
And that's a wrap! Next week I'll probably be too busy for the news collumn, there's to much to do! Rescuing the cows, looking for newts, and of course, finding the perfect pair of speedos for the lido…
Sidney Sussex College, Selwyn College and Trinity Hall have been contacted for comment. 
Feature Image Credit: Ardfern via Wikimedia Commons (Creative Commons License)