The Cambridge Tab Best Bums 2020: Round two
Vote now for your favourite bum in round two of a competition more hotly-anticipated than any varsity
You've seen our first round of peaches – but if you thought that they were good, wait till you see the rest of the best bums competition. Cambridge bums have been getting creative with Bridgemas, bikes and a tribute to Cindies (#neverforget) – and now the power is in your hands.  Vote for your favourite peach to go through to the next round of Best Bums – who will be your rear of this long, long year?
Holly and Ivy, studying Music and Theology at Jesus
Just in time for Bridgemas, Holly and Ivy's photo captures the best of the festive spirit – fairy lights, tinsel, and novelty hats. Deck the bums with boughs of holly, fa la la la la…
Kiera, studying Medicine at Wolfson
What better place for a Best Bums competition photoshoot than Orgasm Bridge, being overlooked by Tit Hall? Almost top marks for cycling to the top, but we're deducting a point for no helmet. Safety first!
Athena, studying History at Fitzwilliam
Damn girl! are you a piece of art, because it looks like I found you at the Fitzwilliam. Athena has captured those "I walked straight out of a painting and into real life" vibes here – peachy light, and well, a peach.
Dick and Dom, studying Land Economy at Christ's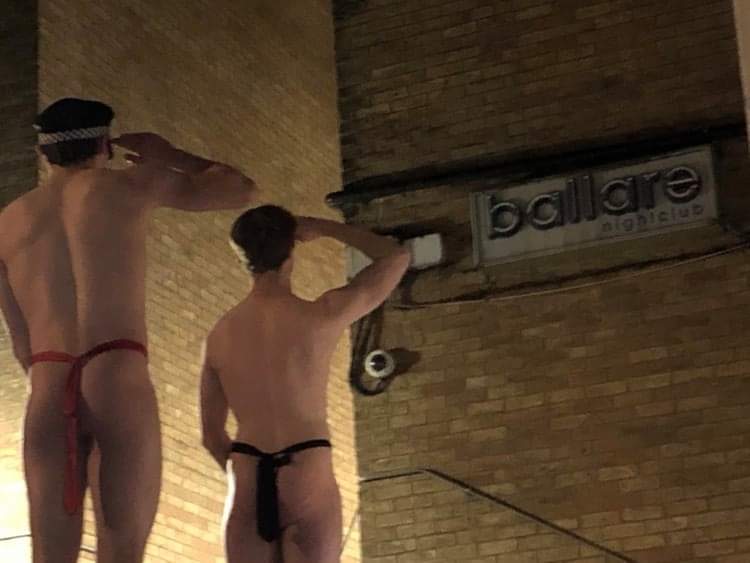 These bums asked for this to be captioned "The final goodbye", and their photo is a fitting tribute following the news that Cindies has closed its doors for the final time. Staring straight into the eye of the CCTV camera, it looks like these two aren't afraid to have their dedication commemorated, either…
Jeffrey, studying Philosophy at Girton
Socks and sandals are universally agreed upon as a poor fashion choice, but what about socks and, well, nothing else? At least Jeffrey is keeping his feet under wraps, unlike the rest of him…
Dorian and Narcissus, studying Maths at Hughes Hall
Good luck on getting those round peaches through an eye of a needle into the kingdom of heaven! They probably wouldn't fit, but surely there would be some leniency for two bums of this calibre…
Eve, studying Linguistics at Clare Hall
Eve has decided to seize the natural way of life in more ways than one, and it's not just the scenery that looks serene.
Piers, Rupert, Morgan, studying HSPS, Theology and MML at St John's
Three guys invite you to help out at their Best Bums photoshoot. You show up, and they look like this. Wyd? The answer is, quite obviously, take the photo and don't ask too many questions. A contestant who can show that not only do they have a great bum, but they can do a pull-up? Yes please.
Carl and Miranda, studying Medicine at Darwin
Definitely a surprising view for any early morning punters, Carl and Miranda greet the Bridge of Sighs in all their glory. If they win Best Bums this year, it's rumoured that Scudamore's punt guides will immortalise the spot in their tours – "Here we pass under the Bridge of Sighs, which is considerably more impressive than Oxford's Bridge of Sighs and has been the scene of numerous impressive Best Bums entries"
Erika and Nicholas, a BioNatSci and PhysNatSci at Robinson
If you've seen Ant and Dec round Cambridge centre, it might be because they're filming "I'm a Cantab, Get Me Out of Here!", in which students have to see if they can make it through week 5 with the added challenge of a global pandemic. These two contestants look like they're quite literally climbing the walls – less than two more weeks until the end of term!
Saskia, studying Vet Med at Churchill
Channelling her inner 90s kid with the scrunchie, Saskia has chosen the perfect lighting to illuminate her derriere.
Vicky and Alby, studying Law at Selwyn
Going down in the history books for their momentous achievement should they win, Vicky and Alby show true commitment to Cambridge's libraries by climbing the Seeley(?). We're not going to ask any further questions as to how they got up there – but oof.
Vote for your favourite bum in round two of our best bums competition, to make sure that your favourite bum of 2020 gets the recognition it deserves! No need to climb the Seeley for this one, just vote in the poll below.
Related best bums competition articles: