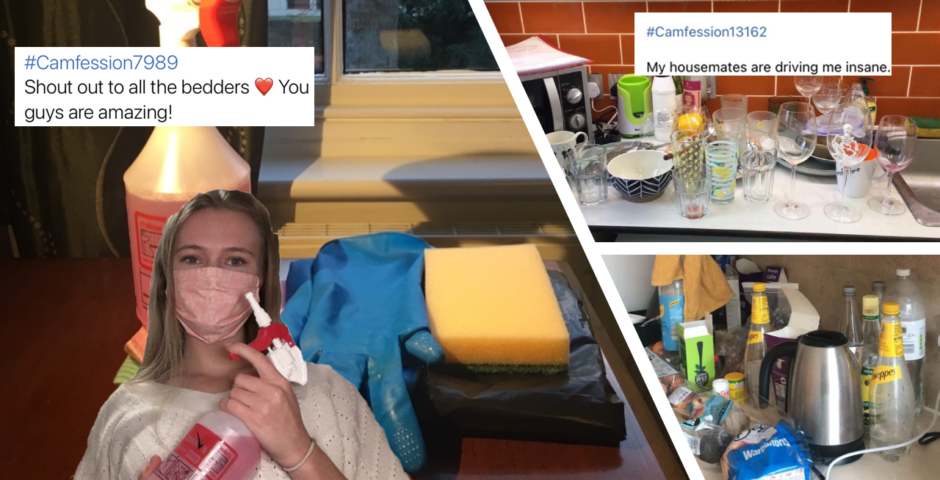 High and dry: How Cambridge colleges are coping without bedders during lockdown
A love letter to bedders everywhere x
With the second national lockdown already well underway (cheers Boris!) changes have again been made to the cleaning situation across the university, with many colleges putting safety measures in place meaning students have to take care of their own spaces for the first time. While no colleges have kept things completely normal, situations range from bedders only being allowed in communal spaces to no bedders at all.
The number of passive-aggressive communications from Accommodation Staff also seem to be proliferating, as colleges declare that poor hygiene in kitchens and communal spaces is proving a bulwark to bedders' efforts to keep spaces corona-free.
Opinions from students are mixed, with some welcoming the chance to take on a little more responsibility, while others let things slide. A few students who are still visited regularly by bedders have expressed concern for their safety, given that bedders do not get tested by the university, and are among the only people to regularly enter multiple households. While some measures taken by colleges are more than a little harsh, concerns about the safety of bedders and students cannot take a back seat.
Now that certain colleges have halted housekeeping services, The Cambridge Tab decided to take a closer look at how students are coping and, of course, think about the wider implications of housekeeping services at our university. Should bedders be coming into our rooms during a pandemic? Should we have our rooms cleaned for us at all? There's a lot to think about, so let's get started by looking at some colleges who've drastically changed their housekeeping rules this lockdown:
Cleaning up after yourself is a whole new ball game
Fitzwilliam and Robinson are among the colleges that have decided to terminate all housekeeping and cleaning services within households in lockdown and instead are providing students with supplies and instructions to maintain their facilities. A spokesperson from Fitz, contacted by email, stated: "The college has a duty of care to protect both students and staff, and this temporary arrangement will minimise risk inherent in contact between households and staff. All communal areas outside of households are subject to increased cleaning protocols."
Christ's decision to remove all bedders from student households is relatively recent. Students received an email on Saturday stating that the college is "very keen to keep infections down in these last two weeks", so those who want to go home for Christmas are able to, and keeping bedders out of households is a measure to prevent cross-infection.
Other colleges have taken a slightly more relaxed approach. Trinity, Downing and Kings among others have bedders cleaning communal kitchens and bathrooms but are leaving it up to students to clean their own rooms and en-suites – a guideline most seem pretty happy with. Students are usually provided with cleaning kits like the one pictured below, which includes bathroom hygiene materials, rubber gloves and spray for mirrors.
Indeed, for some, not having bedders in personal spaces isn't an unusual experience. Newnham is one of the colleges who did not have students' rooms cleaned even before the pandemic.  For many freshers, these guidelines were in place from the start of their time at Cambridge. One Downing fresher remarked: "I was straight in isolation as soon as I came, so to me not having bedders is normal. It's totally fine; I just hoover whenever I notice it's getting dirty and that's it." Another said: "I don't think there's actually enough space on my carpet to hoover. I tend to just dump my clothes there, and since there's nobody checking on us in lockdown things have got a bit out of hand."
In some colleges, however, the changes haven't gone quite as far. Students from Emma are still having bedders come in and clean communal spaces and bathrooms even in houses outside of college, and their infamous laundry service is still up and running (although with a copious number of Covid-secure measures, one student assured me.)
Fines and Ultimatums
Some colleges have gone a step further than most. On Thursday, Downing students received an email from Accommodation Staff stating that the condition of kitchens was 'unacceptable' with 'dirty crockery, cutlery and food remains, sinks piled high with dirty dishes and filthy tea towels.' The College said that the 'poor hygiene' hampers the efforts of bedders to clean and disinfect areas as a measure against coronavirus. Students were then issued with an ultimatum for 8am on the 23rd November. Failing to restore kitchens to a 'fit state' by then would result in items being removed from the kitchen for deep cleaning.
Jesus, like most other colleges, normally has communal areas cleaned but rooms left alone and is in keeping with other colleges in providing students with their own cleaning materials. The college has, however, gone a step further than most and has said that students may be deaned and fined if cleanliness falls below par.
Cleaning Conflicts?
In a few households, tensions have been rising between students who have slightly different standards when it comes to tidiness. This has led to many a sarky Camfess post, and, as one student reported, a number of "quite awkward Zoom meetings in which rotas were drawn up, then abandoned as a shouting match commenced."
Ouch. If you want tips and tricks on how to spice up (or cool down!) your relationship with your household, look no further than this Tab article.  
A common complaint heard around Cambridge concerns how we as students don't have enough freedom to actually learn adulting skills in preparation for… well, life. The pandemic has exacerbated the control that authority figures have over us here massively, and that can be hard for people who enjoy their independence. I haven't actually met anyone who has a huge problem with having to hoover their own room (thank god) but there seems to be more than a few who are struggling to organise the cleanliness of communal spaces.
Praise be to Bedders
However, during the pandemic, the health and safety of both bedder and student must be the top priority. Bear in mind that bedders don't actually get tested for the virus by the university (a service we all have access to) so the fact that they come in at all is something to be thankful for.
I have heard a couple of comments questioning whether we should have bedders at all- my friends from other unis suggest a cleaner coming in more than once a week (or even every day!) seems a bit much, and encouraging students to take more responsibility is probably a good thing. However – Cambridge just isn't like other unis. In normal times especially, we do have far more work and an awful lot more running around to do, meaning that the added stress of keeping everything shipshape is a burden well-kept off our shoulders.
Let's be honest, bedders are pretty amazing – they do a way better job than we could ever do of keeping college facilities in good condition. Believe me, this is something we all want, given that most colleges will leap on the chance to charge ridiculous amounts of money to people who have slightly scratched the' 'French wax varnish' on their tables (no, I'm not bitter.)
While few agree with levying fines and confiscating cutlery from students whose spaces are a bit *chaotic* it is probably in the interests of our mental health to keep things relatively non-gross. The reason many colleges are asking bedders to take on the risk of going in to clean our spaces is as a measure to keep cases down – the least we can do is aid them with that. While we wait for the all-clear from Westminster, and possibly start the Christmas edition of Eat Out to Help Out (I'm not joking), it's worth taking a bit of time to make sure we don't all get dust mites as well as coronavirus.
To make us all feel slightly better, I'm including a picture of my friend's kitchen in Sheffield after Freshers' Week, when they were all in isolation with positive tests. Yes, the ceiling did fall in. No, they could not get anybody to come in and clean it.
In light of this tragic photo, I, for one, am feeling very lucky to have access to housekeeping services this term. Remember, these are *unprecedented times* and we probably should cut people some slack if they've not quite got to the level of Marie Kondo just yet. Alternatively, perhaps a copy of 'Spark Joy' could work its way into the household Secret Santa…
Cover image credit: Maddie McHaffie, Alice Kettlewell and Camfess on Facebook. 
Christ's, Downing, Emmanuel, Fitzwilliam, Jesus, Kings, Robinson and Sidney Sussex colleges have all been contacted for comment.