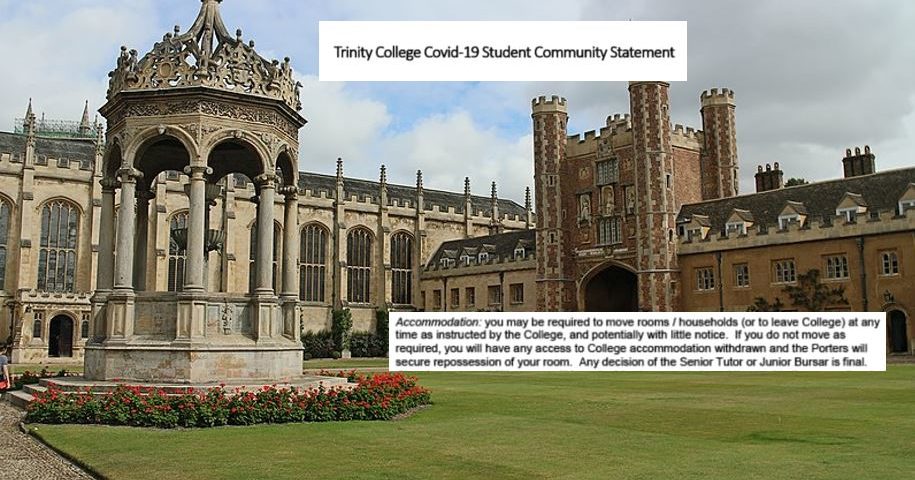 Trinity College students may have accommodation withdrawn if they break COVID rules
The College's latest guidelines have been criticised as 'Vile behaviour that will hit disadvantaged students hardest'
Students from across the University of Cambridge have expressed outrage regarding Trinity College's newly-released coronavirus guidelines, in which the college outlines "principles" that the Trinity student body must sign and promise to adhere to in order to return to the College, the Master of which is former Chief Medical Officer for England Dame Sally Davies, for the academic year.
The statement warns that "The Senior Tutor and Junior Bursar can withdraw your accommodation if you breach your commitment to follow the Community Statement". In the event that accommodation is withdrawn, students "must return home or find alternative accommodation elsewhere, at your own cost", although if there is a "truly exceptional" circumstance the College "will provide temporary alternative safe accommodation at another location".
Students requiring access to the College site, regardless of whether they are living in College accommodation or not, must sign the statement which "must be treated as a firm commitment by you, and be followed at all times". While Trinity also encourages students to adhere to the government's guidelines, they also note that "College rules may sometimes be stricter or delay relaxation in relation to government instruction because of the College's need to make its own risk assessment and adjustments".
Alongside rules regarding cleaning ("College will provide no cleaning inside student rooms"), visitors ("no visitors (including family, friends and students from other colleges) to enter College premises unless and until further instructions from College are issued") and luggage ("you must bring only the minimum amount of belongings you require, primarily for academic purposes and basic living standards"), Trinity also stated that "you must store in your room three days' supply of non-perishable food for use in the event of a lockdown".
The guidelines have been released as students across the UK are beginning to return to university, and with young people (especially those between the ages of 20-29) being blamed for the rise in coronavirus cases, Trinity is imposing rules which have been criticised as "vile". Much of the criticism that is being levelled at the College stems from their statement that:
"you may be required to move rooms / households (or to leave College) at any time as instructed by the College, and potentially with little notice. If you do not move as required, you will have any access to College accommodation withdrawn and the Porters will secure repossession of your room."
absolutely disgusted at the letter from @trincollcam to all students forcing them to rescind all rights to housing and agree that they can be barred from housing instantly, with no recourse, at their own expense. Vile behaviour that will hit disadvantaged students hardest

— Cecily 🐝 (@TibG1312) September 10, 2020
There will also now be far harsher consequences for "unauthorised parties of gatherings" – rather than being reported to the porters as in the past, such gatherings "which in the past may have been dealt with as minor disciplinary matters are likely to be deemed a grave breach if they contravene government guidelines".
A spokesperson for Cambridge SU has said of the measures: Cambridge SU is deeply concerned by the extremely punitive measures laid out in the Community Statement which Trinity College has sent out to its students. Most concerning is that the contract reserves the College's right to evict students at their complete discretion, which will place affected students in positions of vulnerability and precarity.
"All staff, students and Cambridge residents will be at greater risk if Trinity acts on this stated intention, which is in contravention of government guidelines published yesterday. As Cambridge SU we believe that behavioural guidelines should be collaboratively generated with community members to reflect student-staff concerns and prioritise their wellbeing. We are in contact with Trinity JCR and MCR and understand that they are working with the College to resolve the matter. We will be watching the situation closely and supporting student representatives wherever needed."
In a statement issued by Trinity College today, they have said: "Trinity's priority is the safety of the College community. In line with government guidance, the College has put in place a range of measures for the Michaelmas Term to reduce the risk of infection during the ongoing public health situation.
"Building on the University-wide Community Statement, Trinity has developed a College-specific agreement with detailed measures, with the ultimate aim of protecting, as far as possible, the health of College members and staff, as well as the wider community.
"These measures are needed for the College to deal with potentially serious challenges in the short and longer term. The College is committed to acting responsibly in all matters related to public health. No student will be without accommodation if they cannot return home or have nowhere else to live.
The College continues to engage with the University and to monitor public health guidance from the UK Government for higher education institutions in order to update measures at the College as required."
One Trinity student has said of the latest move by the College that "it's a touch melodramatic while also kind of sensible", although "it's not exactly phrased in a way that inspires calmness and the guidelines which you have to sign before being allowed into college accommodation have suddenly appeared quite soon before term begins."
Featured image credit: Suicasmo, Wikimedia Commons