Beat imposter syndrome with these quick fixes
Michaelmas 2020 is your time to shine
We all know it – that inkling that someone made a mistake with your application and you've taken a place from someone who actually deserves to go to Cambridge. In order to reassure us that this wasn't in fact the case, my chaplain kicked off freshers' talks with the very valid point that if you're smart enough to cheat the system then you're smart enough to be here. But if you're still feeling somewhat inadequate, fear not, I've got you covered with these quick fix, formal finessing antidotes to the worst affliction of all: imposter syndrome.
A feeling of inadequacy is probably a pretty normal thing for most teens/20 something year olds across UK universities, but mix that in with a hundred or so Noble Prize winners, some weirdly frequent discussion of A level results and a dash of "when my daddy went here," and you've got yourself a recipe for disaster. With all of the time that isn't being spent getting ready for nights out, recovering from nights out and, um, planning nights out, there seems to be a whole lot left for other ventures – why not make one of these feeling like you actually have a clue what half of your fellow students are talking about?
1. Mythology
First up is mythology as, although it may come as a shock to some of our readers, not all of us studied Ancient Greek and Latin in our humble little schools (trust me, you won't have heard of them). A book I've found to expand my extremely limited knowledge on all things mythological is Mythos, which happens to be by former Cambridge student Stephen Fry. In his compilation of tales, he asks readers to look at them, thankfully, not as an intellectual pursuit but rather as stories, and, let's face it – who doesn't love a story?
2. Philosophy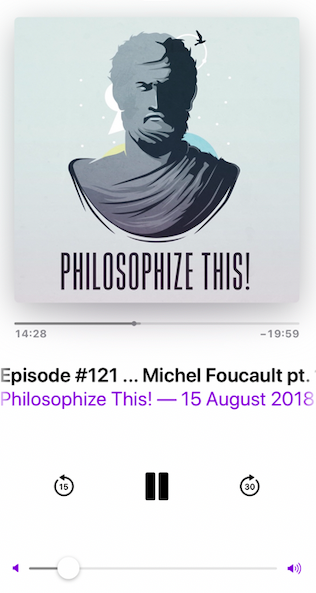 Photo credit: author's own screenshot
Another bit of knowledge I didn't realise I was lacking when coming to Cambridge was an understanding, basic or otherwise, of philosophy because, again, this wasn't on the national curriculum the last time I checked. In order to try and remedy this I have been trying (albeit fairly unsuccessfully) to listen to the Philosophize This!  in which a very enthusiastic Stephen West breaks down the ideas of a huge range philosophers throughout the ages in the hopes that some of us laymen may eventually be able to distinguish Hegel from Heidegger.
3. Politics 
Photo credit: author's own screenshot
Now there's no doubt that Cambridge students like their politics, and these next podcasters will undoubtedly be familiar to the HSPSers among us: Talking Politics features David Runcinman and Helen Thompson, both lecturers in this field. Together with a variety of guests, the two explain, analyse, and unpack all sorts of aspects of both domestic and international politics and have just launched a new series which focuses on the history of ideas.
4. A bit of everything
And finally, for that incredibly niche knowledge that somehow every other person manages to have in Cambridge: a quick cure. If you fancy dominating your next virtual pub quiz, be sure to check out Ted-Ed on YouTube, a channel dedicated to all things weird and wonderful that tackles topics in brief, 5-ish minute long videos, manageable even for those of us (me) with the shortest of attention spans.
So go forth armed with these, your new-found imposter syndrome hacks, and return to Cambridge with pride and the confidence that they didn't make a mistake with your application. Or did they?
Featured image credit to author