Oxford tells students to go home while at Cambridge, Girton Spring Ball is still going ahead
There are due to be 1,400 attendees
#cambridge
coronavirus
Girton Spring Ball is still happening this evening, despite the escalating coronavirus situation and repeated warnings against hosting large gatherings. The decision not to cancel the Ball was taken by the Committee yesterday evening, ostensibly on the basis of guidance from Public Health England on large public events.
Preparations for the Ball
Girton are offering full refunds to anyone displaying flu-like symptoms or anyone who doesn't feel comfortable attending given the risks associated with coronavirus. Around 1,400 people have tickets. The head of the Committee, Hannah Taylor, sent out this email:
Meanwhile, scores of events across the University – mostly smaller scale than Girton Spring Ball – have been axed. Pembroke and Queens have cancelled their bops, Queens' access roadshow has been cancelled,  as well as the Med Soc/Vet Soc silent disco and Varsity football.
Cambridge University has shown a lack of decisive action on the coronavirus situation. Various college events have been cancelled, final year clinical exams have been scrapped, and some departments have sent out emails with advice and contingency plans, but there has been nothing concrete from the University.
Today, a University spokesperson released a statement to the Tab Cambridge: "University business is carrying on as normal for the time being, but we are planning for serious disruption in the coming weeks and we are prioritising support for staff and students. Contingency plans – including the use of online tools – are being drawn up to ensure that we continue to deliver as effectively as possible teaching, learning and assessment, including exams.
"The University will continue to provide timely updates on its Coronavirus preparations to all staff and students on a dedicated page on its website."
Meanwhile, Oxford University is taking more drastic and decisive action. Today, they tweeted advising domestic undergraduates to return home as soon as possible, and said Easter exams will be cancelled or rearranged.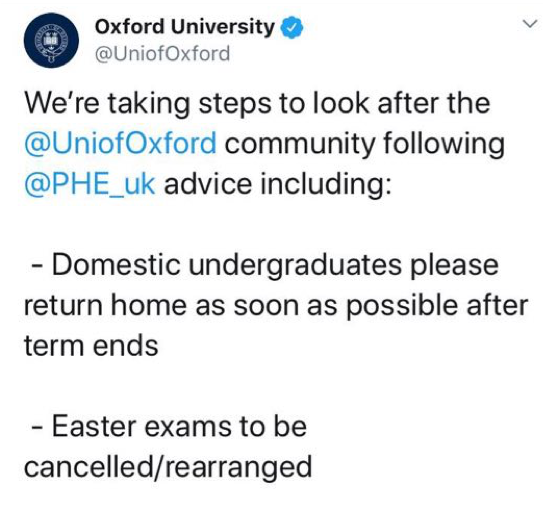 Watch this space for more updates on the coronavirus situation and how it will affect Cambridge in the coming weeks.