Best bubble teas in Cambridge: Part one
The guide you never knew you needed.
bubble tea
cambridge bubble tea
(This review will be on fruit/fruit-flavoured teas! If you're more of a classic fan, the milk-tea review is coming next week!)
I've never questioned my life choices as much as I did midway through writing this article. I worked at a bubble tea shop during my gap year and now, apparently, it's my only personality trait. But at least you can rest assured that I know what good bubble tea is supposed to taste like! And a lot of these places just, well…. they just weren't quite it.
For those of you who don't know what bubble tea is, I've put a little ordering guide below. If you're ahead of the game, then feel free to skip straight to the review!
1. Pick your tea base: usually either Jasmine (green tea) or Assam (black tea). If you want sweet over strong, I'd recommend jasmine.
2. Choose your flavour: this will be a syrup (or, more traditionally, milk/creamer) that is blended with your tea.
3. Choose your toppings: you can normally choose between tapioca (a chewy black bubble made by cooking casava root), boba (seaweed bubbles filled with fruit juice, which pop in your mouth) and jelly (it's made from coconut but it comes in different flavours). You'll have to double check with the store before buying, but fruit bubble tea is almost always vegan.
4. If the place is fancy, you can also customise your ice/sugar levels by percentage – but normally it will just be a choice between a hot drink and a cold drink.
5. Congratulations! Your delicious, personalised bubble tea is complete!
Okay, now that's out the way, onto the reviews, ranked from worst to best…
(Disclaimer: all the prices listed are 'takeaway' prices, but, I must admit, I did cheekily sit on the chairs anyway.)
6) B. Tap Baron, St Andrews' Street
Price: £3.40 for a regular bubble tea with tapioca (including student discount)
Tea: 3/10
Tapioca: 1/10
Seating: 9/10
Customer Service: 9/10
This bubble tea was… bad. The worst of the lot, to be honest. The menu was very limited, which was understandable because it wasn't technically a bubble tea place, just a breakfast-brunch café that happened to serve bubble tea. Also, all of the bubble teas available were milk teas, even the fruit-flavoured ones. Again, understandable, I'm not that fussy. But I took one sip and promptly decided I was never going to frequent B. Tap Baron again. The drink was lukewarm (instead of cold) and tasted of milk and jasmine tea.
The tapioca was also really hard, which (fun fact), most likely means it had been left out for too long. So, I was slurping down room-temperature milk with old tapioca. Yummy. The only mercy was that there were about 5 tapioca pearls in there anyway (as you can see in the picture), so the unpleasantness was over soon enough.
Some positives: the girl who served me was super friendly and sweet, and the interior seating was cute. They also had an outdoor seating area, which I really liked, in a quieter alley just off one of the main roads, so it really is prime real estate. But if you want to go just for the seats, I'd recommend getting a waffle or something.
5) Mamasun, Burleigh St
Price: £2.95 for a regular bubble tea with tapioca
Tea: 5/10
Tapioca: 5/10
Seating: 7/10
Customer Service: 7/10
If I had to describe this place in a phrase, it would be… fair enough. Although this place had the best price (the cheapest of the lot), everything was just overwhelmingly average.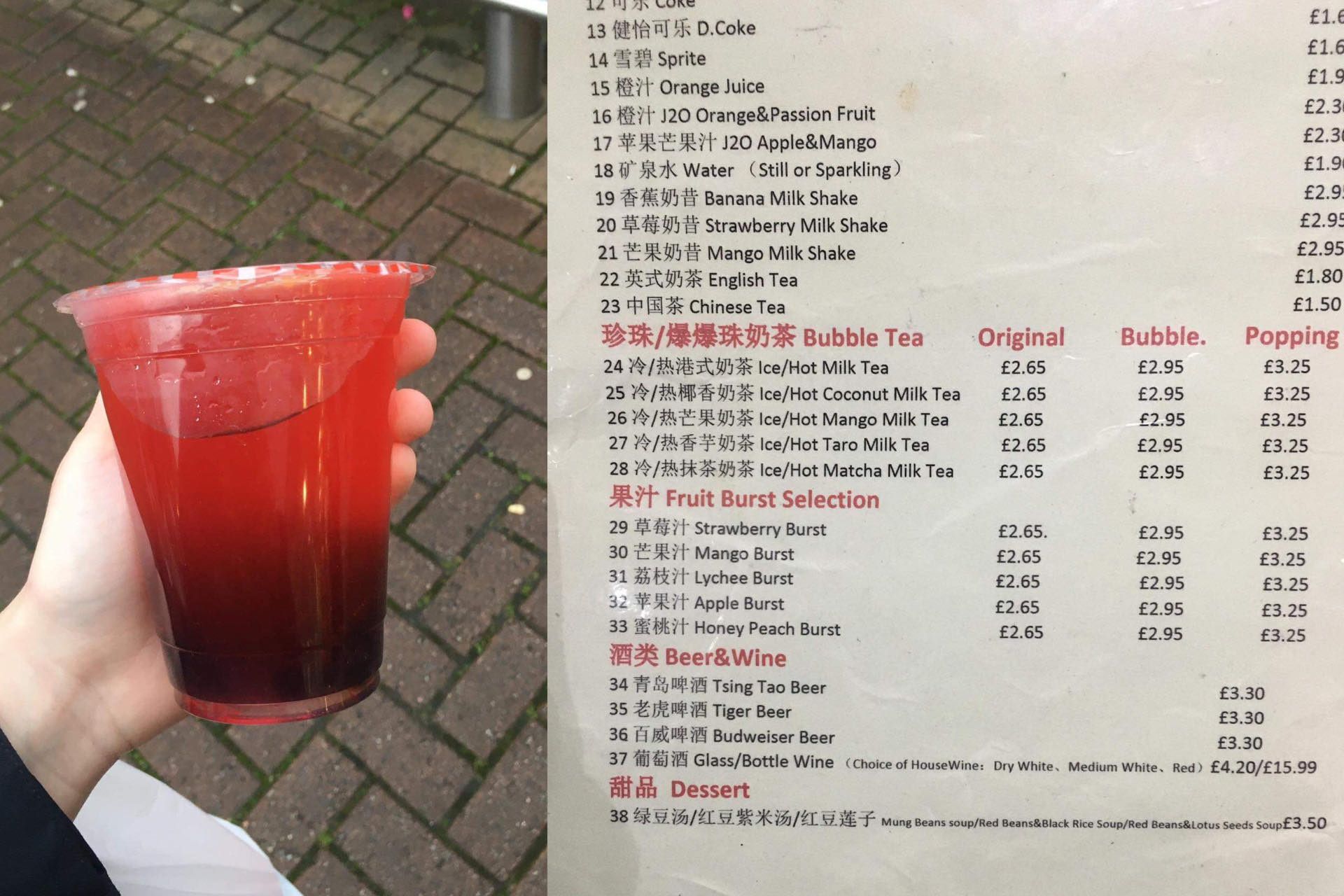 The fruit flavour was very artificial, and tasted like strawberry sherbet – which was actually quite nice, but would've been sickening in a larger dose. The tapioca wasn't as abysmal as B. Tap Baron's efforts, but was still distinctly un-chewy. The seating was also comfy enough, but I felt a bit awkward taking up space with my little bubble tea as it was primarily a Chinese restaurant.
Overall, nothing special, but definitely something cheap and cheerful!
4) Hi Sweety, Regent St
Price: £3.75 for a regular bubble tea with tapioca
Tea: 6/10
Tapioca: 8/10
Seating: 9/10
Customer Service: 7/10
This place was one of my favourites interior-wise, but it was let down by the tea itself. Even more so when I remembered that it was pricier than some of the other, better-tasting bubble teas.
The tapioca was really nicely done, but the store obviously took its brand seriously, as the tea was way too sweet – that coupled with the creamy texture (which normally is a positive) meant I couldn't have more than a few mouthfuls. It was like sucking an intensely sugary mango yogurt through a straw. Compared to B. Tap, it just felt like the opposite extreme of the milk-to-fruit ratio. If that's your vibe, then definitely give it a visit – I just couldn't place it any higher on my ranking because of it wasn't my cup of bubble tea.
3) Marui, Regent St
Price: £3.45 for a regular bubble tea with tapioca
Tea: 7/10
Tapioca: 8/10
Seating: 8/10
Customer Service: 8/10
Marui, previously known as Ooshi Bubble Tea World – no clue why they changed it – was lovely. The seating was pretty basic, but comfy enough, and the decor was quite cute – they got bonus points for having a little station that sold snacks!
You could go half-and-half on toppings for no extra cost (another bonus), so I went for half tapioca and half aloe vera, because I just love aloe vera and there was already zero scientific integrity to this article anyway (control variable who?)
The tapioca was tasty, as was the tea (if a smidge too sweet), but the aloe vera was so disgusting and mushy that I had to throw the drink away after a couple of sips. I will now be side-eyeing the rest of their toppings for the foreseeable future.
Where pure value-for-money is concerned, this place is also a peg above the previous establishments – just don't make the same mistake I did and get the aloe vera.
2) Chatime, Regent St
Price: £4.25 for a regular bubble tea with tapioca
Tea: 9/10 Tapioca: 9/10 Seating: 8/10 Customer Service: 8/10
Chatime is one of the major bubble tea chains in the UK for a reason. Almost every time I've been there, the tea and tapioca have been on point, obviously helped by the customisable ice and sugar levels (so you can always get one to your taste). It is pricey, but certainly worth the cost if you're wanting to treat yourself – the variety was also the most impressive of the bunch, as you can see below.
The seating was comfy, with options both by the window (if you want to do a bit of people-watching) and round the back (if you want a more private convo with your friends). Not much to complain about, just the price being slightly above what my student loan allows.
1) Ji Chicken Shop, Regent St
Price: £3.50 for a regular bubble tea with tapioca
Tea: 10/10
Tapioca: 9/10
Seating: 8/10
Customer Service: 9/10
I fell in love with this place immediately. The tea was perfect, and came with chunks of fresh fruit inside as well as tapioca, which was a really nice touch. The tapioca was even better than Chatime's: super fresh and perfectly chewy. The cup is smaller than some of the others featured, but the price is still very reasonable. Also, it comes to only £2 when bought with any food item, which I fell for instantly considering I visited around lunch time – the chips were delicious!
I would 100% recommend Ji if you're in need of a bubble tea fix. To the best of my knowledge, it's a much smaller and cheaper chain than Chatime, which also serves food and dessert – which matched and sometimes surpassed them on several fronts. The interior was also really appealing – bonus points for all the yellow and pink colour scheme, as well as the painting of Moomin on the wall! It was very instagrammable (if you're into that).
HONOURABLE MENTION: Granny Ma's, Market Square
Granny Ma's is only open Sunday-Wednesday, and when I visited, tragically they didn't have any fruit teas available. This place is amazing though, and will be covered in the upcoming part two of this article. Get hyped!
So, now, I'll leave you with one last little nugget of bubble-tea wisdom: