LIVE: The 2019 Boat Race
Settle in for a full report of all the Varsity results, gossip, and drama
The Cambridge vs Oxford Boat Race (AKA the biggest grudge match of the year) is back, and the Tab is here to keep you updated on everything you need to know from the front lines.
This is the one day of the year when Cantabs refrain from ridiculing their rower friends: today, we are all boaties. Make it convincing – catch up on the appropriate slang here.
Our light blue boats are returning in hopes to retain their titles from last year's clean sweep! Despite a victorious 2018, the athletes are not taking anything for granted and have been preparing just as rigorously as always.
RACE DAY
16:01 PM
Matthew Holland, the men's cox from Caius, says "I was comfortable that we were in a comfortable position the whole way down".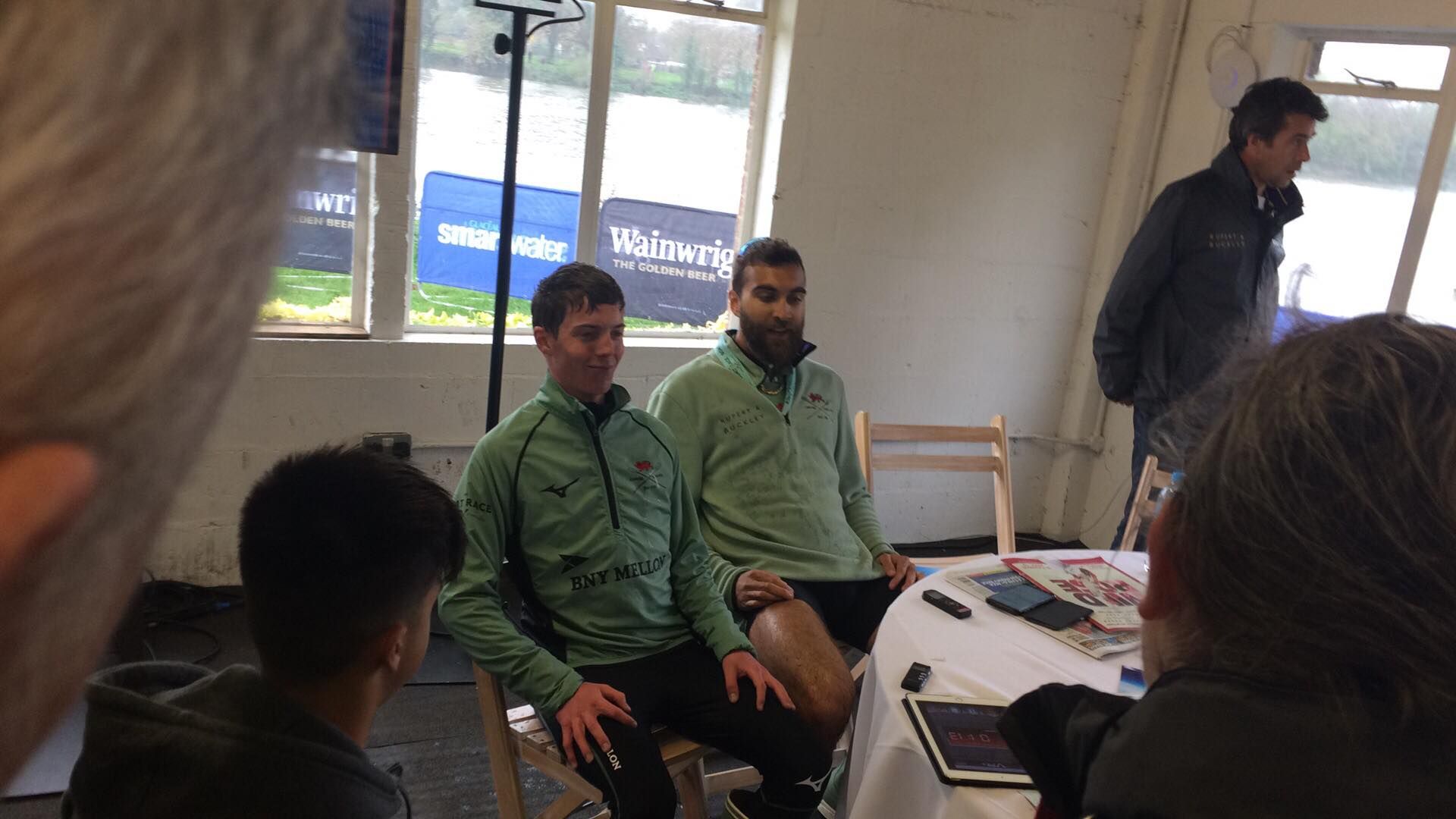 Wacky blaser watch: an ivory jacket with striped, accented lapels
15:51 PM
Light blues celebrating in style – champagne and trophies
15:34 PM
Final confirmed time for the men: 16 minutes and 57 seconds, beating Oxford by a slim 2 second margin!
Wacky blaser watch: an elegant carmen suit jacket accompanied with a striped cravat
15:30 PM
It's another clean sweep for Cambridge as the light blues win the 165th men's boat race. It was a much closer run than the women's, with Cambridge only 4 seconds ahead throughout.
Oxford are arguing against the win, citing the clash of the oars. But the BBC seems pretty certain that it was another light blue victory
A note from Edan, one of our editors-in-chief: "Sore losers we still won"
15:28 PM
Becky Dell, rowed for the Cambridge reserves: "It was really good fun, we were up really quickly. I just had the fear of losing that lead, really happy. Love the tab, does great stuff"
Aw, thanks Becky
15:12 PM
2 minutes and 40 seconds in, fans boo and guffaw as oars clash between the two boats. Rumours are spreading that it was Cambridge's fault, but innocent until proven guilty!
15:10 PM
The men's race is on. A very tight start
15:07 PM
THIRD CAMBRIDGE WIN. Goldie beats Isis (Oxford really needs to change that name)
15:00 PM
Women from both boats celebrate a double Cambridge victory
14:55 PM
Blondie won in 19 minutes and 34 seconds (15 seconds faster than Osiris) with a 5 stroke lead
14:52 PM
Blondie, the Cambridge women's second boat, won the reserves race. The second light blue win within the hour. Anyone else getting deja vu?
14:45 PM
Cambridge cox, Hugh Spaughton: "Never looked back. It was an amazing race"
14:42 PM
The light blues are celebrating. Congratulations to all of the women's blues for their victory! Tab love xoxo
14:33 PM
THE FIRST CAMBRIDGE VICTORY!
The Cambridge women secured a victory with what became a strong lead.
Final time: 18 minutes and 33 seconds (17 seconds faster than the Oxford women)
14:26 PM
The small Cambridge lead has widened. We appear to be gaining a second every minute – 13 minutes in, Cambridge lead by 13 seconds
14:15 PM
A minute and a half in, the Cambridge women pull forward – it's a close race so far
14:13 PM
And they're off. The women's race starts with what appears to be a small Oxford lead
14:00 PM
The men's reserves are on the river. Tensions are rising as there are less than fifteen minutes until the first race begins…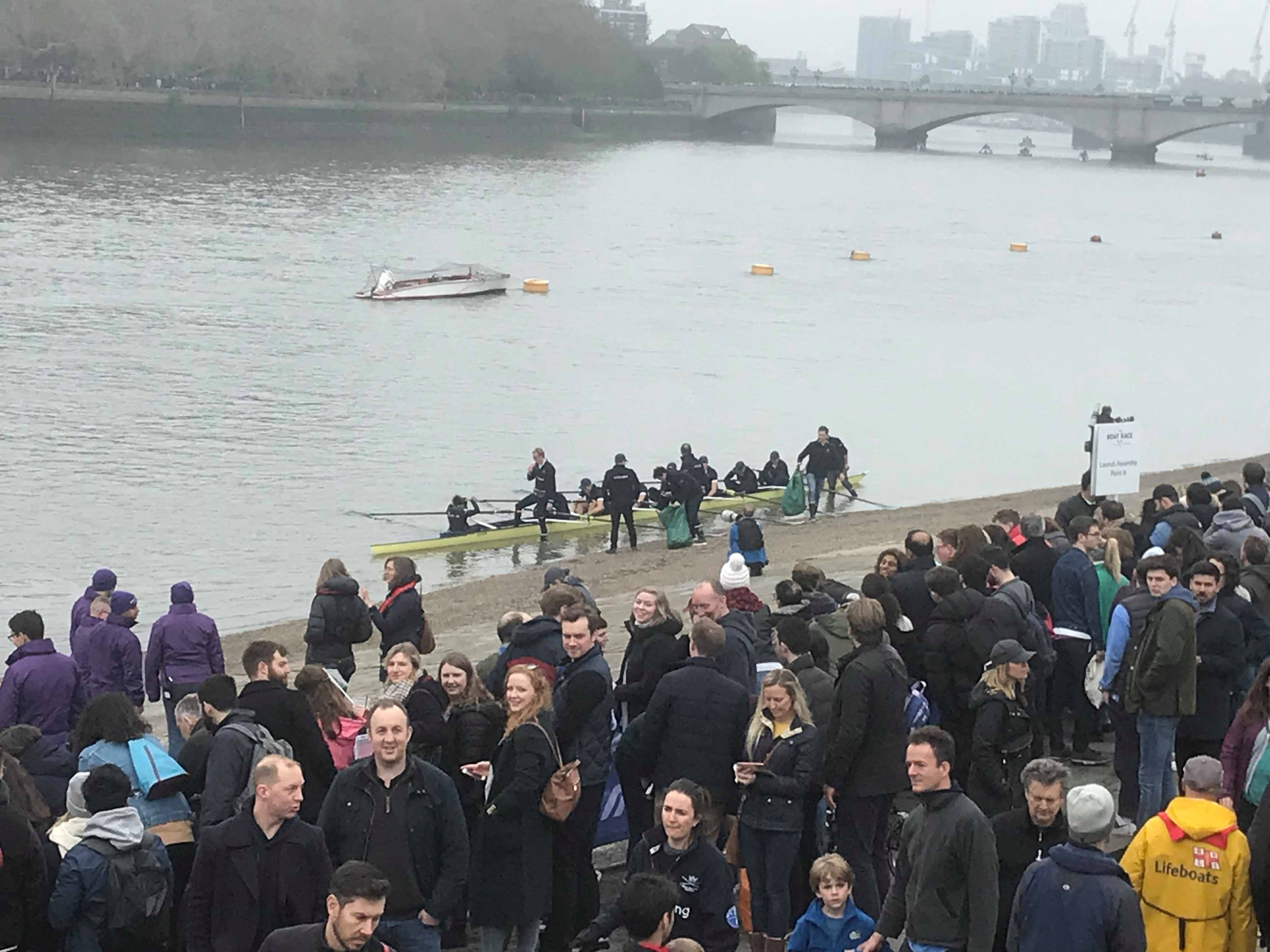 13:50 PM
Did we mention that we're in the same press office as CLARE BALDING? Not to brag or anything
13:43 PM
Orisis and Blondie launch their boats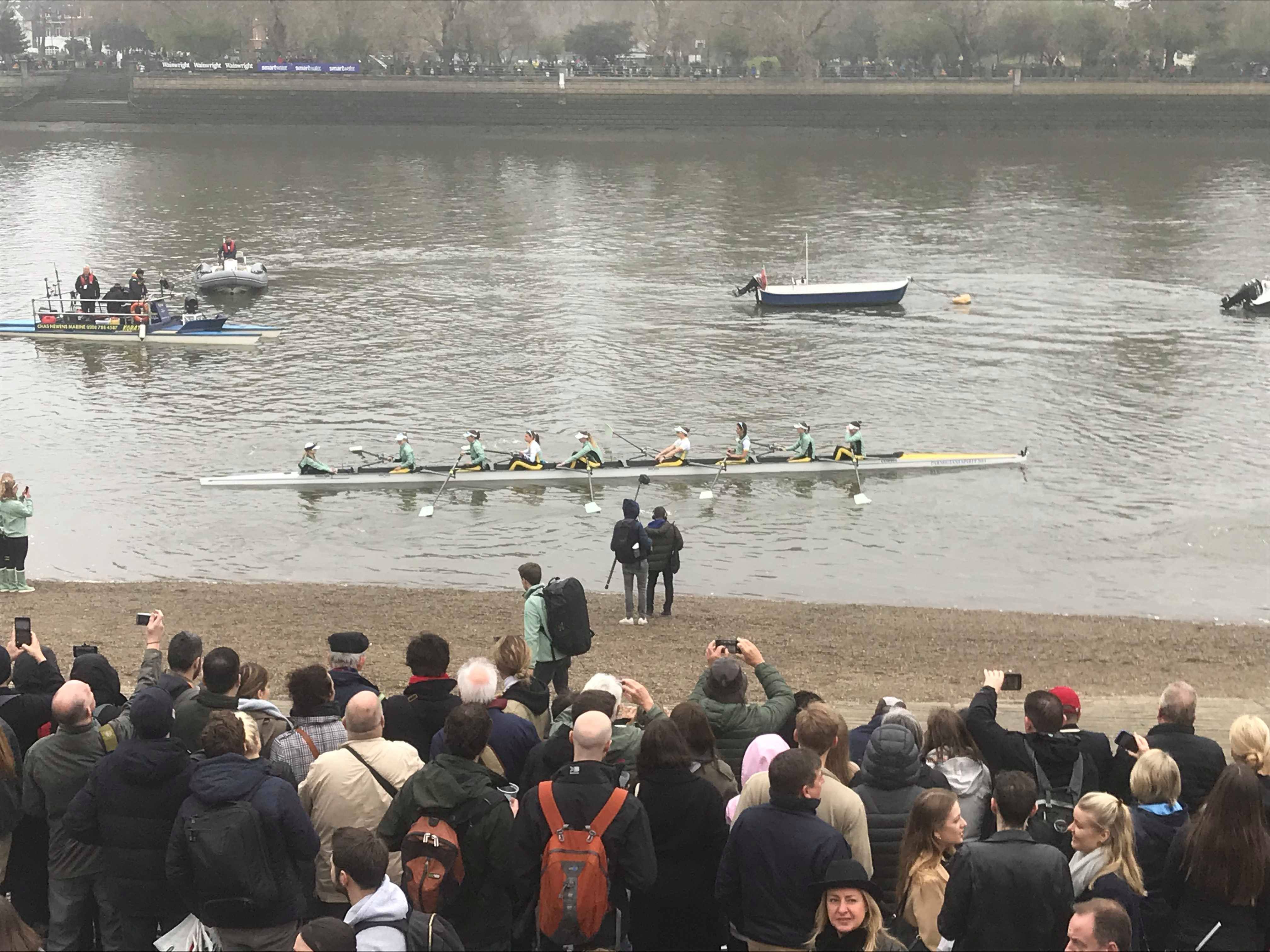 13:36 PM
The light blues have support from alumni and their fellow boaties. These twins competed in the lightweight boat race last week.
13:30 PM
Fan parks are filling up. This isn't just an event for the students; locals and alumni come to watch too!
13:28 PM
The women's blues boats are on the river. Now they will lesiurely row to their start positions – the race begins at 14:13
Wacky blaser watch: Osiris dark blue (GDBO)
Wacky blaser watch: a beautiful red and white pinstriped specimen on the boat club balcony
13:13 PM
Light blues did it again – the men's team won their coin toss, choosing Surrey.
FUN FACT: (or rather speculation) Apparently, Surrey is the better side of the river because you get the advantage of the stream for longer – who knew?
13:01 PM
Goldie, the Cambridge men's second boat, stayed true to their name and secured victory in the third coin toss. Yet again, Surrey was chosen.
FUN FACT: The umpire for the men's seconds, Sir Matthew Pinsent, won 4 olympic gold medals! (bit of a legend tbh) – HOWEVER, he is an Oxford alumnus, competing in 3 boat races and winning 2….is this bias? Debatable
12:55 PM
Calling out the patriarchy, the women's trophy is smaller than the men's
FUN FACT: The Boat Race passes through 4 London boroughs
12:48 PM
Osiris, the Oxford women's second boat, won their coin toss. Surrey was selected again.
12:30 PM
The Cambridge women begin what is sure to be another victorious year by winning the coin toss. The coin (from 1927!!) landed on heads, allowing the light blue ladies to choose which side of the river they will row on. They chose Surrey – a firm favourite year on year.
12:28 PM
Ready for the coin toss, hosted by olympic rower, Richard Phelps!
12:20 PM
Your very own Tab team are in the OFFICIAL press office! Move over Varsity.
12:00 PM
Keep an eye out for Tab TV making their way around the spectator areas. Come and say hi!
11:30 AM
The Boat Race is the talk of the town. Everywhere you look is light and dark blue.