Post-election frustration: students go to social media over contentious Education Officer result
Who knew CUSU elections could cause so much beef?
| UPDATED
The results of this year's CUSU elections promised to be interesting as every role was contested and there was the highest turnout of all time. Cantabs more than ever were having a say in who they wanted to represent them on the Sabbatical Officer CUSU team.
And this is no more apparent than in the battle for Education Officer. Coming down to just 47 votes on second preferences, Ali Hyde was elected as the new Education Officer. High profile in CULC and CUSU LGBT+ (and recent top 10 BNOC), he was a well known candidate. With a welfare focused, more centrist manifesto (for Cambridge at least) was quite widely popular and with all that experience seemed prepared for the role.
However, since the election results were released on Friday there has been criticism on social media about Howard losing the election so closely and what some feel it says about politics at this university.
It all started with a number of members of the university angry reacting CUSU's Facebook post announcing Ali Hyde as the winner of the election. Following this, one of Ali's friends commented on Facebook (comments since deleted without available screenshots) that Howard's supporter's actions were "toxic"-causing the twitterstorm on the part of Howard's supporters. These particular were written after responses from Howard's supporters, however, they mirror the sentiment of his since deleted comments.
The relatively catty/patronising undertones to these tweets, and the earlier Facebook comments caused upset amongst many left wing figures in the Cambridge twittosphere; causing many members of the University to be far more outspoken in their criticism of the CUSU Lent elections.
Of course, some of the criticism was fairly simple. What you'd expect people to feel when their chosen candidate didn't win.
However, tweets like this aren't the reason that this article is worth writing. I mean, if you looked hard enough you could probably find similar sentiments about all the other individual results online. But there has been lengthier online discussion, with fairly considered criticism, that makes comment on them worthwhile.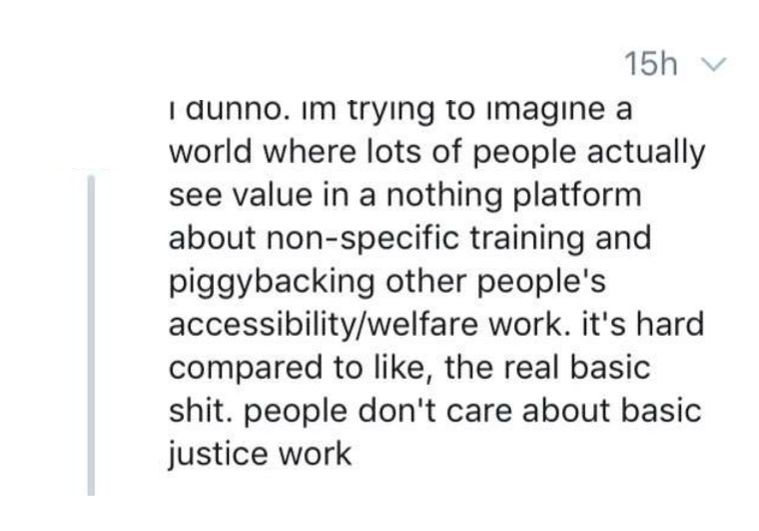 The feeling in a lot of the threads seems to be that Ali is not radical enough nor considerate enough of issues to do with decolonisation, BME campaigning and making actual on the ground change that they felt Howard would have championed. These complaints seemed to feel that Howard, who was equally experienced compared to Ali, would have been more rigorous and less tokenistic; that Howard would have lead a more 'meaningful' fight against the university.
Some of the most serious criticism about Ali that was made linked his behaviour to possible racism.
Following these tweets attacking Ali's campaign, the original Ali-backer who had started the fracas with his Facebook comments went on to apologise:
After this apology, the Twitter beef died down, with informal comments from many of Howard's backers confirming to the Tab that the issue should be put to bed.
The Tab contact Ali for comment on these accusations:
"I am proud of having won this election through a positive campaign. I've campaigned throughout the elections with the understanding and tolerance that every candidate, no matter what their policies, ran for election because they believed they could do good for all students.
It's a shame, therefore, that the good faith and respect shown in my own campaign has not necessarily been reciprocated – a number of things have been said about myself and my campaign online which are categorically untrue. We need to ensure that in future we avoid a toxic environment which may discourage students with passion and commitment of all political views putting themselves forward. There are always different opinions and approaches to policy but it is regrettable that this has gotten to the point this year that my dedication to the role of Education Officer has been questioned.
I am confident, however, that the policies in my manifesto, that I have been elected to enact, will have a positive impact on students who study here and am excited to start the job come summer."
A set of angry tweets, or much more than that?
Student Union elections may seem to many something which are fairly non-important and somewhat a matter of course. However, who we elect/don't elect as a student body is important and representative of what we want our university to be like and what we want the university administration/governors to think of us.
Getting angry on twitter about a result shows an engagement in this student politics that cannot be dismissed. That is how modern political discussion happens, I'm sure I don't need to @ the current US president here for an example. Perhaps you might say that it wasn't the best way to go about it but social media holds great importance in all modern day elections. And the fact that there has been such an interest in the most recent results, alongside the high turnout, shows how students are becoming increasingly aware of the political role they can play at university.
Additionally these tweets demonstrate a centrist/left spin that was rightly or wrongly put on the distinction between the two candidates. This university is known, like many, for having a fairly left leaning student body, so much so that you can split a student vote between the 'two halves' of the left and arguably turn them against one another.
In a world where there is increased polarisation of politics it's not surprising to see someone criticised for being a 'wet centrist'. Student politics do reflect national and international politics in ways that may not be immediately clear when you think of a CUSU sabb. The harsh split in Cambridge between the far left and centre left is evidence of not only the broad base of left wing students but also the lack of attempt of the two sides to meaningfully work together.