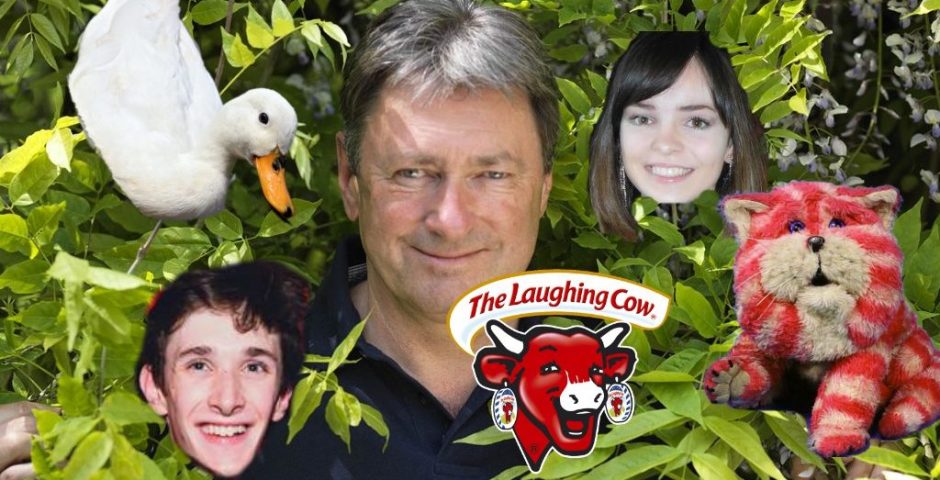 Weak 3's News Colon
For all you cantabs with intenstinal issues and a love of news
#news
Cambridge
ducks
Library
University of Cambridge
Welfare
The intense mediocrity and existentialist despair of exam term is grating on all of us at Tab News Central so we have prepped a news column more inspiring than Susan Boyle's iconic first audition. Thank God those college welfare warlocks are jumping to everyone's aid, faster than you can say 'Floz & Hen, back again'.
Students have been subjected to loving massages at Emma and Clare, have revived their millenial zen with yoga and bouncy castles at Emma, Hama beads and nail bars at Medwards, jigsaws at Pembroke and Fitz, and enough welfare biscuits to cure hypoglycaemia.
John's has been overtaken by a pack of thirsty and amorous pooches , who have loaned their cute floppy ears and determined stares to alleviating the stress of Cambridge's poshest college. Much stroking and petting occurred during the few hours of quality dog time and your man/reporter on the scene can confirm that a dog a day does keep the haters away.
Meanwhile, some of the less animal-infested colleges (Medwards) have had to make do with some wholesome welfare spinach, to supplement their iron deficient, but well-manicured students.
C-Sunday aftermath
C-Sunday crashed into dissolute madness, as the wild heathens of Medwards drinking society got portered, (or possibly even deaned). Hats off however to these gals who created an extra-curricular which combines both liver failure and disciplinary action. And here was I thinking that it couldn't be done.
In an attempt to enhance the sordid reputation of Pembroke JCR, its very own President was featured in the Daily Mail on C-Sunday. But we won't embarrass him further by linking his facebook page, mainly because we don't actually know him/ her, or his / her name. Remember guys and gals, drinking isn't cool, but societies are so this is your choice I don't want to take away your autonomy.
More ducklings
(Because some just haven't had enough of arbitrary duck gossip, and because the Senior Eds are going quackers over fluffbols during exam term.) Homerton students have done an RSPCA and saved a family of ducks; the details were posted on their page:
P.S. as of 16/05/2018 all the ducklings are presumed dead so R.I.P to all goodness and virtue in this life.
At Clare a rogue kitten was spotted in Old Court. It has imposter syndrome and appeared to be reflecting on how it had managed to trick distinguished senior fellows into accepting him as a student, when he lied on his application for Bio CATsci.
Fodder and bevs/ Victuals and libations
Cambridge's premier Carnivore Collective, the Monday Steak club, has been founded in opposition to Meat Free Monday, an event now adopted by many colleges. Mutts frothing and eyes bulging, these lovers of luscious animal flesh and blood, are rumoured to have started weekly meet ups (at an undisclosed location), where they lasciviously lick lamb legs and violently vilify verduous vegetables. Who knew the paleo diet was making such a comeback for Cantabs?
Meanwhile, at Clare, in a somewhat rogue and unexpected move, an extreme vending machine eating competition has taken place. One noble chap was selected by his generous compatriots to chow down on one of every item in the library common room vending machine; whence he could chomp no more, the rest was blended in a kooky concoction, which upon did he then sup. Whether the concoction will be appearing in the Clare College canteen anytime recently is as yet unconfirmed.
J'accuse: Pembroke library edition
In incredibly underwhelming Pembroke news, a frustrated librarian took the time out of their busy schedule to publically condemn, denounce and defame a clumsy library student, who had split some tea on the (apparently priceless) Pembroke carpet. The complaint was made on the Pembroke library page (quelle surprise) , but was later taken down by college mandate, due to their disapproval of illicit vigilante justice.
Fake News story of the Week: Post Brexit, the MML faculty will be replaced by Empire and Iconic Colonial England Studies. Hen and Floz are relieved that their exams have thus been discontinued, but are very happy that they still get to go on their year abroad.
More about us
Floz says it's been a good week. Revision's going fine, and she will be getting married to Prince Harry this Saturday (all invited) and has recently given birth to Prince Louis. She also bagged a great Yo! Sushi deal, and is now a mistress of trade and commerce.
This week Henry peed in a bush outside the UL, maybe from excitement, maybe from dread and got given a free cheeseburger outside Gardies. He almost applied for an internship at the Erotic Review, but decided instead to play his saxophone and drink wine from a box.