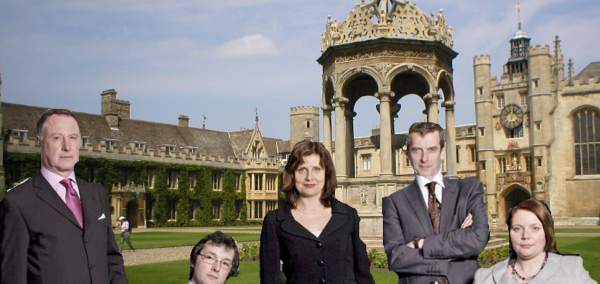 Which The Thick of It character is your college?
Just pray you don't get Terri
2017 has come to increasingly resemble a political omnishambles.
It's worth reflecting on the good old days when writers of political satire didn't need to worry that real life events would be sensational enough to outshine their fictional creations. Let's take a self-indulgent look back at the halcyon days of the late noughties, when the cushy centre-left reigned supreme – the era which formed the backdrop of The Thick of It.
Naturally, as we do with all good things, The Tab is here to suck all the joy and humour out of the programme by extrapolating it beyond belief and applying it to Cambridge college stereotypes. Did you expect any better from us, really? So, without further ado, sit back and enjoy – just remember to "keep your feet off the furniture you Oxbridge twat, you're not on a punt now."
(NB: Not a single college comes out well in this, given that the entire cast of The Thick of It are terrible human beings.)
Malcolm Tucker  – Pembroke
Pembroke is now sufficiently qualified to be the chief Spin Doctor to the British government, given it's experience in fielding utter PR mayhem in the last two years. In the words of the great man himself, "today, you have laid your first big fat egg of solid fuck. You took the data loss media strategy and you ate it with a lump of E.coli. And then you sprayed it out of your arse at 300 miles per hour." Not even an exaggeration to say that this seems to happen to Pembroke on a monthly basis.
Pembroke is also the college of the author. With characteristic journalistic integrity, I will proceed to take the show's best character for myself.
Dan Miller – Jesus
Active, well-built and dashing. Jesus has the enviable reputation of being the sportiest college, bearing a striking resemblance to Dan Miller's squash-loving persona. Furthermore, Dan Miller undoubtedly has Jesus's abs under his well-tailored Saville Row suit.
Hugh Abbot – St Catz
A mediocre version of Jesus. St Catharine's is quite sporty, but not to the same level as Jesus – Hugh is pathetically keen to play squash with Dan, even though he so clearly lacks the physique and the charisma of the latter.
Glenn Cullen – Wolfson
Elderly, miserable and totally irrelevant. DoSAC would run perfectly fine without Glenn in the hypothetical scenario of his sudden disappearance, as would Cambridge without Wolfson. Nobody really knows where it is, nobody really cares either.
Stewart Pearson – Fitzwilliam
Stewart tries his best to be cool and hip. He untucks his floral shirts, refuses to wear a tie and would definitely be seen at a Turf night pretending to have a #sicktime whilst secretly wishing he could go home and embrace the bouji lifestyle he's truly built for. He smoked weed once, which was all too intense and made him feel too woozy, but that doesn't mean he'll hold back from telling everyone about it.
Nicola Murray – Magdalene
A rather lacklustre college. In fairness, it has potential – by the river, relatively appealing facade, quite close to Fitzbillies. But, upon delving a little deeper and discovering the architectural cankers of Buckingham and Cripps Court, it feels much more justified to liken Magdalene to a minister with "a face like Dot Cotton licking piss off a nettle."
Nicola Murray is absolutely and totally incompetent. This is why she's put in charge of DoSAC, an irrelevant department with a budget almost as tiny as Magdalene's, a college which is bordering closely on being entirely broke even though it holds an extortionately pricey white tie May Ball.
It's never anyone's first choice, and is seemingly chosen by applicants because the only other viable option would be "my left bollock with a smiley face drawn on it."
Malcolm's left bollock with a smiley face drawn on it – Churchill
Obscenely ugly. Best kept at arm's length.
Peter Mannion – Peterhouse
Unavoidably posh and demodé. Peter(house) creates a massive image problem for the government/university because it's failed to adjust to changing times after the Thatcher era. The Adonis Society, an anachronism from another age, continues even though it's a total embarrassment to everyone involved. Obviously a Tory, though this is always kept under wraps and never explicitly mentioned for fear of seeming out of touch.
Terri Coverley – Corpus Christi
Small (only 250 undergraduates) but inflated by its sense of ego. Terri pootles around bossing everyone around – she could be endearing if she wasn't so incessantly irritating.
Julius Nicholson – Trinity
Filthy rich, sanctimonious and far too aware of his own intellect. Just plain boring (and bald).
Mr Tickel – King's
King's students won't miss any opportunity for a protest, much like Mr Tickel in his tent. They even took passive resistance to a whole new level last term, feeling morally obligated to express their rage against the small-scale cull of geese from their college's lawn. Tickel's protest culminated rather more dramatically, though – with his own death. Cheery.
Steve Coogan from In The Loop – Tit Hall
Won't shut up about his bloody wall.
Ollie Reeder – Downing
Ollie Reeder was fittingly described as looking like a "Quentin Blake illustration" on account of his gangly physique and spidery limbs. He could be right out of a Roald Dahl novel (probably The Twits). Downing has recently become strangely obsessed by its association with Quentin Blake, one of their alumni. They're even running an exhibition on him for FOUR WHOLE MONTHS.
Ben Swain – Sidney Sussex
Ben Swain! Benny! Big Ben! The Prodigal Swain! Bentally ill! Ben Kenobi! Ben Laden!
Ben has little to no control over his appetite, hiding Mars Bars in his old office's file drawers to dig into whenever he's passing by. Sidney is dangerously close to Sainsbury's – self-control (which was probably low anyhow in Sidney applicants, for whom the fundamental attraction of this otherwise unremarkable college was its proximity to the largest food vendor in Cambridge) inevitably goes out of the window by the end of first year.
Steve Fleming – Emmanuel/Christ's
First impressions of Emmanuel and Christ's are curiously deceptive. Initially, these colleges seem perfectly nice indeed, perhaps even ideal. Charming gardens, decent locations, aesthetically pleasing architecture. Steve Fleming is affable, he brings his employees lattes and gives everyone a big hug upon meeting them.
But unfortunate students who fall for this wooing facade will quickly be disillusioned – Emma and Christ's are academic hothouses with unrelenting supervisors. The libraries are crammed and horrible stories about frightening DoSs abound. Steve Fleming, having got you onside with a milky beverage, will suddenly attack whilst your guard is down and demand you release all the previous decade's crime stats within two days.
Emma Messinger – Newnham
In the cutting words of Glenn, during a characteristic rant stemming from his feelings of inadequacy in old age: "Emma, I'm sorry, you're just a standard issue insipid posh b*tch." Newnham's beautiful and friendly, but the wholesome atmosphere is all a bit too jolly hockeysticks for it to be entirely likeable.
Phil Smith – Gonville and Caius
"Shitehead Revisited" encapsulated.
The PM – Girton
Distant and never seen throughout the entirety of the series, just like Girton in your whole three-year degree.
That's all – fuckity bye all, I'm going for a Twix.