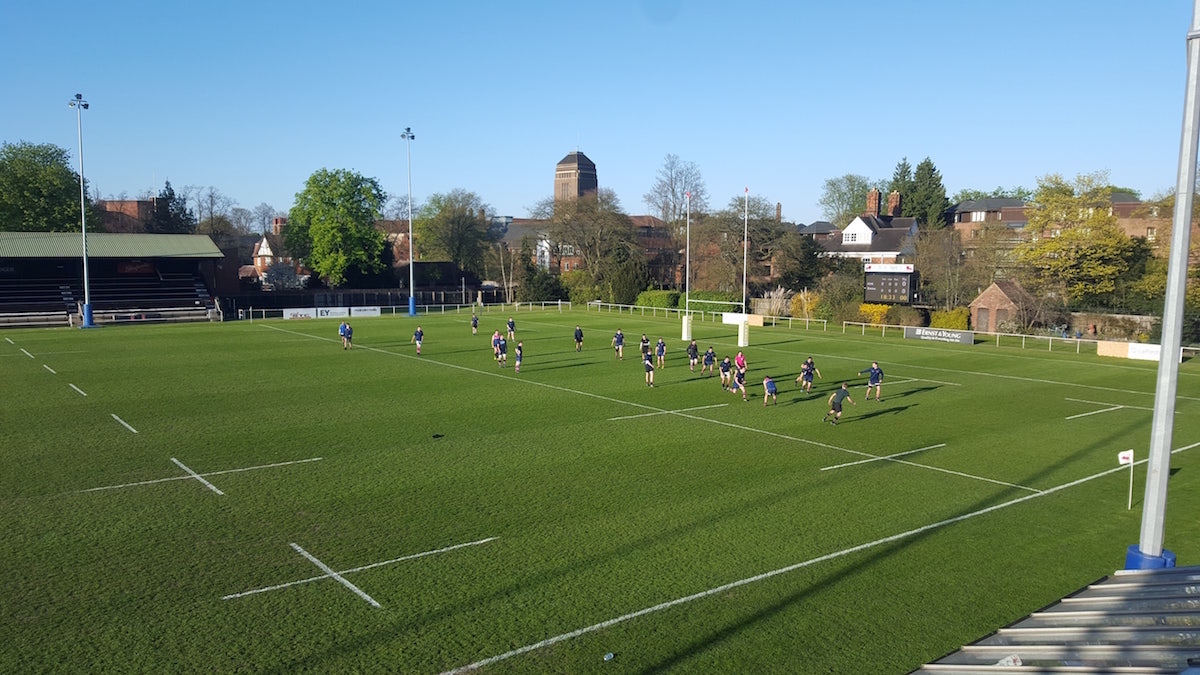 LIVE BLOG: Rugby Cuppers Final- FT CCK 24-29 ECRFC
After a close stop start game Emma emerge as Rugby Cuppers 2016 Champions.
20:51-That's it from Grange road for another year and know the game is over I can reveal my true Identity: I am the Right Honourable Mayor of CCK and as Mayor I was tasked in recording the historic day the Div 3 boys of the cult known as CCK took on the Div 1 giants of Emma. They fought valiantly but alas Emma bested them. No matter, CCK made it to the cuppers final and came close while Emma came and conquered. Both will celebrate I am sure. I wasn't too bias was I?
Yours in the cult
The Mayor
20:35-

The moment Emma raised the rugby cuppers trophy.
Even after 80 mins of close, hard rugby Emma are able to sit on one another while CCK look on. For a team related to Divison 3 this year CCK put on the show of the championship but unfortunately it wasn't enough.
FT-Emma are Rugby Cuppers 2016 Champions. The score doesn't reflect how close that game was. CCK lead up to the 70th minute where they seemed to lose steam which Emma capitalised on with 2 tries in a row. But CCK should be proud, this having been their first cuppers final since 1943. But congratulations to Emma on their victory.
80 mins-TRY CCK. CCK soften the blow with a final converted try. But its all to late…
80 mins- CCK penalty finds touch. This is the last play.
78 mins- TRY EMMA. They steal CCKs line out ball and score. Conversion isshort but they may have done enough. 17-29
71 mins-TRY EMMA. Emma win the scrum and finally find a hole in CCK but just fall short but are awarded a penalty. Taken quickly and CCK defend their line like mad men. But Emma find a gap and score. Converted to put Emma in the lead for the first time this game. 17-24.
64 mins-Emma get another penalty and they go for a line out. Emma fans then take it too far by butchering "Swing Low". Back to the game, Emma win a scrum and begin their attack . CCKs clearing kick blocked and almost results in a try but a knock on awards a scrum to someone, a CCK injury distracted me. He's helped off and the scrum is Emmas 5m out.
61 mins-Penalty goes Emmas way for some unknow reason. Emma clearing kick could do better. Their clearing kick from the lineout is better and CCK fail to find touch with their kick. Line out Emma on half way.
59 mins-Longest bit of open play all games ends in a CCK penalty. Line out 5m from the line. They win and begin their attack through the forwards which results in a penalty. Another line out 5m out again.
55 mins- CCK kick off and win a scrum and then a penalty. Taken quickly to get them just outside Emmas 22.
53 mins- TRY EMMA. Emma drive it over the line to score in the corner. Kicker takes his time with the conversion which he slots through the posts. 17 all.
49 mins-Emma get another penalty and have a line out inside CCKs 22. Emma fans have found their voice as they begin butchering "Hey Jude". The CCK bagpipes respond with a pitch perfect rendition of the modern classic "CCK my Lord". Meanwhile,  another penalty to Emma and opt for the line out 5m out.
45 mins- Apologies for my below average spelling which is something I forgot to mention when I was asked to do this. Meanwhile, Emma have a scrum half way as the Emma crowd cheer from the stand opposite. It works and Emma win the penalty. They go for a line out.
Half time starts with 2 penalty which both have the distance to make the posts. 17-10.
40 mins-Scrum is CCKs and won by CCK . They boot it into touch to end the half. 14-7 at the break.
38 mins-CCK win and struggle to clear. Emma have the ball but CCKs defence is halting Emmas progress but Emma find space but lose it immediately to CCk but they got back to the knock on advantage to Emma. Scrum.
36 mins- Emmas kick well chased but knocked on for a CCK scrum. CCK win but a loose ball gives Emma a scrum seconds later.
33 mins TRY CCK– Emma wine the lineout but CCK get their maul together to win a penalty. CCK linout just inside Emmas 22. They win and use their new found dominance maul time to drive forward before throwing it out wide to score the other side of the pitch by "Imbred Sam". Tricky conversion made to bring the score to 14-7
31 mins-CCK pile 13 men into a maul but nothing comes of it as a penalty is given away. Emma lineout at half way.
28 mins-Brief radio silence but in summary rugby appended and CCK awarded a penalty for a high tackle. No card given but CCK have a line out on Emmas 22.
25 mins-TRY EMMA. Line out works and emma score right between the posts, the conversion easliy made to bring the score to 7 all.
22 mins- The Master of Corpus present today, cheering on.But these cheers fall of deaf ears as Emma get another penalty and opt for a lineout bang on CCKs 22. Emma get the ball and waste it with a pointless kick. But CCK are offside and Emma opt for the line out 5m out.
20 mins-Emma get a penalty and go for a lineout outside CCKs 22. They win it and break free before a lose pass 5m from the line by Emma stops them scoring. CCK Scrum
17 mins-CCK win the lineout but Emma take advantages of poor mauling. Kick but doesn't bouncy before finding touch so CCK have a line out half way as "CCK my lord" rings out on the bagpipes.
16 mins-Emma win the scrum but give a way a penalty almost instantly. CCKs kick finds touch on their 10m line.
14 mins-CCKs line defence is being tested but Emma play it through the forwards but CCK turn it over and clear with a kick. CCK chase but knock it on for an Emma scrum on the 22.
12 mins. CCK win the scrum but a lose ball and a blocked kick give Emma a chance 5m out. Knocked on for a Emma scrum 5m out.
11 mins-CCK lose the scrum and Emma again in CCKs 22, But CCK turn over the ball and Emma knock it on trying to recover. Scrum CCK.
8 mins-Emma recovery quickly and are know in CCKs 22. But an Emma knock on results in a CCK scrum.
6 mins- TRY CCK. CCK win an unconvincing scrum and are know 5m out. Penalty against Emma taken quickly and taken over the line.  Williams slots it through the posts  to add the 2 points. 7-0 CCK
4 mins-CCK steal the ball again, but kick it away. Knock on by Emma for first scrum of the game.
2 mins -Penalty against CCK, Emma opt for a line out but their mall goes no were. Be get another penalty seconds later.
1 mins-Emma kick it into touch outside their 22, CCK steal the line out ball.
18:55-Emma come onto the pitch quietly for their final work warm up. CCK rather more loudly with bagpipes to accompany them. We'l  be hearing more from them bagpipes alter I'm sure.
CCK to kick off. Game gets under way.
18:51-Both squads has finished there warm ups and enter the changing rooms. CCK appear more vocal then Emma but then again CCK self identifies as a cult, complete with bagpipes and chants.
18:49-The two teams squads are as follows:
Emmanuel
Forwards
Will Shaw
Elliot Mack
Freddie Green
Alex Dewhurst
George Vare
Richard Simon
Stephen Leonard
Max Montgomery
Backs
Alex Wade-Smith
Calum McKay
Oliver Carr
Michael Phillips
Freddie Richards
Richard Johnson
Sandy McCleery
Reserves
Daniel Rasbash
Tim Bennett
Musab Shamekh
Will Raby-Smith
George Herring
Hugh Judge
Alex Mistlin
Aidan Dobney
CCK (Clare, Corpus and Kings)
Forwards
Thomas Chalklen (Corpus)
2. Mark Allingham (Corpus)
3. Jacob Poulton (Clare)
4. Charles Fourmaux (Corpus)
5.Oliver Brewster (King's)
6. Aurélien Guéroult (Corpus)
7. Patrick Killoran (Corpus)
8. Lola Erogbogbo (Clare)
9. Tom Hansen (Wolfson)
Backs
George Williams (Clare)
11. Sam Trueman (King's)
12. Alex King (King's)
13. Alfie Lloyd (Clare)
14. Matt Wood (Clare)
15. Angus Strachan (Clare)
Reserves
16. Joel Flynn (King's)
Brad Forder (Corpus)
Vikram Thakur (Clare)
Benji Thoma (Corpus)
Chris Williams (King's)
James Johnston (Clare)
Henry Woodward (Clare)
Eliot Pulver (Clare)
18:45-Hello, good evening and welcome to this: The Rugby cuppers final. It's a beautiful evening for a gap of rugby and after the match being postponed at the end of last term, will CCK still have the momentum the had last term or will Emma of Div 1 emerge as the victors. Kick off at 19:00.