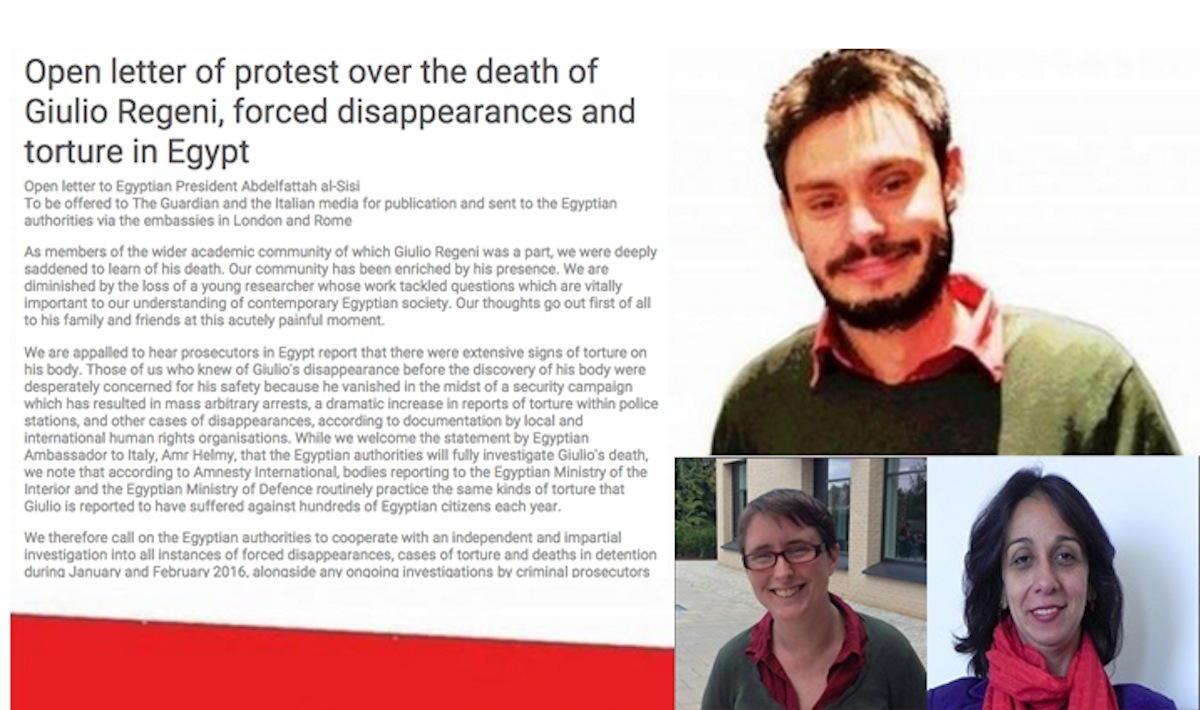 Two Cambridge academics write an open letter to Egyptian President after the death of Giulio Regeni
egypt
girton college
Italy
letter
missing
political protest
protest
Regeni
Following the death of Giulio Regeni, two Cambridge academics have signed an open letter of protest to the Egyptian President, Abdelfattah al-Sisi.
The circumstances surrounding the death of the Italian Girton PhD student are becoming increasingly suspicious.
Following claims by some Egyptian officials on Thursday that Regeni, 28, died in a road traffic accident, further reports have found that his body – discovered on a roadside on the outskirts of Cairo – showed signs of stab wounds, cigarette burns and further signs of torture.
It was revealed today that Regeni was 'worried' about his welfare after it emerged that he had written articles about Eygptian labour conditions for Il Manifesto, a left-wing Italian newspaper.
In the last correspondence he had with the newspaper, on January 9, Regeni asked that his latest dispatch from Egypt should be published under a pseudonym.
"If you decide to use the article, use a pseudonym, because I'm worried," Regeni wrote.
Now Dr Anne Alexander & Dr Maha Abdelrahman, both Cambridge academics specialising in Egypt, have invited students to join them in supporting the open letter.
In a joint statement, the academic duo said "we were deeply saddened. Our community has been enriched by his presence." Alexander and Abdelrahman lament that the loss of Regeni, whose research "tackled questions which are vitally important to our understanding of contemporary Egyptian society".
They continue, "We are appalled to hear prosecutors in Egypt report that there were extensive signs of torture on his body.
"Those of us who knew of Giulio's disappearance before the discovery of his body were desperately concerned for his safety because he vanished in the midst of a security campaign which has resulted in mass arbitrary arrests, a dramatic increase in reports of torture within police stations, and other cases of disappearances, according to documentation by local and international human rights organisations."
They criticised the hypocrisy of the Egyptian Ministry of Defence who "routinely practise the same kinds of torture that Giulio is reported to have suffered against hundreds of Egyptian citizens each year".
Italy has sent a demand to Egypt, asking for a joint investigation to get to the bottom of Regeni's death. In addition, they have requested that his body be repatriated back to Italy as soon as possible.
The Girton student, originally from north-east Italy, had been researching the Egyptian economy since September.
In addition to his academic work, Regeni wrote a report on Egyptian labour for the Italian left-leaning newspaper Il Manifesto. The Italian news agency Ansa reported that Regeni had used a pseudonym after expressing concerns about his safety.
The newspaper's foreign desk editor, Simone Pieranni, today admitted that Regeni had asked for the articles to be written under a different name due to his fear of retribution from Egyptian security services.
Pieranni said: "I imagine it was for security because the articles were about workers and unions.
"It's clear that when you speak about social rights and workers' rights in Egypt you are implicitly denouncing the lack of freedom."
In an editorial on Friday, the newspaper admitted that he was "very worried".
"He feared for his safety. From this insistence repeated several times in his emails, we understood he was very worried." 
After reports of his disappearance emerged, rumours emerged that Giulio could have been caught up in a police raid against political demonstrators.
Dr Anne Alexander spoke to The Guardian and suggested that Regeni's death could mean danger for other researchers in Egypt, especially those looking into sensitive topics.
Dr Alexander and Dr Abdelrahman end the open letter to al-Sisi, calling "on the Egyptian authorities to cooperate with an independent and impartial investigation into all instances of forced disappearances, cases of torture and deaths in detention during January and February 2016, alongside any ongoing investigations by criminal prosecutors into Giulio's death, in order that those responsible for these crimes can be identified and brought to justice".
You can show your support for the open letter here.